The ad VOLKSWAGEN Crafter box truck < 3.5t for sale by auction has been sold and is not included in the search!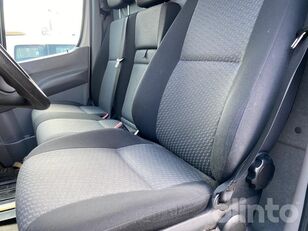 1/48
Location
Sweden
Placed on
more than 1 month
Very nice and well equipped Transport car with Volume cabinet and tail lift!

Possibility of financing without contact / first increased fee

Manufacturer: Volkswagen

Model: Crafter

Model year: 2014

Meter reading: approximately 10700 miles

Inspection: Delivered newly inspected.

Trucker package Volymax cabinet 18 6 cubic

Length 4.37 x W 2.13 x H 2.00

The rear lift's aluminum table is 1.45

ACc

Diesel heater with Remote

Manual 6-speed gearbox

Extra battery with isolating relay

Reinforced front axle

Reinforced suspension at the rear

ABS brakes

Airbag driver & passenger

Anti-slip system

CD stereo

Electric lifts forward

Electric mirrors

Cruise control

Remote c-locks

Trip computer

Cab heater

Insulated cabinet

Completely completed service book

Alarm

Power steering

Adjustable steering wheel

Seat heating front

Sold in Sweden

Spare wheels

External temperature gauge

Shipping can be arranged by the seller for a fee.
Load assistance is available.
Sehr schöner und gut ausgestatteter Transportwagen mit Volumenschrank und Ladebordwand!

Möglichkeit der Finanzierung ohne Kontakt / erste erhöhte Gebühr

Hersteller: Volkswagen

Modell: Crafter

Modelljahr: 2014

Zählerstand: ca. 10700 Meilen

Inspektion: Geliefert neu geprüft.

Trucker Paket Volymax Schrank 18 6 Kubik

Länge 4,37 x B 2,13 x H 2,00

Der Aluminiumtisch des Heckkrafthebers ist 1,45

ACC

Dieselheizung mit Fernbedienung

Manuelles 6-Gang-Getriebe

Zusatzbatterie mit Trennrelais

Verstärkte Vorderachse

Verstärkte Hinterradaufhängung

ABS-Bremsen

Airbag Fahrer & Beifahrer

Anti-Rutsch-System

CD-Stereo

Elektrische Aufzüge vorwärts

Elektrische Spiegel

Tempomat

Ferngesteuerte Schlösser

Reisecomputer

Kabinenheizung

Isolierschrank

Komplett ausgefülltes Serviceheft

Alarm

Servolenkung

Einstellbares Lenkrad

Sitzheizung vorne

Verkauft in Schweden

Ersatzräder

Externe Temperaturanzeige

Der Versand kann gegen eine Gebühr vom Verkäufer organisiert werden.
Ladehilfe ist verfügbar.
Väga kena ja hästivarustatud transpordiauto, mille maht ja kapis on mahtuv!

Rahastamisvõimalus ilma kontakti / esmalt suurendatud tasuta

Tootja: Volkswagen

Mudel: Crafter

Mudeliaasta: 2014

Arvesti näit: umbes 10700 miili

Ülevaatus: tarnitud äsja kontrollitud.

Veoautode pakett Volymaxi kapp 18 6 kuup

Pikkus 4,37 x L 2,13 x K 2,00

Tagumise tõstuki alumiiniumlaud on 1,45

ACc

Diislikütteseade puldiga

Manuaalne 6-käiguline käigukast

Eraldava relee lisapatarei

Tugevdatud esisild

Tugevdatud tagavedrustus

ABS pidurid

Turvapadja juht ja kaasreisija

Libisemisvastane süsteem

CD stereo

Elektrilised liftid edasi

Elektrilised peeglid

Autopiloot

Kaug-c-lukud

Reisiarvuti

Kabiini soojendus

Soojustatud kapp

Täielikult täidetud hooldusraamat

Äratus

Roolivõim

Reguleeritav rool

Istmesoojendus ees

Müüdud Rootsis

Varurattad

Väline temperatuurimõõtur

Saatmist saab müüja korraldada tasu eest.
Saadaval on laadimisabi.
Labai gražus ir gerai įrengtas transporto automobilis su "Volume" spintele ir pakėlimo ant bagažinės!

Galimybė finansuoti be kontakto / pirmasis padidintas mokestis

Gamintojas: "Volkswagen"

Modelis: Crafter

Modelio metai: 2014 m

Skaitiklio rodmuo: maždaug 10700 mylių

Tikrinimas: pristatytas naujai patikrintas.

"Trucker" paketas "Volymax" spintelė 18 6 kub

Ilgis 4,37 x P 2,13 x A 2,00

Galinio keltuvo aliuminio stalas yra 1,45

ACc

Dyzelinis šildytuvas su nuotolinio valdymo pulteliu

Mechaninė 6 laipsnių pavarų dėžė

Papildoma baterija su izoliacine rele

Sustiprinta priekinė ašis

Sustiprinta galinė pakaba

ABS stabdžiai

Oro pagalvių vairuotojas ir keleivis

Anti-slydimo sistema

CD stereofonas

Elektriniai keltuvai į priekį

Elektriniai veidrodžiai

Kruizo kontrolė

Nuotolinės "c" spynos

Kelionės kompiuteris

Kabinos šildytuvas

Izoliuota spintelė

Visiškai užpildyta techninės priežiūros knyga

Signalizacija

Vairo stiprintuvas

Reguliuojamas vairas

Sėdynių šildymas priekyje

Parduodamas Švedijoje

Atsarginiai ratai

Išorinis temperatūros matuoklis

Siuntimą pardavėjas gali organizuoti už tam tikrą mokestį.
Yra apkrovos pagalba.
Ļoti jauka un labi aprīkota transporta automašīna ar tilpuma skapi un aizmugures pacēlāju!

Finansēšanas iespēja bez kontakta / pirmā paaugstinātā maksa

Ražotājs: Volkswagen

Modelis: Crafter

Modeļa gads: 2014

Skaitītāja rādījums: aptuveni 10700 jūdzes

Pārbaude: piegādāta nesen pārbaudīta.

Trucker pakete Volymax kabinets 18 6 kub

Garums 4,37 x P 2,13 x H 2,00

Aizmugurējā pacēlāja alumīnija galds ir 1,45

ACc

Dīzeļa sildītājs ar tālvadības pulti

Manuālā 6 pakāpju pārnesumkārba

Papildu akumulators ar izolācijas releju

Pastiprināta priekšējā ass

Pastiprināta aizmugurējā piekare

ABS bremzes

Drošības spilvena vadītājs un pasažieris

Pretslīdes sistēma

CD stereo iekārta

Elektriskie pacēlāji uz priekšu

Elektriski spoguļi

Kruīza kontrole

Attālās c-slēdzenes

Ceļojuma dators

Kabīnes sildītājs

Izolēts skapis

Pilnībā aizpildīta servisa grāmata

Trauksme

Stūres pastiprinātājs

Regulējama stūre

Sēdekļu apsilde priekšā

Pārdots Zviedrijā

Rezerves riteņi

Ārējais temperatūras mērītājs

Piegādi pārdevējs var noorganizēt par maksu.
Palīdzība ar slodzi ir pieejama.
Bardzo ładny i dobrze wyposażony Wagon transportowy z szafą objętościową i windą załadowczą!

Możliwość finansowania bez kontaktu / pierwsza podwyższona opłata

Producent: Volkswagen

Model: rzemieślnik

Rok modelowy: 2014

Odczyt licznika: około 10700 mil

Inspekcja: Dostarczone nowo sprawdzone.

Pakiet Trucker Szafa Volymax 18 6 sześciennych

Długość 4,37 x szer. 2,13 x wys. 2,00

Aluminiowy stół tylnego podnośnika ma 1,45

ACC

Nagrzewnica na olej napędowy z pilotem

Ręczna 6-biegowa skrzynia biegów

Dodatkowa bateria z przekaźnikiem izolującym

Wzmocniona oś przednia

Wzmocnione tylne zawieszenie

Hamulce ABS

Kierowca i pasażer poduszki powietrznej

System antypoślizgowy

CD stereo

Podnośniki elektryczne do przodu

Lusterka elektryczne

Tempomat

Zdalne zegary

Komputer podróżny

Ogrzewanie kabiny

Izolowana szafka

Całkowicie wypełniona książka serwisowa

Alarm

Wspomaganie kierownicy

Regulowana kierownica

Ogrzewanie foteli z przodu

Sprzedawane w Szwecji

Koła zapasowe

Wskaźnik temperatury zewnętrznej

Sprzedający może zorganizować wysyłkę za opłatą.
Dostępna jest pomoc przy załadunku.
Mycket fin och bra utrustad Transportbil med Volymskåp och bakgavellyft!

Möjlighet till finansiering utan kontakt / första förhöjd avgift

Tillverkare: Volkswagen

Modell: Crafter

Modellår: 2014

Mätarställning: cirka 10700mil

Besiktning: Levereras nybesiktigad.

Truckerpaket Volymax skåpet 18 6 kubik

Längd 4.37 x B 2.13 x H 2.00

Baklyftens Alubord är 1.45

ACc

Dieselvärmare med Fjärr

Manuell 6 växlad låda

Extra batteri med skiljerelä

Förstärkt framaxel

Förstärkt fjädring bak

ABS bromsar

Airbag förare & passagerare

Antisladdsystem

CD-stereo

Elhissar fram

Elspeglar

Farthållare

Fjärrstyrt c-lås

Färddator

Hyttvärmare

Isolerat skåp

Komplett ifylld servicebok

Larm

Servostyrning

Ställbar ratt

Stolvärme fram

Svensksåld

Reservhjul

Yttertemperaturmätare

Frakt kan ombesörjas av säljaren mot ersättning.
Lasthjälp finns.