The ad SCANIA P280 car transporter for sale by auction has been sold and is not included in the search!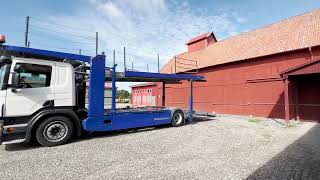 1/58
Location
Sweden
Placed on
more than 1 month
Car transport which is in very good condition

Scania P280

Model year 2011

Odometer reading 482309 km

Diesel

Automatic

Number of axles 2

Winch

Construction Kässbohrer

The car transport accommodates between 4-5 cars

All-round tires are now on, but summer tires are included.

Can be raised and lowered in the back of the truck.



Weight and dimensions:

Total weight 19000 kg

Operating weight 11190 kg

Max load 7810 kg



Length 10.43 meters

Width 2.0 meters



Notes:

Diesel pump replaced in 2021

New air bellows

There is an error with the spreaders that must be fixed (See protocol) price approx. 15,000:-

The truck is regularly serviced and all documentation is there which has been done.
Autotransporter in sehr gutem Zustand

Scania P280

Modelljahr 2011

Kilometerstand 482309 km

Diesel

Automatisch

Anzahl der Achsen 2

Winde

Bau Kässbohrer

Der Autotransport bietet Platz für 4-5 Autos

Allroundreifen sind jetzt drauf, aber Sommerreifen sind inklusive.

Kann hinten am LKW angehoben und abgesenkt werden.



Gewicht und Abmessungen:

Gesamtgewicht 19000 kg

Betriebsgewicht 11190 kg

Maximale Belastung 7810 kg



Länge 10,43 Meter

Breite 2,0 Meter



Anmerkungen:

Dieselpumpe im Jahr 2021 ersetzt

Neue Luftbälge

Es liegt ein Fehler bei den Streuern vor, der behoben werden muss (siehe Protokoll) Preis ca. 15.000:-

Der LKW wird regelmäßig gewartet und alle Unterlagen sind vorhanden, die gemacht wurden.
Väga heas korras autotransport

Scania P280

Mudeliaasta 2011

Odomeetri näit 482309 km

Diisel

Automaatne

Telgede arv 2

Vints

Ehitus Kässbohrer

Autotransport mahutab 4-5 autot

Nüüd on all universaalrehvid, kuid suverehvid on kaasas.

Tõstuki tagaosas saab tõsta ja langetada.



Kaal ja mõõdud:

Kogukaal 19000 kg

Töökaal 11190 kg

Maksimaalne kandevõime 7810 kg



Pikkus 10,43 meetrit

Laius 2,0 meetrit



Märkused:

Diiselpump vahetatud 2021 aastal

Uued õhulõõtsad

Laoturitega on viga mis tuleb parandada (vt protokoll) hind ca 15 000:-

Tõstukit on korrapäraselt hooldatud ja kõik dokumentatsioon olemas, mis on tehtud.
Labai geros būklės autotransportas

Scania P280

Modelio metai 2011

Odometro rodmenys 482309 km

Dyzelinas

Automatinis

Ašių skaičius 2

Gervė

Statyba Kässbohrer

Automobilių transportas talpina 4-5 automobilius

Dabar yra universalios padangos, tačiau yra vasarinės padangos.

Galima pakelti ir nuleisti sunkvežimio gale.



Svoris ir matmenys:

Bendras svoris 19000 kg

Darbinis svoris 11190 kg

Maksimali apkrova 7810 kg



Ilgis 10,43 metro

Plotis 2,0 metro



Pastabos:

Dyzelino siurblys pakeistas 2021 m

Naujos oro dumplės

Su barstytuvais yra klaida, kurią reikia taisyti (Žr. protokolą) kaina apie 15 000:-

Sunkvežimis reguliariai aptarnaujamas, yra visa dokumentacija, kuri buvo padaryta.
Auto transports, kas ir ļoti labā stāvoklī

Scania P280

Modeļa gads 2011

Odometra rādījums 482309 km

Dīzelis

Automātiski

Asu skaits 2

Vinča

Celtniecība Kässbohrer

Automašīnu transports uzņem 4-5 automašīnas

Tagad ir uzliktas universālās riepas, bet komplektā ir arī vasaras riepas.

Var pacelt un nolaist kravas automašīnas aizmugurē.



Svars un izmēri:

Kopējais svars 19000 kg

Darba svars 11190 kg

Maksimālā slodze 7810 kg



Garums 10,43 metri

Platums 2,0 metri



Piezīmes:

Dīzeļa sūknis nomainīts 2021

Jaunas gaisa plēšas

Kļūda ar kaisītājiem, kas jānovērš (Skatīt protokolu) cena apm.15 000:-

Autoiekrāvējs tiek regulāri apkopts un ir visa dokumentācija, kas ir veikta.
Transport samochodowy w bardzo dobrym stanie

Scania P280

Rok modelowy 2011

Odczyt licznika 482309 km

Diesel

Automatyczny

Liczba osi 2

Wciągarka

Budownictwo Kässbohrer

Transport samochodowy może pomieścić od 4-5 samochodów

Opony uniwersalne są teraz dostępne, ale także opony letnie.

Można go podnosić i opuszczać z tyłu ciężarówki.



Waga i wymiary:

Całkowita waga 19000 kg

Masa eksploatacyjna 11190 kg

Maksymalne obciążenie 7810 kg



Długość 10.43 metra

Szerokość 2,0 metry



Uwagi:

Pompa oleju napędowego wymieniona w 2021 r.

Nowe miechy powietrzne

Wystąpił błąd z rozrzutnikami, który należy naprawić (patrz protokół) cena ok. 15 000:-

Wózek jest regularnie serwisowany i znajduje się tam cała dokumentacja, która została wykonana.
Biltransport som är i väldigt gott skick

Scania P280

Årsmodell 2011

Mätarställning 482309 km

Diesel

Automat

Antal axlar 2

Vinsch

Byggnation Kässbohrer

Biltransporten rymmer mellan 4-5 bilar

Allrounddäck sitter på nu men sommardäck medföljer.

Höj och sänkbar i bak på lastbilen.



Vikt och mått:

Totalvikt 19000 kg

Tjänstevikt 11190 kg

Max last 7810 kg



Längd 10,43 meter

Bredd 2,0 meter



Anmärkningar:

Dieselpump bytt 2021

Nya luftbäljar

Det finns ett fel med spridarna som måste åtgärdas(Se protokoll) pris ca 15000:-

Lastbilen är regelbundet servad och all dokumentation finns som är gjort.