The ad VOLVO FH16 540 flatbed truck for sale by auction has been sold and is not included in the search!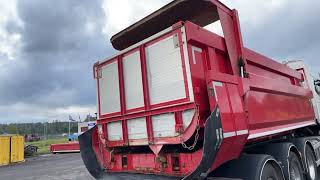 1/16
Location
Sweden
Placed on
more than 1 month
Volvo truck / cassette truck with trailer
An entire crew ready for new challenges. With a push bar on the car, it works fine in front of a paver.

Model year 2015
41,000 miles
Led lamps
550 hp
Dual reversing cameras
Puchbalk
New brakes on the wagon 4000 miles ago
Serviced in May, about 2000 miles ago

Alcohol lock
BED
Refrigerator
Micro
Flak vibro
Remote control for the flatbed change
Indicator light for draw position (up/down)
Inspected until 20230431

Other information
Good condition
The drive wheels on the car are worn

Seller's comments
The radio is not included
The windshield will be new before delivery
Will be used during the auction period.
Volvo-LKW / Kassetten-LKW mit Anhänger
Eine ganze Crew bereit für neue Herausforderungen. Mit einer Schubstange am Auto funktioniert es gut vor einem Fertiger.

Modelljahr 2015
41.000 Meilen
LED Lampen
550 PS
Zwei Rückfahrkameras
Puchbalk
Neue Bremsen am Wagen vor 4000 Meilen
Im Mai gewartet, vor etwa 2000 Meilen

Alkoholsperre
BETT
Kühlschrank
Mikro
Flak-Vibr
Fernbedienung für den Pritschenwechsel
Kontrollleuchte für Auszugsposition (oben/unten)
Geprüft bis 20230431

Andere Informationen
Guter Zustand
Die Antriebsräder am Auto sind verschlissen

Kommentare des Verkäufers
Das Radio ist nicht im Lieferumfang enthalten
Die Windschutzscheibe wird vor Auslieferung neu sein
Wird während des Auktionszeitraums verwendet.
Volvo haagisega veoauto/kassettveok
Terve meeskond on valmis uuteks väljakutseteks. Kui autol on tõukurvarras, töötab see laoturi ees hästi.

Mudeliaasta 2015
41 000 miili
Led lambid
550 hj
Kahekordne tagurduskaamera
Puchbalk
Uued pidurid universaalil 4000 miili tagasi
Hooldus tehtud mais, umbes 2000 km tagasi

Alkohollukk
VOODI
Külmik
Mikro
Flak vibro
Kaugjuhtimispult tasapinna vahetamiseks
Tõmbeasendi indikaatortuli (üles/alla)
Ülevaatus kuni 20230431

Muu info
Heas seisukorras
Auto veorattad on kulunud

Müüja kommentaarid
Raadio ei kuulu komplekti
Esiklaas on enne tarnimist uus
Kasutatakse oksjoni perioodil.
Volvo sunkvežimis / kasetinis sunkvežimis su priekaba
Visa komanda pasiruošusi naujiems iššūkiams. Su stūmimo juosta ant automobilio, jis puikiai veikia prieš klotuvą.

Modelio metai 2015
41 000 mylių
Led lempos
550 AG
Dvi atbulinės eigos kameros
Puchbalk
Nauji universalo stabdžiai prieš 4000 mylių
Prižiūrėtas gegužės mėn., prieš 2000 km

Alkoholio užraktas
LOVA
Šaldytuvas
Mikro
Flak vibro
Nuotolinio valdymo pultas plokštumos keitimui
Tempimo padėties indikatorius (aukštyn / žemyn)
Apžiūrėta iki 20230431

Kita informacija
Geros būklės
Automobilio varomieji ratai susidėvėję

Pardavėjo pastabos
Radijas neįeina
Prieš pristatymą priekinis stiklas bus naujas
Bus naudojamas aukciono metu.
Volvo kravas/kasešu kravas automašīna ar piekabi
Visa komanda ir gatava jauniem izaicinājumiem. Ar stumšanas stieni uz automašīnas tas lieliski darbojas bruģakmens priekšā.

Modeļa gads 2015
41 000 jūdžu
Led lampas
550 ZS
Divas atpakaļgaitas kameras
Puchbalk
Jaunas bremzes vagonam pirms 4000 jūdzēm
Apkopts maijā, apmēram pirms 2000 km

Alkohola slēdzene
GULTA
Ledusskapis
Mikro
Flak vibro
Tālvadības pults plakanvirsmas maiņai
Indikatora gaisma vilkšanas pozīcijai (uz augšu/uz leju)
Apskatīts līdz 20230431

Cita informācija
Labā stāvoklī
Automašīnai nodiluši piedziņas riteņi

Pārdevēja komentāri
Radio nav iekļauts
Vējstikls pirms piegādes būs jauns
Tiks izmantots izsoles laikā.
Ciężarówka Volvo / ciężarówka kasetowa z przyczepą
Cała załoga gotowa na nowe wyzwania. Z drążkiem do pchania na samochodzie, działa dobrze przed układarką.

Rok modelowy 2015
41 000 mil
Lampy LED
550 KM
Podwójne kamery cofania
Puchbalk
Nowe hamulce w wagonie 4000 mil temu
Serwisowany w maju, około 2000 mil temu

Blokada alkoholowa
ŁÓŻKO
Lodówka
Mikro
Wibracje płatkowe
Pilot zdalnego sterowania do zmiany stołu
Kontrolka pozycji rysowania (góra/dół)
Sprawdzono do 20230431

Inne informacje
Dobry stan
Koła napędowe w aucie są zużyte

Komentarze sprzedawcy
Radio nie jest wliczone w cenę
Przednia szyba będzie nowa przed dostawą
Będzie używany w okresie aukcji.
Volvo lastbil / kassetbil med släp
Ett helt ekipage redo för nya utmaningar. Med puschbalk på bilen så fungerar den fint framför en läggare.

Årsmodell 2015
41 000mil
LED lampor
550hk
Dubbla backkameror
Puchbalk
Nya bromsar på vagnen 4000mil sedan
Servad i maj, ca 2000mil sedan 

Alkolås
Bädd
Kylskåp
Mikro
Flakvibro
Fjärrkontroll till flakbytet
Indikeringslampa för dragets position (uppe/nere)
Besiktigad till 20230431

Övriga upplysningar
Fint skick
Drivhjulen på bilen slitna

Säljarens kommentarer
Kommradion ingår ej
Framrutan blir ny före leverans
Kommer att användas under auktionstiden.