The ad TOYOTA Corolla 2.0 D-4D hatchback for sale by auction has been sold and is not included in the search!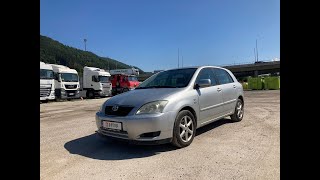 1/73
First registration
2014-08-13
Location
Slovakia
Description
Overall dimensions
4.2 m × 1.7 m × 1.5 m
Cabin
Electrically operated mirrors
Condition
Technical inspection valid till
2022-07-15
Description
Colour
metallic, metallic
Toyota Corolla 2.0 D-4D s úsporným dieselovým motorom v dobrom stave vzhľadom na vek a kilometrový nájazd vozidla.

Výbava: Isofix ABS Kotúčové brzdy Hliníkové disky Sezónne prezutie Rezerva Centrálne zamykanie Imobilizér Diaľkové ovládanie Alarm Autorádio Automatická klimatizácia Elektické ovládanie okien vpredu Elektické ovládanie okien vzadu Elektrické ovládanie zrkadiel Vyhrievané zrkadlá.

Sklá predných svetlometov v horšiom stave, Zadný ľavý blatník chytá hrdzu, Zadný nárazník škrabance a poškodený, Škrabance po celom obvode vozidla, Predný pravý blatník hrdzavý, Spätné zrkadlá škrabance na oboch stranách, Predný nárazník škrabance, Odlepujúce sa tapacíry dverí, Ovisnutý tapacír stropnice vozidla, Panel ovládania klimatizácie sem tam nefunguje správne, Vnútorný tapacír kapoty poškodený.