The ad MERCEDES-BENZ Axor 1833 tilt truck for sale by auction has been sold and is not included in the search!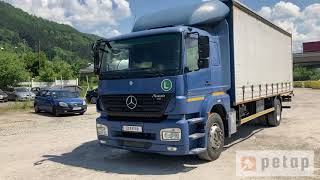 1/94
Year of manufacture
02/2008
First registration
2008-02-20
Location
Slovakia
Placed on
more than 1 month
Description
Overall dimensions
10100 m × 2550 m × 3820 m
Engine
Brand
Mercedes Benz OM 926 LA IV/1
Cabin
Electrically operated mirrors
Condition
Technical inspection valid till
2022-06
Mercedes-Benz Axor 1833 - valník s plachtou vo výbornom stave. Druhý majiteľ, auto kupované na Slovensku po celý čas servisované v autorizovanom servise Mercedes-Benz, nová STK, pripravený na okamžité používanie.