You may find interesting
Close
New KASSBOHRER LB2
€106,000
New MAX Trailer 100-N-6A-9.30
€99,900
New MAX Trailer MAX510-Z-2A-6.00-RM(Forst)-U
€117,600
New JANMIL with hydraulics ramps SAF
€42,000
New MAX Trailer 100-N-3BA-9.30-U
€73,400
New JANMIL low laoder with alu boards
€40,580
New EMTECH SERIA NNT model 2.NNT-1R-2H (CB) - Odpinana Gęsia Szyja low bed semi-trailer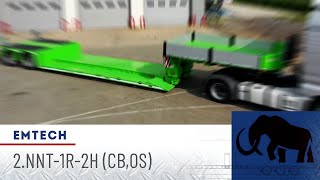 1/35
Model
SERIA NNT model 2.NNT-1R-2H (CB) - Odpinana Gęsia Szyja
Type
low bed semi-trailer
Location
Poland
Szczerców
Placed on
more than 1 month
Monthly rent
€2,000 / month
Możliwość negocjacji cen dla długich okresów wynajmu. Możliwość wykupu: cesji / przejęcia leasingu / kredytu w trakcie trwania najmu.
2-axle trailer with hydraulically detachable neck and hydraulically steered axles.
Technical masses:
DMC: 38000 kg
Own weight: 13,000 kg
Load capacity: 25,000 kg
Chassis
Single-beam (CENTRAL) frame: made of high-quality steel in welded technology using QL 690 steel
One time (single) extendable)
2 pcs. SAF or GIGANT 17.5 "axle
All hydraulically steered axles
Hydraulic control TRIDEC HF-E.
Pneumatic suspension
Removable hydraulically operated neck.
Lowered side platforms along the entire length
The sides of the floor made of corrugated steel sheet or other (to be agreed)
Tires and rims
8 pieces of wheels with 235/65 R1.55 tires - Premium brands
Steel rims in silver - gray
DRUM BRAKE SYSTEM
KNORR / HALDEX / WABCO
ELECTRICAL INSTALLATION 24V IN LED TECHNOLOGY
PAINTING
Chassis painted in any color from the RAL palette to be agreed
Possible equipment at extra cost:
Central lubrication (depending on the amount of lubricants)
Info Center, WABCO SMART BOAR, TIM TG2
Metallization (spray zink - galvanizing)
Pressure and temperature sensors in the tires
Aluminum invasions
Aluminum wheels
Tire pressure and temperature monitoring system
Spare wheels
Other individual additional arrangements   
THIS OFFER OF A COMMERCIAL OFFER IS AN INVITATION FOR NEGOTIATIONS AND DOES NOT CONSTITUTE A COMMERCIAL OFFER IN THE MEANING OF THE CIVIL CODE
In order to receive a detailed specification / information about the product, please contact us by phone or email.
GSM 1:
show contacts
Phone:
show contacts
e-mail 2:
show contacts
Naczepa 2 osiowa z hydraulicznie odpinaną szyją i osiami skrętnymi hydraulicznie.
CENY od 389 900 zł netto
Masy techniczne:
DMC : 38 000 kg / 40 000 kg (technicznie)
Masa własna : 13 000 kg
Ładowność : 25 000 kg / 27 000 kg (technicznie)
Podwozie
Rama jedno-belkowa: wykonana z wysokogatunkowej stali w technologii spawanej z wykorzystaniem stali typu QL 690
Jednokrotnie rozciągana
2 szt. Osi SAF lub GIGANT 17,5''
Wszystkie osie skrętne hydraulicznie
Sterowanie hydrauliczne TRIDEC HF-E.
Centralne smarowanie
Zawieszenie pneumatyczne
Odpinana szyja obsługiwana hydraulicznie.
Obniżane platformy boczne na całej długości
Boki podłogi z blachy karbowanej ze stali lub inne (do uzgodnienia)
Ogumienie i Felgi
8 sztuk kół z ogumieniem 235/65 R17,5 - marki Premium
Felgi stalowe w kolorze srebro - szarym
UKŁAD HAMULCOWY BĘBNOWY
KNORR / HALDEX / WABCO
INSTALACJA ELEKTRYCZNA 24V W TECHNOLOGI LED
LAKIEROWANIE
Podwozie lakierowane w dowolnym kolorze z palety RAL do uzgodnienia
Możliwe wyposażenie za dopłatą:
Info Centre, WABCO SMART BOAR, TIM TG2
Podkład cynkowy
Felgi aluminiowe
System monitorowania ciśnienia i temperatury w oponach
Koła zapasowe
Telematyka
Mobilna opieka serwisowa
Inne indywidualne dodatkowe ustalenia
NINIEJSZA OFERTA HANDLOWA JEST ZAPROSZENIEM DO NEGOCJACJI I NIE STANOWI OFERTY HANDLOWEJ W ROZUMIENIU KODEKSU CYWILNEGO
W celach otrzymania szczegółowej specyfikacja / informacji na temat produktu i finansowania prosimy o kontakt telefoniczny bądź mailowy.
GSM 1 :
show contacts
GSM 2 :
show contacts
GSM 3 :
show contacts
Telefon :
show contacts
e-mail 1:
show contacts
e-mail 2:
show contacts
Important
This offer is for guidance only. Please request more precise information from the seller.
Safety tips
Seller's contacts
Tomasz Biliński – Sales Representative
Languages:
English, Russian, Polish
Jarosław Baszura
Languages:
English, Polish
Poland, Lodzinskie, 97-420, Szczerców, ul. Grudna 41a
Seller's local time: 06:38 (CEST)
Selling machinery or vehicles?
You can do it with us!