MGC CENTRUM SAMOCHODOW DOSTAWCZYCH
In stock: 56 ads
13 years at Autoline
27 years on the market
The ad MERCEDES-BENZ GLE 300 , AMG SUV has been sold and is not included in the search!
Similar ads
New Subaru Forester
€42,500
SUV
2022
10 km
Poland, ŁAZISKA GÓRNE
New Subaru Forester
€39,900
SUV
2022
10 km
Poland, ŁAZISKA GÓRNE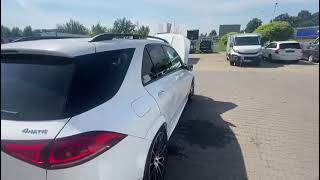 1/34
First registration
2021-02-18
Location
Poland
ŁAZISKA GÓRNE
Placed on
more than 1 month
Purchase on credit is possible
Engine
Fuel consumption
8 l/100km
Cabin
Cruise control (tempomat)
Electrically operated mirrors
Welcome
we have to present a beautiful SUV with virtually zero mileage.
Car from the showroom with warranty and registration from February 2021.
Production end of 2020.
The car does not have a technical warranty from Mercedes which is valid until 2023
The car is noteworthy, the repair is not that expensive, and after the job is done, you can enjoy a great car.
Whole stringers, please see photos.
It is best to invite you to the inspection on the spot.
We have various parts available for repair including a whole complete glass roof, headlights etc.
We can also help in body / paint repairs.
Very rich equipment for the GLE model.
We have available specifications that we can share as well as a printout from the Cepik database.
Dear Customer!
If you want to buy a decent car, WELCOME TO US.
If you ONLY GUIDE YOURSELF BY THE PRICE, and parameters such as: ACTUAL MILEAGE or the origin of the car are SECONDARY VALUES for you, then in our humble opinion, a DAMAGE to your and our TIME.
Attention importers!
Possibility of transport to the port of Bremenhaven Germany + € 400 or Gdańsk in Poland + € 250 or Rotterdam in the Netherlands + € 600.

Very extensive equipment, such as Mercedes-Benz:
-Burmeister sound system
-Rain and twilight sensors
-Satellite navigation
-Heated seats
-Electrically adjustable seats and steering wheel
-Shift paddles on the steering wheel
-Touchscreen
- On-board computer connected to the Internet
-ISOFIX
-Panoramic roof
-Lane assistant
-Active cruise control
-Inductive charging of phones
-Bluetooth
-Voice control
And much much more !

Report: The car has been hit forwards, the sides and rear are intact, of course, there will be small squeezes from stones, etc. The engine burns, the car drives around the square, the tires are in almost new condition, the rims are like new, the discs are like new, it's best to see yourself all by yourself in place.
Bienvenidos
tenemos que presentar un hermoso SUV con prácticamente cero kilometraje.
Coche de la sala de exposición con garantía y matriculación a partir de febrero de 2021.
Producción finales de 2020.
El coche no tiene garantía técnica de Mercedes válida hasta 2023
El coche es digno de mención, la reparación no es tan cara y, una vez hecho el trabajo, puedes disfrutar de un gran coche.
Largueros enteros, ver fotos.
Lo mejor es invitarle a la inspección en el acto.
Tenemos varias piezas disponibles para reparar, incluido un techo de vidrio completo, faros, etc.
También podemos ayudar en reparaciones de carrocería/pintura.
Equipamiento muy rico para el modelo GLE.
Tenemos especificaciones disponibles que podemos compartir, así como una copia impresa de la base de datos de Cepik.
¡Estimado cliente!
Si quieres comprar un auto decente, BIENVENIDO A NOSOTROS.
Si Ud. SÓLO SE GUIA POR EL PRECIO, y parámetros como: KILOMETRAJE REAL o la procedencia del coche son VALORES SECUNDARIOS para usted, entonces en nuestra humilde opinión, un DAÑO para usted y nuestro TIEMPO.
¡Atención importadores!
Posibilidad de transporte al puerto de Bremenhaven Alemania + 400 € o Gdańsk en Polonia + 250 € o Rotterdam en Holanda + 600 €.

Equipamiento muy amplio, como Mercedes-Benz:
-Sistema de sonido Burmeister
-Lluvia, sensores crepusculares
-Navegación satelital
-Asientos con calefacción
-Asientos y volante regulables eléctricamente
-Paletas de cambio en el volante
-Pantalla táctil
- Ordenador de a bordo conectado a Internet
-ISOFIX
-Techo panorámico
-Asistente de carril
-Control de crucero activo
-Carga inductiva de teléfonos
-Bluetooth
-Control de voz
Y mucho, mucho más !

Informe: El automóvil ha sido golpeado hacia adelante, los lados y la parte trasera están intactos, por supuesto, habrá piedras aplastadas, etc., todo solo en su lugar.
Accueillir
nous devons présenter un beau SUV avec un kilométrage pratiquement nul.
Voiture du showroom avec garantie et immatriculation de février 2021.
Fabrication fin 2020.
La voiture n'a pas de garantie technique de Mercedes qui est valable jusqu'en 2023
La voiture est remarquable, la réparation n'est pas si chère et une fois le travail terminé, vous pouvez profiter d'une excellente voiture.
Limons entiers, s'il vous plaît voir les photos.
Il est préférable de vous inviter à l'inspection sur place.
Nous avons diverses pièces disponibles pour la réparation, y compris un toit en verre complet, des phares, etc.
Nous pouvons également vous aider dans les réparations de carrosserie/peinture.
Equipement très riche pour le modèle GLE.
Nous avons des spécifications disponibles que nous pouvons partager ainsi qu'une impression de la base de données Cepik.
Cher client!
Si vous voulez acheter une voiture décente, BIENVENUE CHEZ NOUS.
Si vous VOUS GUIDEZ UNIQUEMENT PAR LE PRIX, et que des paramètres tels que : KILOMÉTRAGE RÉEL ou l'origine de la voiture sont des VALEURS SECONDAIRES pour vous, alors à notre humble avis, un DOMMAGE à votre et notre TEMPS.
Attention importateurs !
Possibilité de transport jusqu'au port de Bremenhaven Allemagne + 400 € ou Gdańsk en Pologne + 250 € ou Rotterdam aux Pays-Bas + 600 €.

Des équipements très complets, comme Mercedes-Benz :
-Système de son Burmeister
-Capteurs de pluie, crépusculaire
-Navigation par satellite
-Sièges chauffants
-Sièges et volant réglables électriquement
- Palettes de changement de vitesse au volant
-Écran tactile
- Ordinateur de bord connecté à Internet
-ISOFIX
-Toit panoramique
- Assistant de voie
- Régulateur de vitesse actif
-Chargement inductif des téléphones
-Bluetooth
-Commande vocale
Et bien plus encore !

Rapport : La voiture a été touchée vers l'avant, les côtés et l'arrière sont intacts, bien sûr, il y aura des pierres pressées, etc. tout seul en place.
Ben arrivato
dobbiamo presentare un bellissimo SUV con chilometraggio praticamente zero.
Vettura da showroom con garanzia e immatricolazione da febbraio 2021.
Produzione fine 2020.
L'auto non ha una garanzia tecnica Mercedes valida fino al 2023
L'auto è degna di nota, la riparazione non è così costosa e, una volta terminato il lavoro, puoi goderti un'ottima macchina.
Stringhe intere, vedere le foto.
È meglio invitarti all'ispezione sul posto.
Abbiamo varie parti disponibili per la riparazione tra cui un tetto in vetro completo, fari ecc.
Possiamo anche aiutare nelle riparazioni di carrozzeria/verniciatura.
Dotazione molto ricca per il modello GLE.
Abbiamo specifiche disponibili che possiamo condividere così come una stampa dal database Cepik.
Caro cliente!
Se vuoi comprare un'auto decente, BENVENUTO DA NOI.
Se TI GUIDI SOLO DAL PREZZO, e parametri quali: CHILOMETRAGGIO EFFETTIVO o provenienza dell'auto sono per te VALORI SECONDARI, allora a nostro modesto parere un DANNO al tuo e al nostro TEMPO.
Attenzione importatori!
Possibilità di trasporto al porto di Bremenhaven Germania + € 400 o Danzica in Polonia + € 250 o Rotterdam nei Paesi Bassi + € 600.

Equipaggiamento molto ampio, come Mercedes-Benz:
-Sistema audio Burmeister
- Sensori pioggia, crepuscolari
-Navigazione satellitare
-Sedili riscaldati
- Sedili e volante regolabili elettricamente
- Comandi del cambio al volante
-Touch screen
- Computer di bordo connesso a Internet
-ISOFIX
-Tetto panoramico
-Assistente di corsia
- Controllo automatico della velocità attivo
-Carica induttiva dei telefoni
-Bluetooth
-Controllo vocale
E molto altro ancora!

Rapporto: L'auto è stata colpita in avanti, le fiancate e il retro sono intatte, ovviamente ci saranno pietre schiacciate ecc. Tutto da solo sul posto.
Witamy
mamy do zaprezentowania pięknego SUVa z przebiegiem praktycznie zerowym przebiegiem w stylizacji AMG.
Auto z salonu z gwarancją i rejestracją od lutego 2021 r. gwarancja do 02/2025!
Produkcja koniec 2020roku.
Auto nie ma ściągniętej gwarancji technicznej z Mercedesa która obowiązuje do 2023roku
Samochód jest godny uwagi, naprawa nie jest aż tak droga ,a po skończonej robocie można cieszyć się super samochodem .Ceny podobnych bezwpadkowych to wszystko ponad 300tys.zł wzwyż .

Najlepiej zapraszamy na oględziny na miejscu .
Mamy dostępne różne części do naprawy w tym cały kompletny szklany dach ,zderzak , reflektory itd.
Możemy także pomoc w naprawie blacharsko/lakierniczej .
Bardzo bogate wyposażenie, jak na model GLE .
Mamy dostępną specyfikacje ,którą możemy udostępnić jak i wydruk z bazy Cepik.

Szanowny Kliencie!
Jeśli pragniesz zakupić PORZĄDNE AUTO, TO ZAPRASZAMY DO NAS.
Jeśli TYLKO SUGERUJESZ SIĘ CENĄ, a takie parametry jak: RZECZYWISTY PRZEBIEG czy pochodzenie auta to dla Ciebie WARTOŚCI DRUGORZĘDNE, to naszym skromnym zdaniem SZKODA Twojego i naszego CZASU.

NINIEJSZE OGŁOSZENIE MA CHARAKTER JEDYNIE INFORMACYJNY I NIE STANOWI OFERTY W MYŚL ART. 66, § 1. KODEKSU CYWILNEGO. NASZA FIRMA NIE PONOSI ODPOWIEDZIALNOŚCI ZA DROBNE BŁĘDY ORAZ ZAWARTE W OGŁOSZENIU NIEKOMPLETNE INFORMACJE LUB NIEAKTUALNOŚĆ OGŁOSZENIA.
Bine ati venit
trebuie să vă prezentăm un SUV frumos cu kilometraj practic zero.
Masina din showroom cu garantie si inmatriculare din februarie 2021.
Producție la sfârșitul anului 2020.
Mașina nu are o garanție tehnică de la Mercedes care este valabilă până în 2023
Mașina este de remarcat, reparația nu este atât de costisitoare și, după ce treaba este terminată, vă puteți bucura de o mașină grozavă.
Strigi întregi, vă rugăm să vedeți fotografii.
Cel mai bine este să vă invităm la inspecție la fața locului.
Avem diverse piese disponibile pentru reparații, inclusiv un acoperiș complet de sticlă, faruri etc.
Putem ajuta si la reparatii caroserie/vopsele.
Echipament foarte bogat pentru modelul GLE.
Avem disponibile specificații pe care le putem partaja, precum și o imprimare din baza de date Cepik.
Dragă client!
Dacă doriți să cumpărați o mașină decentă, BINE AȚI LA NOI.
Daca te ghidezi NUMAI DUPA PRET, iar parametri precum: KILOMETRAJUL REAL sau originea masinii sunt VALORI SECUNDARE pentru tine, atunci in umila noastra parere, un DAUNE pentru TIMPUL tau si al nostru.
Atenție importatori!
Posibilitate de transport la portul Bremenhaven Germania + 400 € sau Gdańsk în Polonia + 250 € sau Rotterdam în Țările de Jos + 600 €.

Echipamente foarte extinse, cum ar fi Mercedes-Benz:
-sistem de sunet Burmeister
-Senzori de ploaie, amurg
-Navigatie prin satelit
-Scaune incalzite
- Scaune si volan reglabile electric
-Padele de schimbare pe volan
-Ecran tactil
- Computer de bord conectat la internet
-ISOFIX
- Acoperiș panoramic
-Asistent de bandă
- Cruise control activ
-Încărcarea inductivă a telefoanelor
-Bluetooth
-Control vocal
Și mult mai mult!

Raport: Mașina a fost lovită în față, părțile laterale și spatele sunt intacte, bineînțeles, vor fi pietre storsi etc. singuri la locul lor.
Добро пожаловать
мы должны представить прекрасный внедорожник с практически нулевым пробегом.
Автомобиль из автосалона с гарантией и регистрацией с февраля 2021 года.
Производство конец 2020 года.
Автомобиль не имеет технической гарантии от Mercedes, которая действует до 2023 года.
Машина достойная внимания, ремонт не такой уж и дорогой, а после работы можно наслаждаться отличным автомобилем.
Целые стрингеры, смотрите фото.
Лучше всего пригласить вас на осмотр на месте.
У нас есть различные детали для ремонта, включая полностью стеклянную крышу, фары и т. д.
Так же можем помочь в кузовном/покрасочном ремонте.
Очень богатое оснащение для модели GLE.
У нас есть доступные спецификации, которыми мы можем поделиться, а также распечатка из базы данных Cepik.
Уважаемый клиент!
Если вы хотите купить достойный автомобиль, ДОБРО ПОЖАЛОВАТЬ К НАМ.
Если вы ориентируетесь ТОЛЬКО НА ЦЕНУ, а такие параметры как: РЕАЛЬНЫЙ ПРОБЕГ или происхождение автомобиля для вас ВТОРИЧНЫЕ ЗНАЧЕНИЯ, то по нашему скромному мнению, УЩЕРБ вашему и нашему ВРЕМЕНИ.
Внимание импортеры!
Возможность транспортировки в порт Бременхафен Германия + 400 евро или Гданьск в Польше + 250 евро или Роттердам в Нидерландах + 600 евро.

Очень обширное оборудование, такое как Mercedes-Benz:
- звуковая система Burmeister
- Датчики дождя, сумерек
-Спутниковая навигация
-Сиденья с подогревом
- Электрически регулируемые сиденья и руль
- подрулевые лепестки на руле
-Сенсорный экран
- Бортовой компьютер, подключенный к Интернету
-ИЗОФИКС
-Панорамная крыша
-Помощник по переулку
-Активный круиз-контроль
-Индуктивная зарядка телефонов
-Bluetooth
-Голосовое управление
И многое другое!

Отчет: Автомобиль ударен вперед, борта и зад целы, естественно будут выдавленные камни и т.д. все сами на месте.