New IVECO Daily XPRO alkoven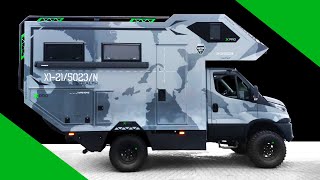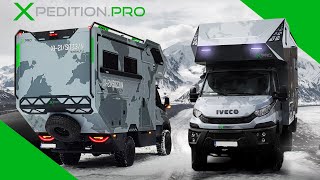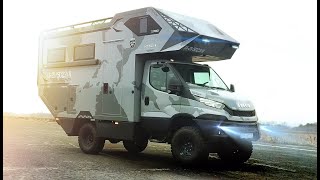 1/18
€269,000
Gross price, VAT – 19%
First registration
2021-08
Location
Poland
Description
Overall dimensions
6850 m × 2300 m × 3730 m
Need delivery?
Calculate the cost of delivery
With our new product, the XPRO One, you have the opportunity to explore the world from a different angle. With this vehicle, you can travel over difficult terrain and enjoy total freedom for at least 10 days, independent of energy and water sources.

With our modern design and essential details, the vehicle is very different from other motorhomes and creates a unique modern, robust and stylish impression.

The external appearance is in a strictly military look. On the other hand, the interior of the motorhome is luxurious with natural materials, soft fabrics and beautiful design.

We offer XPRO bodies on new chassis: Iveco Daily 4x4, Mitsubishi Canter, Fuso 4x4, Mercedes Sprinter 4x4 or on new and used chassis provided by the customer.




• Superstructure made of light sandwich panels, 50 mm thick, reinforced laminate 2 mm thick
• 2x200 liter water tanks
• 11 kg gas bottle
• Raised floor, 80 mm insulated sub-floor, top floor on plywood + panel aluminum structure
• Set of bottom-hung windows with roller blinds, tempered glass (Dema-Pro)
• Combi Truma 6D 6 kW (diesel) heating, 10 l boiler.
• 2x 160Ah Victron Smart Lithium batteries
• Electrical installation based on Victron components
• Taillights in neon LED technology with swim indicators
• Additional high beam with LED daytime running lights
• An alcove with sleeping accommodation
• Folding staircase with platform
• Backup camera
• Door with three-bolt lock
• Dometic Saneo CS cassette toilet (16 l)
• Dometic awning
• 2 burner stove with Dometic sink
• Extendable gas grill
• Coolmatix CRX 140 compressor refrigerator (135 l) Dometic
• rain gutter
• Aluminum lower toolboxes protected with Raptor paint
• Light poplar plywood furniture
• Possibility to install solar panels
• Structure suitable for 3 people

Availability in 30 days.

Price from €269,000 incl. 19% VAT.

Detailed equipment available by mail.



Technical changes and errors reserved.
Mit unserem neuen Produkt, dem XPRO One, haben Sie die Möglichkeit die Welt von einer anderen Seite zu erkunden. Sie können mit diesem Fahrzeug auch schwieriges Terrain bereisen und mindestens 10 Tage unabhängig von Energie- und Wasserquellen die totale Freiheit genießen.

Mit unserem modernen Design und wesentlichen Details unterscheidet sich das Fahrzeug stark von anderen Wohnmobilen und schafft einen einzigartigen modernen, robusten und stillvollen Eindruck.

Das äußere Erscheinungsbild ist in einem streng militärischen Look. Demgegenüber ist der Innenbereich des Wohnmobils luxuriös in natürlichen Materialen, weichen Stoffen und schönem Design gehalten.

Wir bieten XPRO -Aufbauten auf neuen Fahrgestellen: Iveco Daily 4x4, Mitsubishi Canter, Fuso 4x4, Mercedes Sprinter 4x4 oder auf neuen und gebrauchten Fahrgestellen, die vom Kunden bereitgestellt werden, an.




• Aufbaustruktur aus leichten Sandwichpaneelen, 50 mm stark, verstärktes Laminat 2 mm stark
• 2x200 Liter Wassertanks
• 11 kg Gasflasche
• Doppelboden, 80 mm isolierter Unterboden, Oberboden auf Sperrholz + Paneel-Aluminiumstruktur
• Set Kippfenster mit Rollos, gehärtetes Glas (Dema-Pro)
• Combi Truma 6D 6 kW (Diesel) Heizung, 10 l Boiler.
• 2x 160 Ah Victron Smart Lithium-Batterien
• Elektrische Installation basierend auf Victron-Komponenten
• Rückleuchten in Neon-LED-Technik mit Schwimmblinker
• Zusätzliches Fernlicht mit LED-Tagfahrlicht
• Eine Alkove mit Schlafgelegenheit
• Klapptreppe mit Podest
• Rückfahrkamera
• Tür mit Drei-Riegel-Schloss
• Dometic Saneo CS Kassettentoilette (16 l)
• Dometic-Markise
• 2-Flammen-Herd mit Dometic Spüle
• Ausziehbarer Gasgrill
• Coolmatix CRX 140 Kompressorkühlschrank (135 l) Dometic
• Regenrinne
• Untere Aluminium-Werkzeugkästen mit Raptor-Lack geschützt
• Möbel aus hellem Pappelsperrholz
• Möglichkeit zur Installation von Sonnenkollektoren
• Aufbau geeignet für 3 Personen

Verfügbarkeit in 30 Tagen.

Preis ab 269000 € inkl. 19% Mehrwertsteuer.

Detaillierte Ausstattung per Mail erhältlich.



Technische Änderungen und Irrtümer vorbehalten.
Dzięki naszemu nowemu produktowi, XPRO One, masz możliwość poznawania świata z innej perspektywy. Tym pojazdem możesz podróżować po trudnym terenie i cieszyć się całkowitą swobodą przez co najmniej 10 dni, niezależnie od źródeł energii i wody.

Dzięki naszemu nowoczesnemu wzornictwu i niezbędnym detalom pojazd bardzo różni się od innych kamperów i tworzy wyjątkowe, nowoczesne, solidne i stylowe wrażenie.

Wygląd zewnętrzny ma charakter stricte militarny. Z drugiej strony wnętrze kampera jest luksusowe z naturalnymi materiałami, miękkimi tkaninami i pięknym designem.

Oferujemy zabudowy XPRO na nowych podwoziach: Iveco Daily 4x4, Mitsubishi Canter, Fuso 4x4, Mercedes Sprinter 4x4 lub na nowym i używanym podwoziu dostarczonym przez klienta.




• Nadbudowa wykonana z lekkich płyt warstwowych o grubości 50 mm, wzmocnionego laminatu o grubości 2 mm
• 2x200 litrowe zbiorniki na wodę
• 11 kg butla gazowa
• Podłoga podniesiona, podłoże izolowane 80 mm, górna podłoga na konstrukcji ze sklejki + panel aluminiowy
• Zestaw dolnych okien z roletami, szkło hartowane (Dema-Pro)
• Ogrzewanie Combi Truma 6D 6 kW (diesel), bojler 10 l.
• 2x 160Ah inteligentne baterie litowe Victron
• Instalacja elektryczna oparta na komponentach Victron
• Tylne światła w technologii neonowej LED ze wskaźnikami pływania
• Dodatkowe światła drogowe ze światłami do jazdy dziennej LED
• Wnęka z miejscami do spania
• Składane schody z platformą
• Kamera cofania
• Drzwi z zamkiem trzyryglowym
• toaleta kasetowa Dometic Saneo CS (16 l)
• markiza Dometic
• 2-palnikowa kuchenka z umywalką Dometic
• Wysuwany grill gazowy
• Lodówka kompresorowa Coolmatix CRX 140 (135 l) Dometic
• rynna deszczowa
• Aluminiowe dolne skrzynki narzędziowe zabezpieczone farbą Raptor
• Meble ze sklejki z jasnej topoli
• Możliwość zainstalowania paneli słonecznych
• Konstrukcja odpowiednia dla 3 osób

Dostępność tego egzemplarza w 30 dni.

Cena od 269 000 € z 19% VAT.


Więcej szczegółow dostępne przez e-mail.


Zmiany techniczne i błędy zastrzeżone.
Important
This offer is for guidance only. Please request more precise information from the seller.
Safety tips
Seller's contacts
Samuel Sabatowicz
Languages:
Polish, German
Monika Majdaniuk
Languages:
English, Polish
Seller's local time: 05:59 (CEST)
Selling machinery or vehicles?
You can do it with us!