MGC CENTRUM SAMOCHODOW DOSTAWCZYCH
In stock: 54 ads
13 years at Autoline
The ad CHEVROLET Daycrusier Century Raven boat has been sold and is not included in the search!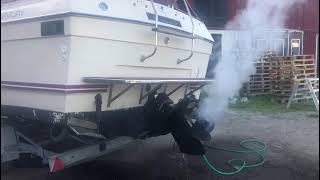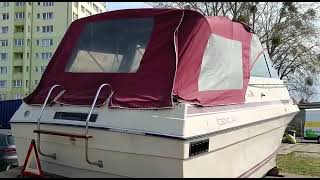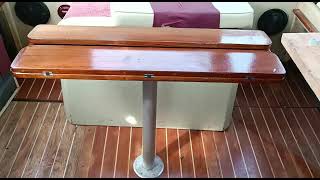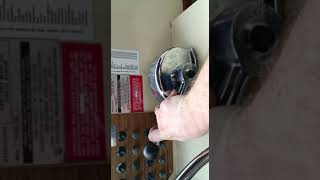 1/12
Model
Daycrusier Century Raven
Location
Poland
ŁAZISKA GÓRNE
Placed on
more than 1 month
Purchase on credit is possible
Description
Overall dimensions
length - 7.5 m, width - 2.55 m
ATTENTION!
PROMOTIONAL PRICE NOW ...
Then it will only get more expensive!
We issue an invoice for the boat.

Watch the video on:
https://m.youtube.com/watch?v=CYeG4aZX4Lc&feature=youtu.be

Producer: Daycruiser 5 seater

Century Raven
Model: 250
Year: 1978 but was completely renewed a few years ago
Length 7.5 m. Width 2.55m
Engine: Cheva 350 V8 eco-tuned 300 hp
Currently, it is located in the Auto showroom near the port in Gdańsk
One owner in Sweden, an older man who has not used it for several seasons.

Description

This freshwater and sea boat is really the best solution for the price and performance ratio.
Łódź has very good opinions and is doing well in various rankings.
It is the progenitor of the Eclipse series.
The new one cost over a million zlotys, now only a fraction of this amount!
Its great advantage is the original interior in great condition. The deep cockpit gives you a sense of security. Outboard bracket, downrigger and tandem trailer at this price.

Equipment including:
Refrigerator
Entire roof - large cockpit for tall people
Comfortable, wide seats
Porta Potti toilet 345
A gas cooker with two burners
Sink with tap

The price includes a boat trailer according to the attached photos.



The boat is completed after the inspection and ready for launching

INSPECTION REPORT:
-Yes, it starts
Go forward -Yes
Drive backwards - yes
Information from the current owner: The property is operational, no known comments or bugs
: Tires on the trailer must be replaced
Minor corrosion is present on the front trailer and the boat bracket

One side trim tab is not working.

New drive - Alpha Drive Gen 1 1.47 nr 2A546886
Confirmation of this repair is available

Cheva 350 V8 engine eco-tuned to 300PS
AUFMERKSAMKEIT!
AKTIONSPREIS JETZT ...
Dann wird es nur noch teurer!
Wir stellen eine Rechnung für das Boot aus.

Sehen Sie sich das Video an:
https://m.youtube.com/watch?v=CYeG4aZX4Lc&feature=youtu.be

Hersteller: Daycruiser 5-Sitzer

Jahrhundert Rabe
Modell: 250
Baujahr: 1978, wurde aber vor einigen Jahren komplett erneuert
Länge 7,5 m. Breite 2,55 m
Motor: Cheva 350 V8 Eco-tuned 300 PS
Derzeit befindet es sich im Autohaus in der Nähe des Hafens in Danzig
Ein Besitzer in Schweden, ein älterer Mann, der ihn mehrere Saisons lang nicht benutzt hat.

Beschreibung

Dieses Süßwasser- und Seeboot ist wirklich die beste Lösung für das Preis-Leistungs-Verhältnis.
Łódź hat sehr gute Meinungen und schneidet in verschiedenen Rankings gut ab.
Es ist der Vorläufer der Eclipse-Serie.
Der neue hat über eine Million Zloty gekostet, jetzt nur noch einen Bruchteil davon!
Sein großer Vorteil ist die originale Innenausstattung in hervorragendem Zustand. Das tiefe Cockpit gibt Ihnen ein Gefühl der Sicherheit. Außenborderhalterung, Downrigger und Tandemanhänger zu diesem Preis.

Ausrüstung einschließlich:
Kühlschrank
Ganzes Dach - großes Cockpit für große Menschen
Bequeme, breite Sitze
Porta Potti Toilette 345
Ein Gasherd mit zwei Brennern
Waschbecken mit Wasserhahn

Der Preis beinhaltet einen Bootstrailer gemäß den beigefügten Fotos.



Das Boot ist nach der Inspektion fertiggestellt und kann zu Wasser gelassen werden

INSPEKTIONSBERICHT:
-Ja, es beginnt
Vorwärts gehen - Ja
Rückwärts fahren - ja
Informationen des derzeitigen Eigentümers: Die Immobilie ist in Betrieb, keine bekannten Kommentare oder Fehler
: Reifen am Anhänger müssen erneuert werden
Am vorderen Anhänger und der Bootshalterung ist geringfügige Korrosion vorhanden

Eine seitliche Trimmklappe funktioniert nicht.

Neues Laufwerk - Alpha Drive Gen 1 1.47 Nr. 2A546886
Eine Bestätigung dieser Reparatur liegt vor

Cheva 350 V8-Motor auf 300PS öko-getuned ...
ΠΡΟΣΟΧΗ!
ΠΡΟΣΦΟΡΙΚΗ ΤΙΜΗ ΤΩΡΑ...
Τότε θα γίνει ακριβότερο!
Εκδίδουμε τιμολόγιο για το σκάφος.

Δείτε το βίντεο στο:
https://m.youtube.com/watch?v=CYeG4aZX4Lc&feature=youtu.be

Παραγωγός: Daycruiser 5 θέσεων

Century Raven
Μοντέλο: 250
Έτος: 1978 αλλά ανανεώθηκε πλήρως πριν από μερικά χρόνια
Μήκος 7,5μ. Πλάτος 2,55μ
Κινητήρας: Cheva 350 V8 eco-tuned 300 ίππων
Επί του παρόντος, βρίσκεται στον εκθεσιακό χώρο Auto κοντά στο λιμάνι στο Γκντανσκ
Ένας ιδιοκτήτης στη Σουηδία, ένας ηλικιωμένος άνδρας που δεν το έχει χρησιμοποιήσει για αρκετές σεζόν.

Περιγραφή

Αυτό το σκάφος γλυκού νερού και θάλασσας είναι πραγματικά η καλύτερη λύση για την αναλογία τιμής και απόδοσης.
Η Λοντζ έχει πολύ καλές απόψεις και τα πάει καλά σε διάφορες βαθμολογίες.
Είναι ο πρόγονος της σειράς Eclipse.
Το νέο κόστιζε πάνω από ένα εκατομμύριο ζλότι, τώρα μόνο ένα κλάσμα αυτού του ποσού!
Το μεγάλο του πλεονέκτημα είναι το αρχικό εσωτερικό σε εξαιρετική κατάσταση. Το βαθύ πιλοτήριο σου δίνει μια αίσθηση ασφάλειας. Εξωλέμβιο στήριγμα, κατεβασμένο σκάφος και ρυμουλκούμενο σε αυτήν την τιμή.

Εξοπλισμός που περιλαμβάνει:
Ψυγείο
Ολόκληρη οροφή - μεγάλο πιλοτήριο για ψηλούς ανθρώπους
Άνετα, φαρδιά καθίσματα
Τουαλέτα Porta Potti 345
Κουζίνα υγραερίου με δύο εστίες
Νεροχύτης με βρύση

Στην τιμή περιλαμβάνεται ρυμουλκούμενο σκάφους σύμφωνα με τις συνημμένες φωτογραφίες.



Το σκάφος ολοκληρώνεται μετά την επιθεώρηση και είναι έτοιμο για καθέλκυση

ΕΚΘΕΣΗ ΕΠΙΘΕΩΡΗΣΗΣ:
-Ναι, αρχίζει
Προχωρήστε - Ναι
Οδηγήστε προς τα πίσω - ναι
Πληροφορίες από τον τρέχοντα ιδιοκτήτη: Το ακίνητο είναι λειτουργικό, δεν υπάρχουν γνωστά σχόλια ή σφάλματα
: Τα ελαστικά στο τρέιλερ πρέπει να αντικατασταθούν
Υπάρχει μικρή διάβρωση στο μπροστινό τρέιλερ και στο στήριγμα του σκάφους

Η μία πλαϊνή γλωττίδα περικοπής δεν λειτουργεί.

Νέα μονάδα δίσκου - Alpha Drive Gen 1 1.47 nr 2A546886
Υπάρχει διαθέσιμη επιβεβαίωση αυτής της επισκευής

Κινητήρας Cheva 350 V8 οικολογικός ρυθμισμένος στα 300 PS ...
¡ATENCIÓN!
PRECIO PROMOCIONAL AHORA...
¡Entonces solo será más caro!
Emitimos una factura por el barco.

Mira el video en:
https://m.youtube.com/watch?v=CYeG4aZX4Lc&feature=youtu.be

Productor: Daycruiser 5 plazas

Cuervo del siglo
Modelo: 250
Año: 1978 pero se renovó por completo hace unos años
Longitud 7,5 m. Ancho 2,55 m
Motor: Cheva 350 V8 eco-tuned 300 hp
Actualmente, se encuentra en la sala de exposición de automóviles cerca del puerto de Gdańsk.
Un propietario en Suecia, un hombre mayor que no lo ha usado durante varias temporadas.

Descripción

Este barco de agua dulce y mar es realmente la mejor solución para la relación precio y rendimiento.
Łódź tiene muy buenas opiniones y le está yendo bien en varios rankings.
Es el progenitor de la serie Eclipse.
El nuevo costó más de un millón de zlotys, ¡ahora solo una fracción de esta cantidad!
Su gran ventaja es el interior original en perfecto estado. La cabina profunda te da una sensación de seguridad. Soporte externo, downrigger y remolque en tándem a este precio.

Equipo que incluye:
Refrigerador
Techo completo - cabina grande para gente alta
Asientos cómodos y amplios
Inodoro Porta Potti 345
Una cocina de gas con dos quemadores.
Fregadero con grifo

El precio incluye un remolque de barco según las fotos adjuntas.



El barco se completa después de la inspección y está listo para botar.

REPORTE DE INSPECCIÓN:
-Sí, empieza
Adelante -Sí
Conducir marcha atrás - sí
Información del propietario actual: la propiedad está operativa, no se conocen comentarios ni errores
: Los neumáticos del remolque deben ser reemplazados
Hay corrosión menor en el remolque delantero y en el soporte de la embarcación

Una lengüeta lateral no funciona.

Nueva transmisión - Alpha Drive Gen 1 1.47 nr 2A546886
La confirmación de esta reparación está disponible.

Motor Cheva 350 V8 eco-tuned a 300PS...
ATTENTION!
PRIX PROMOTIONNEL MAINTENANT...
Ensuite, cela ne fera que coûter plus cher !
Nous émettons une facture pour le bateau.

Regardez la vidéo sur :
https://m.youtube.com/watch?v=CYeG4aZX4Lc&feature=youtu.be

Fabricant : Daycruiser 5 places

Corbeau du siècle
Modèle : 250
Année : 1978 mais a été entièrement renouvelée il y a quelques années
Longueur 7,5 mètres. Largeur 2.55m
Moteur : Cheva 350 V8 eco-tuned 300 cv
Actuellement, il est situé dans la salle d'exposition Auto près du port de Gdańsk
Un propriétaire en Suède, un homme plus âgé qui ne l'a pas utilisé depuis plusieurs saisons.

La description

Ce bateau d'eau douce et de mer est vraiment la meilleure solution pour le rapport prix et performances.
Łódź a de très bonnes opinions et se débrouille bien dans divers classements.
C'est l'ancêtre de la série Eclipse.
Le nouveau a coûté plus d'un million de zlotys, maintenant seulement une fraction de ce montant !
Son grand avantage est l'intérieur d'origine en très bon état. Le cockpit profond vous donne un sentiment de sécurité. Support hors-bord, downrigger et remorque tandem à ce prix.

Equipement comprenant :
Réfrigérateur
Toit entier - grand cockpit pour les personnes de grande taille
Sièges larges et confortables
WC Porta Potti 345
Une cuisinière à gaz avec deux brûleurs
Évier avec robinet

Le prix comprend une remorque à bateau selon les photos ci-jointes.



Le bateau est terminé après l'inspection et prêt à être mis à l'eau

RAPPORT D'INSPECTION:
-Oui, ça démarre
Avancer -Oui
Conduire en arrière - oui
Information du propriétaire actuel : La propriété est opérationnelle, pas de commentaires ou de bugs connus
: Les pneus de la remorque doivent être remplacés
Une corrosion mineure est présente sur la remorque avant et le support du bateau

Un volet de garniture latéral ne fonctionne pas.

Nouveau disque - Alpha Drive Gen 1 1.47 nr 2A546886
La confirmation de cette réparation est disponible

Moteur Cheva 350 V8 éco-réglé à 300PS ...
AANDACHT!
Dan wordt het alleen maar duurder!
Wij verstrekken een factuur voor de boot.

Bekijk de video op:
https://m.youtube.com/watch?v=CYeG4aZX4Lc&feature=youtu.be

Producent: Daycruiser 5 zits

eeuwse raaf
Model: 250
Jaar: 1978 maar enkele jaren geleden volledig vernieuwd
Lengte 7,5 meter. Breedte 2.55m
Motor: Cheva 350 V8 eco-tuned 300 pk
Momenteel bevindt het zich in de Auto-showroom in de buurt van de haven in Gdańsk
Een eigenaar in Zweden, een oudere man die hem al een aantal seizoenen niet heeft gebruikt.

Beschrijving

Deze zoetwater- en zeeboot is echt de beste oplossing voor de prijs en prestatieverhouding.
Łódź heeft zeer goede meningen en doet het goed in verschillende rankings.
Het is de stamvader van de Eclipse-serie.
De nieuwe kostte meer dan een miljoen zloty, nu nog maar een fractie van dit bedrag!
Het grote voordeel is het originele interieur in een geweldige staat. De diepe kuip geeft je een veilig gevoel. Buitenboordmotorsteun, downrigger en tandemtrailer voor deze prijs.

Uitrusting inclusief:
Koelkast
Gehele dak - grote kuip voor lange mensen
Comfortabele, brede stoelen
Porta Potti toilet 345
Een gasfornuis met twee branders
Spoelbak met kraan

De prijs is inclusief een boottrailer volgens de bijgevoegde foto's.



De boot is na de inspectie voltooid en klaar om te water te gaan

INSPECTIE RAPPORT:
-Ja, het begint
Ga vooruit -Ja
Achteruit rijden - ja
Informatie van de huidige eigenaar: Het pand is operationeel, geen opmerkingen of bugs bekend
: Banden op de aanhanger moeten vervangen worden
Er is lichte corrosie aanwezig op de voorste trailer en de bootbeugel

Een kant trim tab werkt niet.

Nieuwe schijf - Alpha Drive Gen 1 1.47 nr 2A546886
Bevestiging van deze reparatie is beschikbaar

Cheva 350 V8-motor eco-tuned tot 300 pk
UWAGA!

PROMOCYJNA CENA do końca miesiąca
Potem będzie tylko drożej !
Na łódkę wystawiamy fakturę FV .

Zobacz filmik na :
https://m.youtube.com/watch?v=CYeG4aZX4Lc&feature=youtu.be

Producent: Daycruiser 5 osobowa

Century Raven
Model: 250
Rok: 1978 lecz była cała odnowiona kilka lat temu
Długość 7,5m . Szerokość 2,55m
Silnik: Cheva 350 V8 eco-tuned o mocy 300 KM
Obecnie znajduje sie w Auto salonie koło portu w Gdańsku
Jeden właściciel w Szwecji starszy Pan, który już kilka sezonów jej nie używał.

Opis

Ta łódź słodkowodna jak i morska jest naprawdę najlepszym rozwiązaniem dla stosunku ceny jak i parametrów .
Łódź ma bardzo dobre opinie i radzi sobie dobrze w różnych rankingach .
To protoplasta serii Eclipse .
Nowa kosztowała ponad milion złotych , teraz tylko ułamek tej kwoty !
Jej duży atut to oryginalne wnętrze w świetnym stanie. Głęboki kokpit daje poczucie bezpieczeństwa. Wspornik silnika zaburtowego, downrigger i przyczepa tandem w tej cenie .

Wyposażenie m.in:
Lodówka
Całe zadaszenie - duży kokpit dla wysokich osób
Wygodne ,szerokie fotele
Toaleta Porta Potti 345
Kuchenka gazowa z dwoma palnikami
Zlew z kranem

W cenie przyczepa podłodziowa według załączonych zdjęć.



Łódź jest ukończona po przeglądzie i gotowa do wodowania

RAPORT Z OGLĘDZIN:
Uruchamia się -tak
Jedź do przodu -Tak
Jedź do tyłu -tak
Informacja od obecnego właściciela: Obiekt działa, brak znanych uwag lub błędów
: Opony na przyczepie są do wymiany
Niewielkie Ogniska korozji są obecne na przyczepie z przodu i na wsporniku łodzi

Jedna boczna zakładka wykończeniowa nie działa.

Nowy napęd - Alpha Drive Gen 1 1.47 nr 2A546886
Potwierdzenie tej naprawy jest dostępne

Silnik Cheva 350 V8 eko-dostrojony do 300PS
ATENŢIE!
PRET PROMOTIONAL ACUM...
Atunci se va scumpi doar!
Emitem factura pentru barca.

Urmărește videoclipul pe:
https://m.youtube.com/watch?v=CYeG4aZX4Lc&feature=youtu.be

Producator: Daycruiser 5 locuri

Century Raven
Model: 250
Anul: 1978 dar a fost complet reînnoit acum câțiva ani
Lungime 7,5 m. Latime 2,55 m
Motor: Cheva 350 V8 eco-tuned 300 CP
În prezent, se află în showroom-ul auto din apropierea portului din Gdańsk
Un proprietar în Suedia, un bărbat în vârstă care nu l-a folosit de câteva sezoane.

Descriere

Această barcă de apă dulce și de mare este într-adevăr cea mai bună soluție pentru raportul preț și performanță.
Łódź are opinii foarte bune și se descurcă bine în diferite clasamente.
Este progenitorul seriei Eclipse.
Cel nou a costat peste un milion de zloți, acum doar o fracțiune din această sumă!
Marele său avantaj este interiorul original în stare excelentă. Carlinga adâncă vă oferă un sentiment de securitate. Suport exterior, downrigger și remorcă tandem la acest preț.

Echipamente care includ:
Frigider
Întregul acoperiș - cockpit mare pentru oameni înalți
Scaune confortabile, largi
Toaleta Porta Potti 345
Un aragaz cu doua arzatoare
Chiuveta cu robinet

Pretul include o remorca pentru barca conform fotografiilor atasate.



Barca este finalizată după inspecție și gata de lansare

RAPORT DE INSPECTIE:
-Da, începe
Mergi înainte - Da
Conduceți înapoi - da
Informații de la proprietarul actual: proprietatea este operațională, nu se cunosc comentarii sau erori
: Anvelopele remorcii trebuie înlocuite
Coroziune minoră este prezentă pe remorca față și pe suportul bărcii

O lame de tăiere laterală nu funcționează.

Unitate nouă - Alpha Drive Gen 1 1.47 nr 2A546886
Confirmarea acestei reparații este disponibilă

Motorul Cheva 350 V8 eco-ajustat la 300 CP...