The ad RENAULT Midlum 12.220,idealny kontener 12EP,E5,Automat,Szybki rozwóz box truck has been sold and is not included in the search!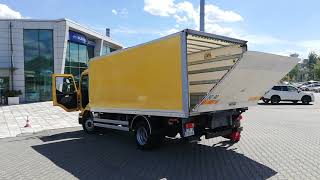 1/31
Model
Midlum 12.220,idealny kontener 12EP,E5,Automat,Szybki rozwóz
First registration
2013-11-12
Location
Poland
ŁAZISKA GÓRNE
Placed on
more than 1 month
Description
Overall dimensions
510 m × 250 m × 200 m
Cabin
Cruise control (tempomat)
Electrically operated mirrors
FRESHLY BRED AND PREPARED FOR SALE!
All the time in one hand.

Year 2013
Capacity: 4,764
Power: 161 kW = 218 HP
Fuel: Diesel
Permissible total weight (kg): 12000
Own weight (kg) 6030
Load capacity: 5970 kg
Dimensions: Length 510cm / Width 250cm / Height 200cm
Wheelbase 380cm
Suspension:
- back of the pillow
- front spring
Pneumatic driver's seat with armrest
Electric windows
Electric mirrors
Heated mirrors
Cruise control
Door lock from inside
Factory radio
Tire size: 245/70 R19.5 Very good condition

Dear Customer!
If you want to buy a decent car, WELCOME TO US.
If YOU ONLY GUIDE YOURSELF BY THE PRICE, and parameters such as: ACTUAL COURSE OR ACCIDENTITY are SECONDARY VALUES for you, then in our humble opinion, a DAMAGE to your and our time.
Possibility to change the Load capacity or other parameters before registration.
We handle all documents for registration and UDT

Please familiarize yourself with the following amenities, which are often unique solutions on a national scale, significantly differentiating us from other showrooms, and very useful for you when buying your dream car:
1. As we have been a legally operating company for over 20 years, we guarantee the security of purchase based on appropriate records and documents confirming the legality of the origin, which entails our full liability for legal defects of the vehicle.
2. Before selling the cars, we check them technically free of charge at the Service Center and a diagnostic station.
3. We pay for the customer and prepare all the documents necessary to register the car, just go with them to the Communication Department and register the selected car free of charge.
4. For most of the cars we offer, we provide a technical warranty with no mileage limit, even for 2 years, after a detailed service inspection.
5. We provide professional, free consultancy and we have an individual approach to the client. We always provide you with reliable advice.
6. We have attractive credit or leasing conditions in 10 banks and leasing companies. Even without the first payment, with a low commission and the possibility of early repayment, which will satisfy the most demanding client who prefers financing.

7. As we are not a commission or broker, but a direct importer and owner of vehicles, we guarantee you no hidden commissions and at the same time one of the best prices in Poland.
8. We have cards for our regular customers and we offer a system of large discounts, which also works in our service or rental.
9. All cars on offer are available immediately, most of them are in the building, so eg bad weather is a secondary matter.
10. We invite you to a comfortable sofa, where, over a freshly roasted coffee, we will talk about your expectations and how you want to finance your new car.
11. After the purchase, we offer the option of delivering the car to the address indicated.
Due to the above, we hope that you will devote your valuable time to us and decide to choose our offer. We will be really pleased to host you.


THIS ANNOUNCEMENT IS FOR INFORMATION ONLY AND DOES NOT CONSTITUTE AN OFFERING IN THE MEANING OF ART. 66, § 1 of the CIVIL CODE. OUR COMPANY SHALL NOT BE LIABLE FOR MINOR ERRORS AND INCOMPLETE INFORMATION OR NOT UPDATED IN THE ADVERTISEMENT.
ŚWIEŻO SPROWADZONY I PRZYGOTOWYWANY DO SPRZEDAŻY !
Cały czas w jednych rękach.

Rok: 2013
Pojemność: 4764
Moc: 161 kW= 218 PS
Paliwo: Diesel
Dopuszczalna Masa całkowita (kg): 12000
Masa wlasna (kg) 6030
Ładowność : 5970kg
Wymiary: Długość 510cm / Szerokość 250cm / wysokość 200cm
Rozstaw osi 4,05m
Zawieszenie:

- przód i tył resor paraboliczny
Fotel kierowcy pneumatyczny z podłokietnikiem
Elektryczne szyby
Elektryczne lusterka
Podgrzewane lusterka
Tempomat
Blokada drzwi od wewnątrz
Radio fabryczne
Opony rozmiar : 245/70 R19,5 Stan bardzo dobry

Szanowny Kliencie!
Jeśli pragniesz zakupić PORZĄDNE AUTO, TO ZAPRASZAMY DO NAS.
Jeśli TYLKO SUGERUJESZ SIĘ CENĄ, a takie parametry jak: RZECZYWISTY PRZEBIEG CZY BEZWYPADKOWOŚĆ to dla Ciebie WARTOŚCI DRUGORZĘDNE, to naszym skromnym zdaniem SZKODA Twojego i naszego czasu.
Możliwość zmiany Ładowności czy innych parametrów przed rejestracją.
Załatwiamy wszelkie dokumenty do rejestracji i UDT

Prosimy Państwa o zapoznanie się z poniższymi udogodnieniami, które często są rozwiązaniami unikatowymi w skali kraju, w znaczny sposób odróżniającymi nas od innych salonów, a jakże przydatnymi dla Was przy zakupie wymarzonego auta:
1. Jako, że od ponad 20 lat jesteśmy legalnie działającą firmą, gwarantujemy bezpieczeństwo zakupu oparte odpowiednimi zapisami i dokumentami potwierdzającymi legalność pochodzenia co wiąże się z naszą pełną odpowiedzialnością za wady prawne pojazdu.
2. Przed sprzedażą bezpłatnie sprawdzamy auta pod względem technicznym na Serwisie i stacji diagnostycznej.
3. Opłacamy za klienta i przygotowujemy wszelkie niezbędne do rejestracji auta dokumenty, wystarczy udać się z nimi do Wydziału Komunikacji i bezpłatnie zarejestrować wybrany samochód.
4. Na większość oferowanych samochodów udzielamy gwarancji technicznej bez limitu kilometrów nawet na 2 lata po uprzednim szczegółowym przeglądzie serwisowym.
5. Udzielamy fachowego, bezpłatnego doradztwa oraz cechujemy się indywidualnym podejściem do Klienta. Zawsze udzielimy Państwu rzetelnej porady.
6. Mamy atrakcyjne warunki kredytowe czy leasingowe w 10 bankach i towarzystwach leasingowych. Nawet bez pierwszej wpłaty z niską prowizją i możliwością wcześniejszej spłaty co zadowoli najbardziej wymagającego klienta, preferującego finansowanie.
7. Jako, że nie jesteśmy komisem czy pośrednikiem tylko bezpośrednim importerem i właścicielem pojazdów , gwarantujemy Państwu brak jakichkolwiek ukrytych prowizji i zarazem jedne z najlepszych cen w Polsce.
8. Dla naszych stałych klientów mamy karty i oferujemy system dużych rabatów, który działa także w naszym serwisie czy wypożyczalni.
9. Wszystkie samochody znajdujące się w ofercie dostępne są od ręki, gro z nich znajduje się w budynku więc np. brzydka pogoda jest sprawą drugorzędną.
10. Zapraszamy na wygodną sofę, gdzie przy świeżo palonej kawie, porozmawiamy o Twoich oczekiwaniach i o tym w jaki sposób chcesz sfinansować swój nowy samochód.
.

NINIEJSZE OGŁOSZENIE MA CHARAKTER JEDYNIE INFORMACYJNY I NIE STANOWI OFERTY W MYŚL ART. 66, § 1. KODEKSU CYWILNEGO. NASZA FIRMA NIE PONOSI ODPOWIEDZIALNOŚCI ZA DROBNE BŁĘDY ORAZ ZAWARTE W OGŁOSZENIU NIEKOMPLETNE INFORMACJE LUB NIEAKTUALNOŚĆ OGŁOSZENIA.
tel. 322260714