MGC CENTRUM SAMOCHODOW DOSTAWCZYCH
In stock: 52 ads
13 years at Autoline
27 years on the market
The ad VOLVO FE 280 box truck has been sold and is not included in the search!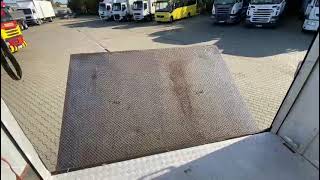 1/31
Location
Poland
ŁAZISKA GÓRNE
Placed on
more than 1 month
Purchase on credit is possible
Description
Overall dimensions
length - 9.8 m, width - 2.6 m
Truck body
Body dimensions
length - 7.5 m, width - 2.6 m
Hello, we have a Volvo Fe 280 from Sweden to offer, for 20 EUROPALLETS a great thing that can be opened from the side. Technically, the vehicle is top, the relatively low mileage of the car looks very nice.
A fully operational ZEPRO elevator.

The vehicle is currently standing in Sweden, so we offer delivery of this vehicle to the door!
Please call for details!

Dimensions and weight:
Own weight: 11010 kg
DMC: 26000 kg
Maximum load weight: 14990 kg

Vehicle length: 9.8m
Width: 2.6m
Package length: 7.5m

Equipment:
-ABS
-Retarder
-Factory radio
-Air conditioning
-Armchair with pneumatics
-Central lock
-Electric windows and mirrors
-ZEPRO elevator
-Tachograph
-Rear axle is lifted
-Diff lock
- Multifunction steering wheel, adjustable in 2 positions
-On-board computer

Dear Customer!
If you want to buy a decent car, WELCOME TO US.
If YOU ONLY GUIDE YOURSELF BY THE PRICE, and parameters such as: ACTUAL COURSE OR ACCIDENTITY are SECONDARY VALUES for you, then in our humble opinion, a DAMAGE to your and our TIME.

THIS ANNOUNCEMENT IS FOR INFORMATION ONLY AND DOES NOT CONSTITUTE AN OFFERING IN THE MEANING OF ART. 66, § 1 of the CIVIL CODE. OUR COMPANY SHALL NOT BE LIABLE FOR MINOR ERRORS AND INCOMPLETE INFORMATION OR NOT UPDATED IN THE ADVERTISEMENT.
Witam, mamy do zaoferowania Volvo Fe 280 ze Szwecji, na 20 EUROPALET dodatkowo otwierana z boku super sprawa. Technicznie pojazd jest top, stosunkowo niski przebieg samochodu prezentuje się bardzo ładnie.
W pełni sprawna Winda ZEPRO.

Pojazd stoi na razie we Szwecji dlatego oferujemy dostawę tego pojazdu pod same drzwi!
Po szczegóły proszę dzwonić !

Wymiary i waga:
Masa własna: 11010kg
DMC: 26000kg
Maksymalna masa ładunku: 14990kg

Długość pojazdu: 9.8m
Szerokość: 2.6m
Długość paki: 7.5m

Wyposażenie:
-ABS
-Retarder
-Radio fabryczne
-Klimatyzacja
-Fotel z pneumatyką
-Centralny zamek
-Elektryczne szyby jak i lusterka
-Winda ZEPRO
-Tachograf
-Tylna oś podnoszona
-Blokada dyfru
-Kierownica wielofunkcyjna regulowana w 2 pł.
-Komputer pokładowy

Szanowny Kliencie!
Jeśli pragniesz zakupić PORZĄDNE AUTO, TO ZAPRASZAMY DO NAS.
Jeśli TYLKO SUGERUJESZ SIĘ CENĄ, a takie parametry jak: RZECZYWISTY PRZEBIEG CZY BEZWYPADKOWOŚĆ to dla Ciebie WARTOŚCI DRUGORZĘDNE, to naszym skromnym zdaniem SZKODA Twojego i naszego CZASU.

NINIEJSZE OGŁOSZENIE MA CHARAKTER JEDYNIE INFORMACYJNY I NIE STANOWI OFERTY W MYŚL ART. 66, § 1. KODEKSU CYWILNEGO. NASZA FIRMA NIE PONOSI ODPOWIEDZIALNOŚCI ZA DROBNE BŁĘDY ORAZ ZAWARTE W OGŁOSZENIU NIEKOMPLETNE INFORMACJE LUB NIEAKTUALNOŚĆ OGŁOSZENIA.