MGC CENTRUM SAMOCHODOW DOSTAWCZYCH
In stock: 56 ads
13 years at Autoline
27 years on the market
VOLVO FL 250 , 18 Palets,E6,Very Good Condition box truck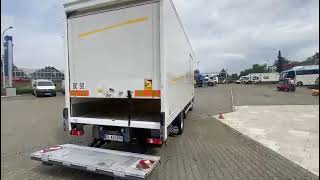 1/24
First registration
2015-12-08
Location
Poland
ŁAZISKA GÓRNE
Purchase on credit is possible
Purchase by installments is possible
Description
Overall dimensions
7.4 m × 2.54 m × 2.7 m
Truck body
Body dimensions
9.3 m × 2.54 m × 3.7 m
Engine
Fuel consumption
20 l/100km
Need delivery?
Calculate the cost of delivery
Cabin
Cruise control (tempomat)
Electrically operated mirrors
Condition
Technical inspection valid till
2023-12
Palfinger Elevator up to 1.5 T!

Urgent sale!

Y 2016 model
The car can be picked up from northern France.

All the time in operation,

Inspections carried out on a regular basis,

First hand,

Not for sale, the car is in constant use.

Call for details

Import to Poland cirka + 1500 € more.

Note to importers!

Car transport to the port of Hamburg / Bremenhaven costs approximately + € 500.

THIS ANNOUNCEMENT IS FOR INFORMATION ONLY AND DOES NOT CONSTITUTE AN OFFERING IN THE MEANING OF ART. 66, § 1 of the CIVIL CODE. OUR COMPANY SHALL NOT BE LIABLE FOR MINOR ERRORS AND INCOMPLETE INFORMATION CONTAINED IN THE ADVERTISING OR WHEN THE ADVERTISEMENT IS UNAVAILABLE.
Palfinger Elevator έως 1,5 T!
Επείγουσα πώληση!
μοντέλο 2016
Το αυτοκίνητο μπορεί να παραληφθεί από τη βόρεια Γαλλία.
Όλη την ώρα σε λειτουργία,
Επιθεωρήσεις που πραγματοποιούνται σε τακτική βάση,
Πρώτο χέρι,
Δεν πωλείται, το αυτοκίνητο είναι σε συνεχή χρήση.
Καλέστε για λεπτομέρειες
Εισαγωγή στην Πολωνία cirka + 1500 € επιπλέον.
Σημείωση για τους εισαγωγείς!
Η μεταφορά με αυτοκίνητο στο λιμάνι του Αμβούργου / Bremenhaven κοστίζει περίπου + € 500.
Όλες οι πληροφορίες στα ελληνικά θα παρέχονται από τον εκπρόσωπο μας Radek. τηλέφωνο
show contacts
- καλέστε το Whatts Up
Η ΠΑΡΟΥΣΑ ΑΝΑΚΟΙΝΩΣΗ ΕΙΝΑΙ ΜΟΝΟ ΓΙΑ ΕΝΗΜΕΡΩΣΗ ΚΑΙ ΔΕΝ ΑΠΟΤΕΛΕΙ ΠΡΟΣΦΟΡΑ ΜΕ ΤΗΝ ΕΝΝΟΙΑ ΤΗΣ ΤΕΧΝΗΣ. 66, § 1 ΑΣΤΙΚΟΣ ΚΩΔ. Η ΕΤΑΙΡΕΙΑ ΜΑΣ ΔΕΝ ΦΕΡΕΙ ΕΥΘΥΝΗ ΓΙΑ ΜΙΚΡΟΥΣ ΛΑΘΗ ΚΑΙ ΕΛΛΗΝΕΣ ΠΛΗΡΟΦΟΡΙΕΣ ΠΟΥ ΠΕΡΙΕΧΟΝΤΑΙ ΣΤΗ ΔΙΑΦΗΜΙΣΗ Ή ΟΤΑΝ Η ΔΙΑΦΗΜΙΣΗ ΕΙΝΑΙ ΜΗ ΔΙΑΘΕΣΙΜΗ.
Ascenseur Palfinger jusqu'à 1,5 T !
Vente urgente !
modèle 2016
La voiture peut être récupérée dans le nord de la France.
Tout le temps en fonctionnement,
Des contrôles effectués régulièrement,
Première main,
Pas à vendre, la voiture est constamment utilisée.
Appelez pour plus de détails
Importation en Pologne vers + 1500 € de plus.
Avis aux importateurs !
Le transport en voiture jusqu'au port de Hambourg / Bremenhaven coûte environ + 500 €.
CETTE ANNONCE EST À TITRE D'INFORMATION SEULEMENT ET NE CONSTITUE PAS UNE OFFRE AU SENS DE L'ART. 66, § 1 du CODE CIVIL. NOTRE SOCIÉTÉ NE SERA PAS RESPONSABLE DES ERREURS MINEURES ET DES INFORMATIONS INCOMPLÈTES CONTENUES DANS L'ANNONCE OU LORSQUE L'ANNONCE N'EST PAS DISPONIBLE.
Contact et assistance à l'achat en français M. Artur.
show contacts
s'il vous plaît appelez, également sur les applications Whatts Up
Samochód posiada francuskie dokumenty rejestracyjne .
Pilna sprzedaż !

Nowy Model 2016/ produkcja 2015r.

Dla handlarzy w pakiecie z FE 280 ,19 tonowym z grudnia 2016 w super cenie ,22 Paletowe.

Auta do odbioru z północnej Francji .

Cały czas w eksploatacji ,
Bezwypadkowy
Winda Palfinger do 1.5 T

Przeglądy robione na bieżąco ,

Pierwsza ręka ,

Nie picowany pod sprzedaż , auto w ciągłej eksploatacji .

Przywóz do Polski cirka + 1500€ więcej.

Uwaga dla importerów !

Transport samochodu do portu w Hamburg/ Bremenhaven koszt około + 500€ .

NINIEJSZE OGŁOSZENIE MA CHARAKTER JEDYNIE INFORMACYJNY I NIE STANOWI OFERTY W MYŚL ART. 66, § 1. KODEKSU CYWILNEGO. NASZA FIRMA NIE PONOSI ODPOWIEDZIALNOŚCI ZA DROBNE BŁĘDY ORAZ ZAWARTE W OGŁOSZENIU NIEKOMPLETNE INFORMACJE LUB NIEAKTUALNOŚĆ OGŁOSZnia
Palfinger Elevator până la 1,5 T!
Vânzare urgentă!
model 2016
Mașina poate fi ridicată din nordul Franței.
Tot timpul în funcțiune,
Inspecții efectuate în mod regulat,
Prima mana,
Nu este de vânzare, mașina este în uz constant.
Sunați pentru detalii
Import în Polonia cirka + 1500 € în plus.
Notă importatorilor!
Transportul cu mașina la portul Hamburg / Bremenhaven costă aproximativ + 500 €.
Toate informatiile in limba romana vor fi furnizate de reprezentantul nostru Marius din Ploesti.
telefon
show contacts
, sună Whatsapp
ACEST ANUNȚ ESTE NUMAI INFORMATIV ȘI NU CONSTITUIE O OFERTĂ ÎN ÎNTENSEA ART. 66, § 1 COD CIVIL. COMPANIA NOASTRĂ NU VA FI RESPONSABILĂ PENTRU ERORI MINORI ȘI INFORMAȚII INCOMPLETE CUȚINUTE ÎN PUBLICITATE SAU CÂND RECLAMUL ESTE INDISPONIBIL.
Important
This offer is for guidance only. Please request more precise information from the seller.
Safety tips
Seller's contacts
Mariusz Gruchel
właściciel
Languages:
English, Russian, Polish
Poland, Silesian, 43-170, ŁAZISKA GÓRNE, ul. HUTNICZA 6
Seller's local time: 12:35 (CET)
Selling machinery or vehicles?
You can do it with us!