The ad Volvo FL-260 16 Tonner Portaltüren box truck has been sold and is not included in the search!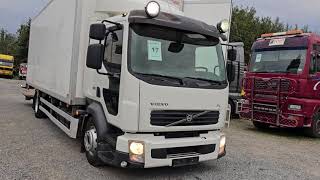 1/33
Model
FL-260 16 Tonner Portaltüren
Year of manufacture
06/2010
First registration
2010-06-22
Location
Germany
Hamburg
Placed on
more than 1 month
Description
Overall dimensions
9.82 m × 2.58 m × 3.68 m
Truck body
Body dimensions
7.49 m × 2.45 m × 2.5 m
Cabin
Cruise control (tempomat)
Electrically operated mirrors
Condition
Technical inspection valid till
2024-09-25
Youtube link zum Lkw: https://youtu.be/As-4-DRsfeY

Kilometerstand/Mileage: 596476 km (original)

Koffer mit Portaltüren

Hebebühne ZEPRO
Tragfähigkeit: 1.500 kg

Standheizung
Antennen
Radio/Kassette/CD/MP3
Klimaanlage
2x Luftgefederte Sitze mit Sitzheizung und voll verstellbar
Elektrische Fensterheber
Elektrisch verstellbare Außenspiegel
Multifunktionslenkrad
Geschwindigkeitsbegrenzer

Sonnenblende
Arbeitsscheinwerfer
Nebelleuchten
Fernlicht


Schadstoffklasse: EURO 5 mit Ad-Blue
Motorbremse/Retarder/Intarder

Radformel: 4x2
Differentialsperre
Radstand Achse 1 und 2: 5.600 mm
Reifengröße Achse1 (vorne): 285/70R19,5
Reifengröße Achse2 (hinten): 285/70R19,5

Luftfederung / Luftfederung
Radabdeckung


Leergewicht: 7.975 kg
Nutzlast/Zuladung: 8.025 kg
Zulässige Gesamtgewicht: 16.000 kg

Fahrzeug gesamt Maßen (Länge x Breite x Höhe): 982cm x 258cm x 368cm
Aufbau Innen Maßen (Länge x Breite x Höhe): 749cm x 245cm x 250cm

Mit neuen TüV und AU nach Absprache!

Sie können uns auch über WhatsApp, Signal, Viber oder Telegramm erreichen. Telefon Nummer: Kontaktdaten anzeigen

Inzahlungnahme möglich!

Wir können Ihr Fahrzeug direkt zum Hafen von Hamburg, Kiel, Bremerhaven/Cuxhaven, Lübeck in Deutschland oder Antwerpen/Belgien und Amsterdam überführen.

Wir können für Sie das Fahrzeug weltweit verschiffen!

Exportkennzeichen auf Wunsch! Wir unterstützen Sie beim Export, Originale Datenbestätigung zur Länder-Homologation, Lieferantenerklärung, Erstellung der Ausfuhrpapiere und Zollkennzeichen Fertigung, wenn erforderlich

Eine Besichtigung und Probefahrt ist jederzeit, auch am Wochenende, nach telefonischer Absprache möglich!

Haftungsausschluss:

Der Käufer ist verpflichtet sich selbstständig von Zustand, Abmessungen und Ausstattung der Ware/Fahrzeuge zu überzeugen. Alle Angaben sind ohne Gewähr. Änderungen, Zwischenverkauf und Irrtümer vorbehalten.
Dieses Angebot dient nur zur Orientierung. Bitte fragen Sie genauere Informationen direkt beim Verkäufer an.