You may find interesting
Close
New PREMIUM covered trailer
€16,999
New TEMARED TM-173 przyczepa 593x215cm, Carplatform 6021S 3
€4,642
New L25G45 450x200cm 2500kg tilted trailer with aluminum panels floo
€4,400
New Mini Wenus 385x180 gvw 1300kgCar Transporter Trailer Tilt Flat b
€1,499
New NIEWIADOW B3535HTP
€2,746
New PLI 35-5021
€4,290
New BFZ BFZ-35/83 für 2 Fahrzuege Aluminium car transporter trailer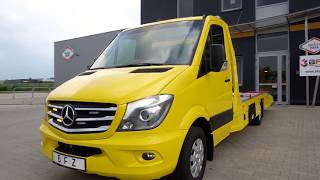 1/27
Truck body
Body dimensions
8300 m × 2100 m × 55 m
Aluminium-Autotransportanhänger BFZ-35/83 LORO für 2 FAHRZEUGE
ALU-Fahrgestell in verstärkter Doppelprofil-Bauweise
5 JAHRE NEUWAGENGARANTIE OHNE KM-BEGRENZUNG
Zulässige Geschwindigkeit: 100 Km/h-Zulassung

Autotransportanhänger: BFZ-35/83 LORO
Aluminium-Vollplateau / Festplateau
Zulässiges Gesamtgewicht: 3500kg
Leergewicht: ca. 1100kg
Nutzlast: 2400kg
Laderaumbreite: 2100mm
Laderaumlänge: 8300mm

Technische Daten:

3 x Achsen AL-KO (Zul. Achslast je 1500kg)
6 x Aluminium-Felgen 10 Zoll
6 x Bereifung 195/55/R10C
6 x Stoßdämpfer AL-KO, für 100 km/h (Zulassung pro Stück 1800kg)
Technisch mögliches Ges. Gewicht 4,5 t durch 3 x AL-KO Achsen (zul. Achslast je 1500kg)

Serienausstattung:

Voll-Aluminiumkonstruktion / ALU-Bodenplatte in der Mitte
(Rahmen mit spezieller Lackierung gegen Korrosion)
2 x Positionsleuchten weiß vorne
2 x Umrissleuchten hinten: rot + weiß
1 x Aluminium-Heckleiste (Grüne Lackierung inkl. 12V Installation und LED Lampen)
1 x 13-pol. Stecker-Verbindungkabel mit 1 m Länge, 12 V
4 x Rad-Sicherungsgurte (Transportgurte)
1 x Klemmschelle (schwenkbar) für Stützrad
1 x Stützrad (Vollgummi-Bereifung)
2 x Laufrollenabstützungen hinten
1 x Kugelkupplung AL-KO 3500kg
Überholbremse AL.-KO 3500 kg
AL.-KO Profi Langlife Bremskabel
PREIS: ab 13.800,00 Euro NETTO (mit Grundausstattung)

Zusatzausstattung (gegen Aufpreis):
Reflektierende Seitenstreifen (Aufgeklebte Sicherheitsmarkierungen)
Reserverad (Aluminium Felge)
Reserveradhalterung (inkl. Abdeckung)
Radvorleger / Radanschlagbügel (2 x)
Werkzeugkoffer (1 x / Kunststoff)
Dynamische Blinker (LED) in der Heck-Stoßstange
Zusätzliche Ladeschienen / Auffahrrampen (2 x / L: 1,9m / 0,31m)
Überfahrrampen vorne (L: 1,5m / B: 0,31m / Einklappbar: 180°)
Handseilwinde AL-KO mit UmlenkrolleRacing-System: Zusatzstützen für Ladeschienen / Auffahrrampen
Anti-Schlingerkupplung AKS-System
Erweiterung der Ladebreite (2,2m oder 2,3m)
Lackierung (RAL-Farbe) anstsatt reflekt. Seitenstreifen

Weitere Modelle verfügbar:
Länge von 4,0m bis 8,3m
Alternativ: KIPPER-Plateau
Preise auf Anfrage
Autotransportanhänger in Aluminium BFZ-35/83 LORO für 2 FAHRZEUGE
Serienausstattung:
Voll - Aluminiumkonstruktion
Rahmen sind durch eine spezi-elle Lackierung sehr gut gegen Korrosion
ALU-Bodenplatte in der Mitte
Technisch zul. Ges. Gewicht 4,5 to. durch 3 Achsen a´ 1500 kg AL-KO
2 x Auffahrrampen hintere verstellbar mit Zentralverriegelung
4 x Kotflügel eloxieren
4 x Umrißleuchtenng orange
2 x Positionsleuchten weiß vorne
2 x Umrißleuchten hinten rot plus weiß
Installation 12V - Blene hinten grün mit LED Lampe
1 x 13-pol. Stecker-Verbindungkabel mit 1 m Länge, 12 V
4 x Rad-Sicherungsgurte
1 x Stützräder Klemmschelle schwenkbar
1 x Stützrad mit Voll gummi
2 x Laufrollenabstützungen hinten
Kugelkupplungen AL-KO 3500 kg
Profi Langlife Bowdenzuge
6 x Stoßdämpfer AL.-KO, für 100 km/h Zulassung pro Stk. 1800kg
2 x Zusatz-ALU-Ladeschienen 1,9 m
Überfahrrampen vorne mit Transporthalterung am Aufbau 1,5m /180°
Reserverad Alu 12`
Reserveradhalter
Werkzeugkoffer
4 x Verstellbare ALU-Radanschlagbügel
5 JAHRE NEUWAGENGARANTIE OHNE KM - BEGRENZUNG
Ihr Ansprechpartner ist Herr Josef (Deutsch)
show contacts
show contacts
show contacts
Important
This offer is for guidance only. Please request more precise information from the seller.
Safety tips
Seller's contacts
BFZ Sp. z o.o.
Seller with Autoline for 3 years
The phone numbers have been checked
Josef Smutek
Languages:
English, Polish, German
Languages:
English, Polish, German
Poland, Lower Silesian, 59-700, Bolesławiec, ul. Przemysłowa 11
Seller's local time: 05:59 (CEST)
Selling machinery or vehicles?
You can do it with us!