RENAULT 180 BISARCA / 25.000 km ORIGINALI car transporter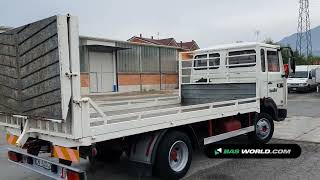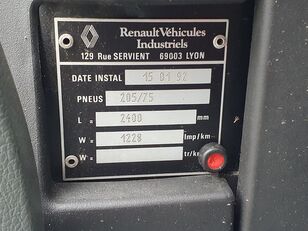 1/26
Model
180 BISARCA / 25.000 km ORIGINALI
Location
Italy
Chiusa di Pesio (CN)
Description
Overall dimensions
length - 6.48 m, width - 2.25 m
Truck body
Body dimensions
length - 4.4 m, width - 2.1 m
Need delivery?
Calculate the cost of delivery
RENAULT 180 BISARCA / 25.000 km ORIGINALI
(Cod.BRRN678)
GARANZIA 12 MESI
FINANZIAMENTI IN SEDE
PATENTE C
RENAULT MIDLINER 180
Tipo bisarca 2 assi
Rampa idraulica
Camion anno 1992
km. 25.810 ORIGINALI VERIFICABILI !!!
Cambio Manuale
Motore 180 hp - 4 CILINDRI - TURBO
PORTATA UTILE 2970 KG
PORTATA COMPLESSIVA 6850 KG
TARA (PESO DA VUOTO) 3880 KG
Lunghezza Utile cassone 4.40 m
Larghezza Utile cassone 2.10 m
Lunghezza totale camion 6.48 m
Larghezza totale camion 2.25 m
Altezza massima pianale da terra 90 cm
Altezza da terra rampe posteriori chiuse 1.30 m
Passo interasse 3250 mm
Condizioni pneumatici 70%
Misura pneumatici posteriori 205/75R17.5
Misura pneumatici anteriori 205/75R17.5
Macchina in perfette condizioni generali UNICO PROPRIETARIO
Il camion ha lavorato pochi anni presso un'officina per trasporto di trattori agricoli
Contatto commerciale PAOLO CAMACHO
FINANZIAMENTI IN SEDE
Acquistiamo e valutiamo permute con autocarri e macchinari di tutte le marche.
Se cerchi un camion con queste caratteristiche, usato ma in ordine, questo è quello giusto per te.
Contatto commerciale Paolo Camacho
show contacts
Chiediamo gentilmente di salvare il contatto telefonico perché l'annuncio viene spesso rinnovato in automatico.
GARANZIA 12 MESI | Su questo veicolo è già applicata una garanzia di 12 mesi dalla data di acquisto su MOTORE, CAMBIO e DIFFERENZIALE. Offriamo comunque la possibilità di personalizzare la garanzia su altre parti meccaniche e per durate superiori. Chiedere maggiori informazioni.
FINANZIAMENTI IN SEDE | Offriamo finanziamenti personalizzati per la tua azienda con processi snelli e veloci. Chiedi maggiori informazioni.
Important
This offer is for guidance only. Please request more precise information from the seller.
Safety tips
Seller's contacts
Italy, Piedmont, 12013, Chiusa di Pesio (CN), Via Beinette 25
Seller's local time: 06:42 (CEST)
Selling machinery or vehicles?
You can do it with us!