You may find interesting
Close
New HOBBY 720 WQC Prestige, 6 places, Separate shower, big ref
price on request
New KNAUS Sport Silver Selection 580 QS
€25,260
New HOBBY 440 SF DE LUXE, shower!
price on request
New TABBERT Da-Vinci 490-TD-2.3
€28,387
New KNAUS SÜDWIND 750 UDF
€34,810
New FENDT Opal 560 SRF
€23,980
New LMC Munsterlan STYLE 460D 250 kg caravan trailer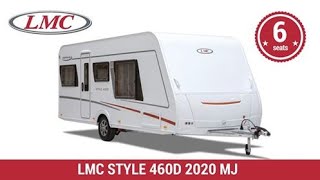 1/29
Need delivery?
Calculate the cost of delivery
LMC STYLE 460D
rok výroby 2020. Úplne nový, záruka 12 rokov!
Flying Dog s.r.o. (
show contacts
- Exkluzívny predajca LMC ponúka nove a jazdene karavany zo svojho skladu v Bratislave a v Nemecku.
Style 460D s nadčasovo krásnym dizajnom je našim modelom pre vašu rodinnú vysnívanú dovolenku. Užite si veľa priestoru na smiech varenie hranie a relaxáciu. Šesť miest na spanie robí z tohto štýlu flexibilný prostriedok pre veľkých aj malých dovolenkárov. Technológia Long Life vyrobená v Sassenbergu zaručuje dlhú životnosť
Strecha "pop-up" vám poskytne ďalší priestor pre rodinnú dovolenku. Deti milujú pohodlnú výšku "stan" na streche a dáva rodičom flexibilitu ktorú potrebujú. Vytvorte dve ďalšie miesta na spanie za chvíľu buď vo vnútri
alebo ešte lepšie na karavane. Praktické bez zmenšenia akéhokoľvek priestoru v interiéri: výška interiéru a úložné priestory karavanu sú nedotknuté. Keď strechu nepotrebujete môžete ju jednoducho zložiť späť.
Optimálne vetranie zabezpečujú štyri okná a číre sklenené strešné okno s ochranou proti hmyzu.
Penovy matrac poskytuje optimálne pohodlie pri spaní.
Prístup k dvojdielnemu hliníkovému rebríku, ktorý je možné uložiť do skrinky.
Je to ako celá miestnosť. Normálna výška interiéru
Úložné priestory sú úplne použiteľné
Rozmery strešného plášťa: cca. 260 cm x 157 cm x 12,5 cm
plus 12 cm pre strechu z číreho skla
Výška pri inštalácii: 116 cm
Ležiaci priestor bez krytu: cca. 173 cm x 133 cm
Ležiaca plocha s krytom na stúpanie: cca. 234 cm x 133 cm
Maximálne zaťaženie: 160 kg
Hmotnosť: 107 kg
Zariadenie prívesu
veľké podporné nohy
všetky okná so žalúziami a sieťami
leštený nábytok
poťahy sedadiel – Yellow Stone
zvýšená nosnosť podvozku až do 1700 kg
vystužená strecha vrátane elektrickej prípravy na inštaláciu klimatizácie
Dlzka 7272 mm
Sirka 2180 mm
Vyska 2605 mm
Celkova vaha 1700 kg
Vlastna vaha 1250 kg
LLT LONG LIFE TECHNOLÓGIE
12-ročná záruka na tesnosť konštrukcie vozidla
Legendárna nemecká kvalita
Všetky ponuky na predaj karavanov nájdete na našom webe -
show contacts
Bez EČ
Kontrola originality
Nehavarované
Servisná knižka
Top stav!
Vozidlo je v záruke
Important
This offer is for guidance only. Please request more precise information from the seller.
Safety tips
Seller's contacts
Flying Dog s.r.o.
Seller with Autoline for 3 years
The phone numbers have been checked
Yuriy Oblog
Languages:
English, Slovak, Russian, German
Slovakia, Vyšehradská, 7A, 851 06
Seller's local time: 12:37 (CET)
Selling machinery or vehicles?
You can do it with us!