MGC CENTRUM SAMOCHODOW DOSTAWCZYCH
In stock: 54 ads
13 years at Autoline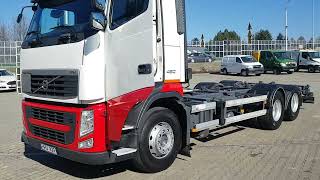 1/25
Year of manufacture
06/2011
First registration
2011-06-30
Location
Poland
ŁAZISKA GÓRNE
Purchase on credit is possible
Description
Overall dimensions
7.75 m × 2.45 m × 3.85 m
Cabin
Cruise control (tempomat)
Electrically operated mirrors
Need delivery?
Calculate the cost of delivery
Beautiful three-axis frame for all kinds of development.
Nicely renewed, after a review in the site.
There are no errors on the computer.
One-user car from Sweden, fully functional.
We can do the technical examination according to the customer's requirements.
All registration documents included in the price.
While driving from Sweden, the car only burned 23L / 100km
Exhaust Emission Norm: Euro 5
GVM: 27,000 kg.
Own weight: 10,150 kg
Payload: 16850 kg
A set with a trailer up to 64 tons!
Engine: 470 km - praised for relatively low fuel consumption and failure-free operation.
Frame dimensions:
Length: 7.75m
Inside frame width: 67 cm
Outside frame width: 85 cm
Wheelbase: 4.65m.
Tires: Michelin 315 / 80R 22.5, condition cirka 50%
Large tank: 700L.
4 halogens
Roof spoiler.
One bed in the cabin,

Equipment :
Air conditioning
Leather seats
Heated + pumped + electric seats
Webasto wet
Volvo headunit
2 beds + curtains and lamps
Coffee machine
Refrigerator
Sunroof
IShift Automatic gearbox
Central locking with remote control with alarm
Additional rear lighting + strobes
Roof spoilers
Reversing camera
Retarder
Hitch - Possibility to attach a trailer
Car transport to the port of Hamburg / Bremenhaven cost approximately + € 800.
Transport to the port of Gdańsk / Gdynia cost approximately + € 400
Dear Customer!
If you want to buy a decent car, WELCOME TO US.
If YOU ONLY GUIDE YOURSELF BY THE PRICE, and parameters such as: ACTUAL COURSE OR ACCIDENTITY are SECONDARY VALUES for you, then in our humble opinion, a DAMAGE to your and our TIME.
Schöner dreiachsiger Rahmen für alle Arten von Entwicklungen.
Schön erneuert, nach einer Überprüfung auf der Website.
Es gibt keine Fehler auf dem Computer.
Einbenutzerauto aus Schweden, voll funktionsfähig.
Wir können die technische Prüfung gemäß den Anforderungen des Kunden durchführen.
Alle Zulassungsunterlagen im Preis enthalten.
Während der Fahrt aus Schweden verbrauchte das Auto nur 23 l / 100 km
Abgasnorm: Euro 5
GVM: 27.000 kg.
Eigengewicht: 10.150 kg
Nutzlast: 16850 kg
Ein Set mit Anhänger bis 64 Tonnen!
Motor: 470 km - gelobt für relativ geringen Kraftstoffverbrauch und störungsfreien Betrieb.
Rahmenmaße:
Länge: 7,75 m
Innenrahmenbreite: 67 cm
Außenrahmenbreite: 85 cm
Radstand: 4,65 m.
Bereifung: Michelin 315/80R 22,5, Zustand ca. 50%
Großer Tank: 700 l.
4 Halogene
Dachspoiler.
Ein Bett in der Kabine,

Ausrüstung :
Klimaanlage
Ledersitze
Beheizt + gepumpt + elektrische Sitze
Webasto nass
Volvo-Steuergerät
2 Betten + Vorhänge und Lampen
Kaffeemaschine
Kühlschrank
Schiebedach
IShift-Automatikgetriebe
Zentralverriegelung mit Fernbedienung mit Alarm
Zusätzliche Heckbeleuchtung + Blitze
Dachspoiler
Rückfahrkamera
Verzögerer
Anhängerkupplung - Möglichkeit zum Anhängen eines Anhängers
Autotransport zum Hafen Hamburg / Bremenhaven kostet ca. + 800 €.
Der Transport zum Hafen Danzig / Gdynia kostet ca. + 400 €
Lieber Kunde!
Wenn Sie ein anständiges Auto kaufen möchten, WILLKOMMEN BEI UNS.
Wenn SIE SICH NUR AM PREIS RICHTEN, und Parameter wie: TATSÄCHLICHER VERLAUF ODER UNFALL für Sie NEBENWERTE sind, dann ist das unserer bescheidenen Meinung nach ein SCHADEN an Ihrer und unserer ZEIT.
Όμορφο πλαίσιο τριών αξόνων για κάθε είδους ανάπτυξη.
Όμορφα ανανεωμένο, μετά από κριτική στο site.
Δεν υπάρχουν σφάλματα στον υπολογιστή.
Αυτοκίνητο ενός χρήστη από τη Σουηδία, πλήρως λειτουργικό.
Μπορούμε να κάνουμε την τεχνική εξέταση σύμφωνα με τις απαιτήσεις του πελάτη.
Στην τιμή περιλαμβάνονται όλα τα έγγραφα εγγραφής.
Κατά την οδήγηση από τη Σουηδία, το αυτοκίνητο έκαψε μόνο 23 λίτρα / 100 χλμ
Κανόνα εκπομπής καυσαερίων: Euro 5
GVM: 27.000 kg.
Ίδιο βάρος: 10.150 κιλά
Ωφέλιμο φορτίο: 16850 kg
Ένα σετ με τρέιλερ έως 64 τόνους!
Κινητήρας: 470 km - επαινείται για τη σχετικά χαμηλή κατανάλωση καυσίμου και τη λειτουργία χωρίς βλάβες.
Διαστάσεις πλαισίου:
Μήκος: 7,75μ
Εσωτερικό πλάτος πλαισίου: 67 cm
Πλάτος εξωτερικού πλαισίου: 85 cm
Μεταξόνιο: 4,65μ.
Ελαστικά: Michelin 315 / 80R 22,5, κατάσταση cirka 50%
Μεγάλη δεξαμενή: 700L.
4 αλογόνα
Σπόιλερ οροφής.
Ένα κρεβάτι στην καμπίνα,

Εξοπλισμός:
Κλιματισμός
Δερμάτινα καθίσματα
Θερμαινόμενα + αντλούμενα + ηλεκτρικά καθίσματα
Webasto βρεγμένο
Κεντρική μονάδα Volvo
2 κρεβάτια + κουρτίνες και φωτιστικά
Μηχανή καφέ
Ψυγείο
Ηλιοροφή
Αυτόματο κιβώτιο ταχυτήτων ISshift
Κεντρικό κλείδωμα με τηλεχειριστήριο με συναγερμό
Πρόσθετος πίσω φωτισμός + στροβοσκοπικά
Σπόιλερ οροφής
Κάμερα οπισθοπορείας
Επιβραδυντής
Κοτσαδόρος - Δυνατότητα προσάρτησης τρέιλερ
Η μεταφορά με αυτοκίνητο στο λιμάνι του Αμβούργου / Bremenhaven κοστίζει περίπου + € 800.
Η μεταφορά στο λιμάνι του Gdańsk / Gdynia κοστίζει περίπου + € 400
Αγαπητέ πελάτη!
Αν θέλετε να αγοράσετε ένα αξιοπρεπές αυτοκίνητο, ΚΑΛΩΣ ΟΡΙΣΑΤΕ ΣΕ ΜΑΣ.
Αν ΟΔΗΓΙΕΣ ΜΟΝΟ ΑΠΟ ΤΗΝ ΤΙΜΗ, και παράμετροι όπως: ΠΡΑΓΜΑΤΙΚΗ ΠΟΡΕΙΑ Ή ΑΤΥΧΗΜΑ είναι ΔΕΥΤΕΡΕΥΤΕΡΕΣ ΑΞΙΕΣ για σένα, τότε κατά την ταπεινή μας γνώμη, ΖΗΜΙΑ για τον δικό σου χρόνο και για εμάς.
Beau cadre à trois axes pour toutes sortes de développement.
Joliment renouvelé, après un examen dans le site.
Il n'y a pas d'erreurs sur l'ordinateur.
Voiture à usage unique de Suède, entièrement fonctionnelle.
Nous pouvons faire l'examen technique selon les exigences du client.
Tous les documents d'enregistrement inclus dans le prix.
En venant de Suède, la voiture n'a brûlé que 23L / 100km
Norme d'émission d'échappement : Euro 5
GVM : 27 000 kg.
Poids propre : 10 150 kg
Charge utile : 16850 kg
Un ensemble avec une remorque jusqu'à 64 tonnes !
Moteur : 470 km - loué pour sa consommation de carburant relativement faible et son fonctionnement sans panne.
Dimensions cadre :
Longueur : 7.75m
Largeur cadre intérieur : 67 cm
Largeur cadre extérieur : 85 cm
Empattement : 4,65 m.
Pneus : Michelin 315 / 80R 22,5, état environ 50 %
Grand réservoir : 700L.
4 halogènes
Becquet de toit.
Un lit dans la cabine,

Équipement :
Climatisation
Sièges en cuir
Sièges chauffants + pompés + électriques
Webasto humide
Unité centrale Volvo
2 lits + rideaux et lampes
Cafetière
Réfrigérateur
Toit ouvrant
Boîte de vitesses automatique IShift
Verrouillage centralisé avec télécommande avec alarme
Eclairage arrière supplémentaire + stroboscopes
Ailerons de toit
Caméra de recul
Ralentisseur
Attelage - Possibilité d'attacher une remorque
Le transport en voiture jusqu'au port de Hambourg / Bremenhaven coûte environ + 800 €.
Le transport jusqu'au port de Gdańsk / Gdynia coûte environ + 400 €
Cher client!
Si vous voulez acheter une voiture décente, BIENVENUE CHEZ NOUS.
Si VOUS VOUS GUIDEZ UNIQUEMENT PAR LE PRIX, et des paramètres tels que : PARCOURS RÉEL OU ACCIDENTITÉ sont des VALEURS SECONDAIRES pour vous, alors à notre humble avis, un DOMMAGE à votre et à notre TEMPS.
Bellissimo telaio a tre assi per tutti i tipi di sviluppo.
Ben rinnovato, dopo una recensione nel sito.
Non ci sono errori sul computer.
Auto per un utente dalla Svezia, perfettamente funzionante.
Possiamo fare l'esame tecnico secondo i requisiti del cliente.
Tutti i documenti di registrazione inclusi nel prezzo.
Durante la guida dalla Svezia, l'auto ha bruciato solo 23 l/100 km
Normativa sulle emissioni di scarico: Euro 5
MTL: 27.000 kg.
Peso proprio: 10.150 kg
Carico utile: 16850 kg
Un set con un rimorchio fino a 64 tonnellate!
Motore: 470 km - lodato per il consumo di carburante relativamente basso e il funzionamento senza guasti.
Dimensioni telaio:
Lunghezza: 7,75 m
Larghezza interna del telaio: 67 cm
Larghezza telaio esterno: 85 cm
Interasse: 4,65 m.
Pneumatici: Michelin 315 / 80R 22.5, condizione Circa 50%
Grande serbatoio: 700 lt.
4 alogeni
Spoiler sul tetto.
Un letto in cabina,

Attrezzatura :
Aria condizionata
Sedili in pelle
Sedili riscaldati + pompati + elettrici
Webasto bagnato
Unità principale Volvo
2 letti + tende e lampade
Macchina per il caffè
Frigorifero
Tetto apribile
IShift Cambio automatico
Chiusura centralizzata con telecomando con allarme
Illuminazione posteriore aggiuntiva + strobo
Spoiler sul tetto
Telecamera per la retromarcia
ritardante
Attacco - Possibilità di agganciare un rimorchio
Il trasporto in auto fino al porto di Amburgo/Bremenhaven costa circa + € 800.
Il trasporto al porto di Danzica / Gdynia costa circa + € 400
Caro cliente!
Se vuoi comprare un'auto decente, BENVENUTO DA NOI.
Se TI GUIDI SOLO DAL PREZZO, e parametri quali: CORSO ATTUALE O INCIDENTE sono per te VALORI SECONDARI, allora a nostro modesto parere un DANNO al tuo e al nostro TEMPO.
Piękna Rama BDF trzy osiowa pod wszelaką zabudowę .
Ładnie odnowiona , po przeglądzie w serwisie .
Nie ma na komputerze żadnych błędów .
Auto po jednym użytkowniku z Szwecji , w pełni sprawne.
Badanie techniczne możemy zrobić pod wymagania klienta .
W cenie wszystkie dokumenty do rejestracji .
Auto w czasie jazdy ze Szwecji paliło cirka tylko 23L/100km
Norma Emisji spalin : Euro 5
DMC : 27000 kg.
Masa własna : 10150 kg
Ładowność : 16850 kg
Zestaw z przyczepą nawet 64 Tony !
Silnik : 470 Km - chwalony za w miarę niewielkie spalanie i bezawaryjność .
Wymiary ramy :
Długość :7,75m
Szerokość ramy wewnątrz:67 cm
Szerokość ramy zewnątrz: 85 cm
Rozstaw osi :4,65m.
Opony : Michelin 315 /80R 22,5 stan cirka 50%
Duży bak : 700L.
4 halogeny
Spoiler dachowy .
Jedno łóżko w kabinie ,

Wyposażenie :
Klimatyzacja
Skórzane fotele
Podgrzewane + pompowane + elektrycznie sterowane fotele
Webasto mokre
Radioodtwarzacz Volvo
2 łóżka + firanki i lampki
Express do kawy
Lodówka
Szyberdach
Skrzynia biegów iShift Automatyczna
Centralny zamek na pilota z alarmem
Dodatkowe oświetlenie tylne + stroboskopy
Spoilery dachowe
Kamera cofania
Retarder
Zaczep - Możliwość przyłączenia przyczepy
Transport samochodu do portu w Hamburg/Bremenhaven koszt około + 800€ .
Transport do portu Gdańsk/Gdynia koszt około + 400€
Szanowny Kliencie!
Jeśli pragniesz zakupić PORZĄDNE AUTO, TO ZAPRASZAMY DO NAS.
Jeśli TYLKO SUGERUJESZ SIĘ CENĄ, a takie parametry jak: RZECZYWISTY PRZEBIEG CZY BEZWYPADKOWOŚĆ to dla Ciebie WARTOŚCI DRUGORZĘDNE, to naszym skromnym zdaniem SZKODA Twojego i naszego CZASU.

Prosimy Państwa o zapoznanie się z poniższymi udogodnieniami, które często są rozwiązaniami unikatowymi w skali kraju, w znaczny sposób odróżniającymi nas od innych salonów, a jakże przydatnymi dla Was przy zakupie wymarzonego auta:
1. Jako, że od ponad 20 lat jesteśmy legalnie działającą firmą, gwarantujemy bezpieczeństwo zakupu oparte odpowiednimi zapisami i dokumentami potwierdzającymi legalność pochodzenia co wiąże się z naszą pełną odpowiedzialnością za wady prawne pojazdu.
2. Przed sprzedażą bezpłatnie sprawdzamy auta pod względem technicznym na Serwisie i stacji diagnostycznej.
3. Opłacamy za klienta i przygotowujemy wszelkie niezbędne do rejestracji auta dokumenty, wystarczy udać się z nimi do Wydziału Komunikacji i bezpłatnie zarejestrować wybrany samochód.
4. Na większość oferowanych samochodów udzielamy gwarancji technicznej bez limitu kilometrów nawet na 2 lata po uprzednim szczegółowym przeglądzie serwisowym.
5. Udzielamy fachowego, bezpłatnego doradztwa oraz cechujemy się indywidualnym podejściem do Klienta. Zawsze udzielimy Państwu rzetelnej porady.
6. Mamy atrakcyjne warunki kredytowe czy leasingowe w 10 bankach i towarzystwach leasingowych. Nawet bez pierwszej wpłaty z niską prowizją i możliwością wcześniejszej spłaty co zadowoli najbardziej wymagającego klienta, preferującego finansowanie.
Important
This offer is for guidance only. Please request more precise information from the seller.
Safety tips
Seller's contacts
Mariusz Gruchel
właściciel
Languages:
English, Russian, Polish
Wojtek
Languages:
English, Polish, German
Poland, Silesian, 43-170, ŁAZISKA GÓRNE, ul. HUTNICZA 6
Seller's local time: 20:50 (CEST)
Selling machinery or vehicles?
You can do it with us!