Kleyn Trucks
In stock: 738 ads
18 years at Autoline
The ad KRONE SD KOFFER closed box semi-trailer has been sold and is not included in the search!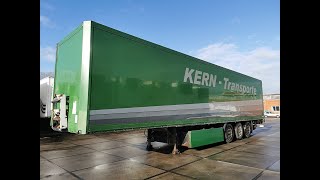 1/10
Type
closed box semi-trailer
First registration
2008-05-01
Location
Netherlands
Vuren
Description
Overall dimensions
13.9 m × 2.55 m × 4 m
Truck body
Body dimensions
13.6 m × 2.46 m × 2.71 m
= Additional options and accessories =

- Aluminium rims

= Remarks =

Number of axles: 3, Own weight: 7680 kg, Gross vehicle weight: 39000 kg, Chassis type: Complete chassis, Chassis material: steel, Kingpin size: 2 inch, Aluminium rims, Suspension type: full air suspension, ABS, EBS, Matr. year superstructure: 2008, Axle make: BPW, Sparewheel

= Dealer information =

https://www.kleyntrucks.com

Why buy at Kleyn Trucks? The choice is easy: 1,200 used trucks, tractor units, semi-trailers, trailers and more. All in one location, with a choice from all brands. You can get a one year warranty package for all our trucks with a mileage up until 700.000 kilometers and 7 year age, including service maintenance.

In our free consultation, we look with you for the financing deal which suits your needs best.

Sharp prices
Good service
Fast changing, big stock!
Always sure about the quality!
100+ years of Trading expertise you can trust!
Professional technical service
Delivery to your doorstep possible
Professional technical service

Visit our website at: www.kleyntrucks.com and check out our complete stock.

Leasing possible

= More information =

Cab: day
APK (MOT): tested until 07/2022
General condition: moderate
Technical condition: moderate
Visual appearance: moderate

= Dealer information =

Где находятся автомобили? – Вся техника находится на нашей площадке в Фурене, Голландия
Алуминиеви джанти

Брой на осите: 3, Собствено тегло: 7680 kg, Бруто тегло: 39000 kg, Вид на шасито: пълна шаси, Материал на шасито: стомана, Kingpin размер: 2 inch, Алуминиеви джанти, Тип на окачването: отпред и отзад на въздушни възглавници, Vertaling: "AchteruitrijCamera" niet gevonden., ABS, Електронна спирачна система, Година на регистрация на надстройката: 2008, Марка на оста: BPW, Резервна гума

Где находятся автомобили? – Вся техника находится на нашей площадке в Фурене, Голландия
Hliníková kola

Где находятся автомобили? – Вся техника находится на нашей площадке в Фурене, Голландия
= Weitere Optionen und Zubehör =

- Leichtmetallfelgen

= Anmerkungen =

Anzahl der Achsen: 3, Eigengewicht: 7680 kg, Bruttogewicht: 39000 kg, Art der Chassis: Vollständige chassis, Chassismaterial: Stahl, Kingpin Größe: 2 inch, Leichtmetallfelgen, Federungstyp: Vollluft, ABS, EBS, Aufbaubaujahr: 2008, Achstyp: BPW, Reserverad

= Firmeninformationen =

https://www.kleyntrucks.com

Kleyn Trucks ist einer der weltgrößten unabhängigen Handel mit gebrauchten Fahrzeugen. Hier können Sie aus einer ständig wechselnden Bestand von 1200 gebrauchte LKW, Zugmaschinen, Anhänger wählen. Unser Angebot umfasst alle europäischen Marken der Baujahre und Preisklassen.

Warum Sie bei Kleyn Trucks kaufen? Einfach!

Großer, sich schnell ändernder
Erkennbare Qualität
Ein guter Preis
Korrekte Kaufmannschaft
Wir sprechen viele Sprachen
Wir verstehen unsere Kunden
Betreuung von Einfuhr und Transport
(Ausfuhr-)Kennzeichen sind schnell geregelt
Fachkundige technische Dienstleistungen
Die Sicherheit "erkennbarer Qualität"
Und mehr....

Besuchen Sie bitte unsere Website für spezielle Angebote und vollständige Vorrat: www.kleyntrucks.com



Leasing über Kleyn Trucks ist möglich in den meisten europäischen Ländern!

Berechnen Sie schnell Ihre leasingrate und senden Sie eine Anfrage über unsere Website.

Fragen Sie direkt nach unserem europäischen Garantie paket.

= Weitere Informationen =

Kabine: Tag
APK (Technische Hauptuntersuchung): geprüft bis 07.2022
Allgemeiner Zustand: mäßig
Technischer Zustand: mäßig
Optischer Zustand: mäßig

= Firmeninformationen =

Где находятся автомобили? – Вся техника находится на нашей площадке в Фурене, Голландия
= Flere valgmuligheder og mere tilbehør =

- Aluminiumsfælge

= Yderligere oplysninger =

Førerhus: day cab
APK (Bileftersyn): testet indtil jul 2022
Overordnet stand: moderat
Teknisk stand: moderat
Visuelt udseende: moderat

= Forhandleroplysninger =

Где находятся автомобили? – Вся техника находится на нашей площадке в Фурене, Голландия
Где находятся автомобили? – Вся техника находится на нашей площадке в Фурене, Голландия
= Más opciones y accesorios =

- Llantas de aluminio

= Comentarios =

Número de ejes: 3, Peso en vacío: 7680 kg, Peso bruto: 39000 kg, Tipo de chasis: Chasis completo, Material del chasis: Acero, Kingpin tamaño: 2 inch, Llantas de aluminio, Tipo de suspensión: Suspención neumática integral, ABS, EBS, Año de construcción de la carrocería: 2008, Marca del eje: BPW, Rueda de recambio

= Información de la empresa =

https://www.kleyntrucks.com

Kleyn Trucks es una de las mayores empresas independientes del mundo dedicadas a los vehículos comerciales de segunda mano. Aquí podrá elegir en un catálogo de 1200 camiones, tractores, remolques y semirremolques de segunda mano que se renuevan constantemente. Nuestra oferta reúne todas las marcas, años de fabricación y categorías de precio de Europa.

¿Por qué comprar en Kleyn Trucks? ¡Es fácil!
Buen precio
Calidad conocida
Comercio bien organizado
Hablamos muchos idiomas
Entendemos al cliente
Un extenso catálogo que se renueva con rapidez
Garantía sobre las furgonetas poco usadas
Ayuda para la importación y el transporte
Matrícula (de exportación) rápidamente tramitada
Un servicio técnico experto
La seguridad de la "calidad conocida"
Y mas...

Por favor, visite nuestra página web para ofertas especiales y el inventario completo: https://www.kleyntrucks.com

¡Leasing posible a través de Kleyn Trucks en la mayoría de los países europeos!

Haga un cálculo rápidamente y envíe una solicitud a través de nuestro sitio web.

Solicite directamente nuestro paquete de garantía europea.

= Más información =

Cabina: día
APK (ITV): inspeccionado hasta jul 2022
Estado general: moderado
Estado técnico: moderado
Estado óptico: moderado

= Información de la empresa =

Где находятся автомобили? – Вся техника находится на нашей площадке в Фурене, Голландия
Где находятся автомобили? – Вся техника находится на нашей площадке в Фурене, Голландия
= Plus d'options et d'accessoires =

- Jantes en aluminium

= Remarques =

Nombre d'essieux: 3, Poids net: 7680 kg, Poids nominal brut: 39000 kg, Type de châssis: Châssis complet, Matériel du châssis: acier, Kingpin taille: 2 inch, Jantes en aluminium, Type de suspension: à air intégrale, ABS, EBS, Année de construction du carroserie: 2008, Marque essieu: BPW, Roue de secours

= Information sur la société =

https://www.kleyntrucks.com

Kleyn Trucks est l'une des plus importantes entreprises commerciales au monde dans le domaine de véhicules utilitaires d'occasion. Chez nous, vous choisissez dans un stock sans cesse renouvelé de 1200 camions, tracteurs, semi-remorques et remorques d'occasion. Nous vous proposons des véhicules de toute marque européenne, de toute année de construction et de toute gamme.

Pourquoi acheter chez Kleyn Trucks? Il est facile!

Qualité accréditée
Garantie sur les camionnettes récentes
Prix avantageux
Commerce honnête
Nous parlons de nombreuses langues
Nous comprenons le client
Assistance pour l'importation et le transport
Plaque d'immatriculation (export) réglée rapidement
Service technique professionnel
La garantie d'une 'qualité accréditée'

S'il vous plaît visitez notre site web pour les offres spéciales et les stocks complète: https://www.kleyntrucks.com


Crédit bail via Kleyn Trucks dans la plupart des pays européens!

Faites un calcul rapide, et demandez votre crédit bail sur notre site web.

Se renseignez-vous directement sur notre paquet de garantie européenne.

= Plus d'informations =

Cabine: jour
APK (CT): valable jusqu'à juil. 2022
État général: puissant
État technique: puissant
État optique: puissant

= Information sur la société =

Где находятся автомобили? – Вся техника находится на нашей площадке в Фурене, Голландия
Где находятся автомобили? – Вся техника находится на нашей площадке в Фурене, Голландия
Felnik

Tengelyek száma: 3, Önsúly: 7680 kg, Peso bruto: 39000 kg, Tipusa alváz: Komplett alváz, Alváz anyaga: acél, Kingpin méret: 2 inch, Felnik, Felfüggesztés típusa: elől-hátul légrugó, ABS, EBS, Felépítmény gyártási éve: 2008, Tengely márkája: BPW, Pótkerék

Где находятся автомобили? – Вся техника находится на нашей площадке в Фурене, Голландия
Cerchi in lega

Nr. assali: 3, Pesa tara: 7680 kg, Peso lordo: 39000 kg, Tipo di telaio: Telaio completo, Materiale del telaio: acciaio, Kingpin dimensione: 2 inch, Cerchi in lega, Tipo di sospensione: full pneumatica, ABS, EBS, Anno di costruzione della sovrastruttura: 2008, Marca assale: BPW, Ruota di scorta

https://www.kleyntrucks.com

Где находятся автомобили? – Вся техника находится на нашей площадке в Фурене, Голландия
= Aanvullende opties en accessoires =

- Lichtmetalen velgen

= Bijzonderheden =

Aantal Assen: 3, Eigen gewicht: 7680 kg, Totaalgewicht: 39000 kg, Soort chassis: Volledig chassis, Materiaal chassis: staal, Kingpin afmeting: 2 inch, Lichtmetalen velgen, Vering type: vollucht, ABS (Anti Blokkeer Systeem), EBS, Bouwjaar opbouw: 2008, Merk as: BPW, Reservewiel

= Bedrijfsinformatie =

https://www.kleyntrucks.com/nl

Waarom u bij KLEYN koopt? Die keus is simpel: 1200 Gebruikte vrachtwagens, trekkers, opleggers en aanhangers op 1 locatie met alle merken. Op onze trucks tot 700.000 kilometer en 7 jaar is tot 1 jaar garantie mogelijk inclusief afleverbeurt. In ons adviesgesprek zoeken we samen de best passende financiering.

Scherpe prijzen
Goede service
Ruime, snel wisselende voorraad
Gekende kwaliteit
100+ Jaar fatsoenlijk koopmanschap
APK en tachograaf ijken
Transport tot aan de deur mogelijk
Vakkundige technische dienstverlening

Bezoek onze website www.kleyntrucks.com/nl en bekijk ons complete aanbod

Lease mogelijk

= Meer informatie =

Cabine: dag
APK: gekeurd tot jul 2022
Algemene staat: matig
Technische staat: matig
Optische staat: matig

= Bedrijfsinformatie =

Где находятся автомобили? – Вся техника находится на нашей площадке в Фурене, Голландия
Где находятся автомобили? – Вся техника находится на нашей площадке в Фурене, Голландия
= Więcej opcji i akcesoriów =

- Aluminiowe felgi

= Uwagi =

Ilość osi: 3, Ciężar własny: 7680 kg, Masa całkowita: 39000 kg, Rodzaj podwozia: Kompletne podwozie, Materiał podwozia: stal, Kingpin rozmiar: 2 inch, Aluminiowe felgi, Typ zawieszenia: Zawieszenie pełno-pneumatyczne, ABS, EBS, Rok zabudowy: 2008, Marka osi: BPW, Koło zapasowe

= Informacje o przedsiębiorstwie =

Chcesz wyleasingować to auto ? Z nami jest to możliwe ! Kliknij link, aby określić warunki leasingu i otrzymać dostosowaną ofertę. Zapytaj bezpośrednio o nasz europejski pakiet gwarancyjny.Wszystkie pojazdy są sprawdzone i sprawne technicznie. 80% klientów wybiera z tego powodu Kleyn Trucks !

Dla klientów z Polski przygotowaliśmy specjalną ofertę finansowania.
Mogą Państwo skorzystać z dedykowanej oferty leasingu i kredytu na nasze auta.

Wszystkie nasze auta posiadają komplet dokumentów potrzebnych do rejestracji w Polsce.

Klienci z Polski dokonują zakupów w cenie netto. Mozliwość rozliczenia zakupu auta w cenie netto jest szczególnie korzystna dla klientów z branży budowlanej objętych procedurą odwróconego VAT.
Kup ciężarówki taniej o 23% korzystając z dedykowanego kredytu na zakup aut w Kleyn Trucks.

= Więcej informacji =

Kabina: dzienna
APK (Przegląd techniczny): zatwierdzone do jul 2022
Stan ogólny: umiarkowanie
Stan techniczny: umiarkowanie
Stan wizualny: umiarkowanie

= Informacje o przedsiębiorstwie =

Где находятся автомобили? – Вся техника находится на нашей площадке в Фурене, Голландия
Jante de metal leve

Número de eixos: 3, Tara: 7680 kg, Peso bruto: 39000 kg, Tipo de chassi: Chassis completo, Material do chassi: aço, Kingpin tamanho: 2 inch, Jante de metal leve, Tipo de suspensão: suspensão pneumática integral, ABS, EBS, Data de construção da superstrutura: 2008, Marca do eixo: BPW, Roda de reserva

https://www.kleyntrucks.com

Где находятся автомобили? – Вся техника находится на нашей площадке в Фурене, Голландия
Jante de aluminiu

Număr de osii (arbori) : 3, Greutate proprie: 7680 kg, Greutate brută: 39000 kg, Tip de șasiu: Completă șasiu, Material şasiu: oţel, Kingpin mărimea: 2 inch, Jante de aluminiu, Tip suspensie: suspensie (exclusiv) pneumatică, ABS, sistem electronic de frânare, An fabricaţie suprastructură: 2008, Marca osiei: BPW, Roată de rezervă

Leasing posibil pentru camioanele de la Kleyn , pentru majoritatea țărilor europene!

Efectuați un calcul rapid și trimiteți o solicitare prin intermediul site-ului nostru web.

Solicitați direct pachetul nostru de garanție europeană.

Где находятся автомобили? – Вся техника находится на нашей площадке в Фурене, Голландия
= Дополнительные опции и оборудование =

- Литые диски

= Примечания =

Количество осей: 3, Собственный вес: 7680 кг, Maксимальный вес: 39000 kg, Тип шасси: шасси в сборе, Материал шасси: сталь, Kingpin размер: 2 inch, Литые диски, Тип подвески: полнопневматическая подвеска, ABC, Электронная тормозная система, Год выпуска кузова: 2008, Марка оси: BPW, Запасное колесо

= Информация о дилере =

https://www.kleyntrucks.com/

Kleyn Trucks является одним из ведущих мировых независимых торговых предприятий в сфере торговли подержанными транспортными средствами для делового использования. Здесь у вас будет выбор из постоянно обновляющегося ассортимента, в который входят 1200 подержанных грузовых автомобилей, тягачей, полуприцепов и прицепов. Мы предлагаем транспортные средства производства всех европейских фирм, годов выпуска и ценовых категорий.

Почему покупать у компании Kleyn Trucks выгодно? Это просто!
Широкий, быстро обновляющийся ассортимент
Гарантированное качество
Гарантия на фургоны с недавним годом выпуска
Выгодные цены
Достойный бизнес
Мы говорим на многих языках
Мы понимаем клиента
Оформление импорта и транспортировки
Быстрое оформление (экспортного) номерного знака
Профессиональные технические услуги
Надежность "гарантированного качества"

Пожалуйста, посетите наш веб-сайт для специальных предложений и полная инвентаризация: https://www.kleyntrucks.com/

= Дополнительная информация =

Кабина: кабина без спального места (day)
APK (TO): проверка пройдена до jul 2022
Общее состояние: удовлетворительное
Техническое состояние: удовлетворительное
Внешнее состояние: удовлетворительное

= Информация о дилере =

Где находятся автомобили? – Вся техника находится на нашей площадке в Фурене, Голландия
Kleyn Trucks является одним из ведущих мировых независимых торговых предприятий в сфере торговли подержанными транспортными средствами для делового использования. Здесь у вас будет выбор из постоянно обновляющегося ассортимента, в который входят 1200 подержанных грузовых автомобилей, тягачей, полуприцепов и прицепов. Мы предлагаем транспортные средства производства всех европейских фирм, годов выпуска и ценовых категорий.
Почему покупать у компании Kleyn Trucks выгодно? Это просто!
Где находятся автомобили?
– Вся техника находится на нашей площадке в Фурене, Голландия.
Disky z ľahkých zliatin

Где находятся автомобили? – Вся техника находится на нашей площадке в Фурене, Голландия
Где находятся автомобили? – Вся техника находится на нашей площадке в Фурене, Голландия
Alaşımlı jantlar

Где находятся автомобили? – Вся техника находится на нашей площадке в Фурене, Голландия