You may find interesting
Close
MERCEDES-BENZ Sprinter 2.2 CDI L3H2 POST NL MET SCHAPPEN AUTOMAAT
€17,900
MERCEDES-BENZ Sprinter 313 2.2 CDI L3H2 MET AIRCO EN SCHAPPEN
€16,900
MERCEDES-BENZ Sprinter 2.2 CDI L3H2 AUTOMAAT ACHTERUITRIJCAMERA
€17,900
MERCEDES-BENZ Sprinter 2.2 CDI L3H2 AUTOMAAT POSTNL MET SCHAPPEN
€15,900
MERCEDES-BENZ Sprinter 313 2.2 CDI L4H2 DHL AIRCO CRUISE CONTROL ACHTERUITRIJC
€17,900
MERCEDES-BENZ Sprinter 2.2 CDI L3H2 POST NL MET SCHAPPEN AUTOMAAT
€17,250
MERCEDES-BENZ Sprinter 2.2 CDI L3H2 POST NL MET SCHAPPEN AUTOMAAT closed box van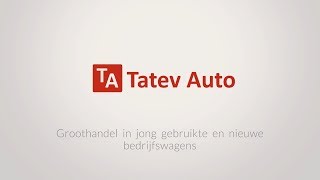 1/15
First registration
2015-01-21
Location
Netherlands
Mijdrecht
Placed on
more than 1 month
Description
Overall dimensions
6.96 m × 1.99 m × 3 m
= More options and accessories =

- 12 volt socket
- Diesel particulate filter
- Electrically operated front windows
- Height adjustable driver's seat
- Immobiliser
- Radio/CD player
- Radio enabled
- Remote central locking
- Sliding side door right
- Stability control
- Third brake light

= More information =

General information
Model range: Sep 2013 - Jul 2016
Cab: single

Technical information
Torque: 250 Nm
length/height: L3H2

Environment and consumption
Urban fuel consumption: 8,6 l/100km (33 MPG)
Extra urban fuel consumption: 8,1 l/100km (35 MPG)
CO2 emission: 218 g/km

Maintenance, history and condition
Service history: Present
APK (MOT): tested until 01/2022
Number of keys: 2 (1 hand transmitter)

Financial information
VAT/margin: VAT deductible
Alarmový systém třídy I
- Centrální zamykání s dálkovým ovládáním
- Elektricky ovládaná přední okna
- Imobilizér
- Posuvné boční dveře vpravo
- Radiopřijímač aktivován
- Rádio/CD přehrávač
- Třetí brzdové světlo
- Výškově nastavitelné sedadlo řidiče
- Částicový filtr
- Řízení stability
= Weitere Optionen und Zubehör =

- 12-Volt-Steckdose
- Drittes Bremslicht
- Elektrische Fensterheber vorn
- Fernbediente Zentralverriegelung
- Höhenverstellbarer Fahrersitz
- Radio/CD-Spieler
- Radiovorbereitung
- Rußpartikelfilter
- Seitenschiebetür rechts
- Stabilitätskontrolle
- Startunterbrecher

= Weitere Informationen =

Allgemeine Informationen
Modellbereich: Sep 2013 - Jul 2016
Kabine: einfach

Technische Informationen
Drehmoment: 250 Nm
Länge/Höhe: L3H2

Umwelt und Verbrauch
Kraftstoffverbrauch innerorts: 8,6 l/100km
Kraftstoffverbrauch außerorts: 8,1 l/100km
CO2-Emission: 218 g/km

Wartung, Verlauf und Zustand
Hefte: Vorhanden
APK (Technische Hauptuntersuchung): geprüft bis 01.2022
Anzahl der Schlüssel: 2 (1 Handsender)

Finanzielle Informationen
Mehrwertsteuer/Differenzbesteuerung: Mehrwertsteuer abzugsfähig
= Flere valgmuligheder og mere tilbehør =

- 12 V stik
- Alarmsystemklasse I
- Elruder for
- Fjernlåsning
- Højdejusterbart chaufførsæde
- Partikelfilter
- Radio/cd-afspiller
- Radio aktiveret
- Skydedør i højre side
- Stabilitetskontrol
- Startspærre
- Tredje bremselygte

= Yderligere oplysninger =

Generelle oplysninger
Modeludvalg: sep 2013 - jul 2016
Førerhus: enkeltseng

Tekniske specifikationer
Moment: 250 Nm
længde/højde: L3H2

Interiør
Indtræk: stof

Miljø og forbrug
Brændstofforbrug ved bykørsel: 8,6 l/100km
Brændstofforbrug ved motorvejskørsel: 8,1 l/100km
CO₂-emission: 218 g/km

Vedligeholdelse, historik og tilstand
Servicehistorik: Tilgængelig
APK (Bileftersyn): testet indtil jan 2022
Antal nøgler: 2 (1 håndholdt sender)

Finansielle oplysninger
moms/margin: Moms fradragsberettiget
ηλεκτρικά παράθυρα
- μεσαίο φως φρένων
- συναγερμός
= Más opciones y accesorios =

- Asiento del conductor ajustable en altura
- Bloqueo centralizado a distancia
- Control de estabilidad
- Filtro de partículas
- Inmovilizador electrónico del motor
- Preinstalación de radio
- Puerta corredera lateral derecha
- Radio/reproductor de CD
- Sistema de alarma clase I
- Tercera luz de freno
- Toma de corriente de 12 voltios
- Ventanillas eléctricas delanteras

= Más información =

Información general
Gama de modelos: sep 2013 - jul 2016
Cabina: simple

Información técnica
Par: 250 Nm
Longitud/altura: L3H2

Medio ambiente y consumo
Consumo de combustible urbano: 8,6 l/100km
Consumo de combustible extraurbano: 8,1 l/100km
Emisiones de CO2: 218 g/km

Mantenimiento, historial y estado
Libros: Disponible
APK (ITV): inspeccionado hasta ene 2022
Número de llaves: 2 (1 telemando)

Información financiera
IVA/margen: IVA deducible
= Plus d'options et d'accessoires =

- Contrôle de la stabilité
- Fenêtres électriques à l'avant
- Filtre de suie
- Porte latérale coulissante droite
- Prise 12 volts
- Préparation radio
- Radio/Lecteur CD
- Siège chauffeur réglable en hauteur
- Starter
- Système d'alarme classe I
- Troisième feu stop
- Verrouillage centralisé à distance

= Plus d'informations =

Informations générales
Modèles disponibles: sept. 2013 - juil. 2016
Cabine: simple

Informations techniques
Couple: 250 Nm
Longueur/hauteur: L3H2

Environnement et consommation
Consommation de carburant en milieu urbain: 8,6 l/100km
Consommation de carburant en milieu extra-urbain: 8,1 l/100km
Émission de CO2: 218 g/km

Entretien, historique et condition
Livrets: Présent
APK (CT): valable jusqu'à janv. 2022
Nombre de clés: 2 ( 1 télécommande)

Informations financières
TVA/marge: TVA déductible
CD-rádió
- Elektromos vezérlésű első ablakok
- Elhúzható oldalajtó, jobb oldal
- Harmadik féklámpa
- Indításgátló
- Riasztórendszer osztálya: I.
- Rádió használatára alkalmas
- Részecskeszűrő
- Stabilitásvezérlés
- Távirányításos központi zár
- Állítható magasságú vezetőülés
Abilitazione autoradio
- Alzacristalli elettrici anteriori
- Autoradio/CD
- Bloccaggio centralizzato con telecomando
- Categoria del sistema di allarme I
- Controllo stabilità
- Filtro antiparticolato
- Immobiliser
- Portiera laterale scorrevole destra
- Sedile del conducente regolabile in altezza
- Terza luce di arresto
= Aanvullende opties en accessoires =
Exterieur
- Centrale deurvergrendeling met afstandsbediening
- Zijschuifdeur rechts
Infotainment
- Radio cd speler
- Radiovoorbereiding
Interieur
- 12Volt aansluiting
- 12Volt aansluiting
- Bestuurdersstoel in hoogte verstelbaar
- Elektrische ramen voor
Veiligheid
- Alarm klasse 1(startblokkering)
- Derde remlicht
- Elektronisch Stabiliteits Programma
Overige
- Roetfilter
= Bijzonderheden =
Mercedes-Benz Sprinter 2.2 CDI L3H2 AUTOMAAT POSTNL UITVOERING MET SCHAPPEN.
Volledige onderhoudshistorie is aanwezig.
Financieren vanaf 295 EURO p/m.
Voor lease advies en leasecalculatie op maat kunt u contact opnemen met onze verkoopadviseur.
U kunt direct bellen naar 0629435240.
Financieren en inruil is mogelijk.
Garantie mogelijk met 6 of 12 maanden tegen meerprijs. Wij hanteren geen afleverkosten. Nieuwe APK keuring bij aflevering.
KIJK op onze website voor meer foto's.
U bent van harte welkom in onze showroom, voor vragen kunt ook altijd vrijblijvend contact opnemen met onze verkoopadviseur. U kunt direct bellen naar Tel:
show contacts
.
= Bedrijfsinformatie =
.
= Meer informatie =
Algemene informatie
Modelreeks: sep 2013 - jul 2016
Cabine: enkel
Technische informatie
Koppel: 250 Nm
Lengte/hoogte: L3H2
Interieur
Bekleding: Stof
Interieurkleur: Licht grijs
Milieu en verbruik
Brandstofverbruik in de stad: 8,6 l/100km (1 op 11,6)
Brandstofverbruik op de snelweg: 8,1 l/100km (1 op 12,3)
CO2 uitstoot: 218 g/km
Onderhoud, historie en staat
Onderhoudsboekjes: Aanwezig
APK: gekeurd tot jan 2022
Aantal sleutels: 2 (1 handzender)
Financiële informatie
BTW/marge: BTW verrekenbaar voor ondernemers
= Więcej opcji i akcesoriów =

- Boczne drzwi przesuwane po prawo
- Dodatkowe światło stopu
- Elektrycznie opuszczane szyby z przodu
- Filtr cząstek stałych
- Gniazdo 12 V
- Immobiliser
- Instalacja radiowa
- Kontrola stabilności
- Pilot do zamka centralnego
- Radio / odtwarzacz CD
- Regulowany w pionie fotel kierowcy
- System alarmowy klasa I

= Więcej informacji =

Informacje ogólne
Gama modeli: sep 2013 - jul 2016
Kabina: pojedynczy

Informacje techniczne
Moment obrotowy: 250 Nm
Długość/wysokość: L3H2

Ekologia i zużycie
Zużycie paliwa w terenie zabudowanym: 8,6 l/100km
Dodatkowe zużycie paliwa w terenie zabudowanym: 8,1 l/100km
Emisja CO2: 218 g/km

Obsługa serwisowa, historia i stan
Książeczki: Obecny
APK (Przegląd techniczny): zatwierdzone do jan 2022
Liczba kluczyków: 2 (1 nadajnik ręczny)

Informacje finansowe
VAT/marża: Możliwość odliczenia podatku VAT
3a luz de travão
- Fecho de portas centralizado
- Rádio
- Sistema imobilizador integrado
- Vidros eléctricos
= Дополнительные опции и оборудование =

- Гнездо 12 В
- Дополнительный стоп-сигнал
- Иммобилайзер
- Передние стеклоподъемники с электрическим приводом
- Поддержка радиоприемника
- Пульт дистанционного управления центральным замком
- Радиоприемник/проигрыватель компакт-дисков
- Раздвижная боковая дверь, правая
- Регулируемое по высоте сиденье водителя
- Сажевый фильтр
- Система курсовой устойчивости
- Система сигнализации, класс I

= Дополнительная информация =

Общая информация
Модельный ряд: sep 2013 - jul 2016
Кабина: односпальная

Техническая информация
Крутящий момент: 250 Nm
длина/высота: L3H2

Экология и расход топлива
Расход топлива в городском цикле: 8,6 l/100km
Дополнительный расход топлива в городском цикле: 8,1 l/100km
Выбросы CO2: 218 g/km

Обслуживание, история и состояние
История обслуживания: В наличии
APK (TO): проверка пройдена до jan 2022
Количество ключей: 2 (1 портативный пульт ДУ)

Финансовая информация
НДС/маржа: С вычетом НДС
Diaľkové centrálne zamykanie
- Elektricky ovládané predné okná
- Filter pevných častíc
- Imobilizér
- Kontrola stability
- Pravé posuvné bočné dvere
- Rádio/prehrávač diskov CD
- S prípravou na rádio
- Systém alarmu triedy I
- Tretie brzdové svetlo
- Výškovo nastaviteľné sedadlo vodiča
Alarm sistemi Sınıfı I
- Elektrikle çalışan ön camlar
- Kayar sağ yan kapı
- Parçacık filtresi
- Radyo/CD çalar
- Radyo özellikli
- Stabilite kontrolü
- Uzaktan merkezi kilitleme
- Yüksekliği ayarlanabilir sürücü koltuğu
- Üçüncü fren lambası
- İmmobilizer
Important
This offer is for guidance only. Please request more precise information from the seller.
Safety tips
Seller's contacts
Autobedrijf Tatev
Seller with Autoline for 8 years
The phone numbers have been checked
The address has been checked
Serosj Avetian
Languages:
English, Russian, German, Dutch
Netherlands, Utrecht, 3641 RP, Mijdrecht, Nijverheidsweg 7
Seller's local time: 18:49 (CEST)
Selling machinery or vehicles?
You can do it with us!