New IRIZAR I6s 12.35 TRX coach bus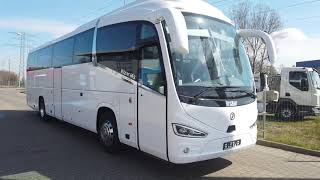 1/30
Location
Poland
Lędziny
Placed on
more than 1 month
Need delivery?
Calculate the cost of delivery
Cabin
Cruise control (tempomat)
Electrically operated mirrors
CONTACT:
show contacts
IRIZAR i6s INTEGRAL
1. General data / dimensions
Trainer: Irizar
Model: I6S
Type: integral
Length: 12.2 m
Height: 3.73 m
Width: 2.55 m
Number of axes: 2
Number of seats 49 + 1 + 1
Year of production: 2019
Permitted total weight: 19,500 kg
Door layout: 1-1-0
Electrically operated door with anti-trap protection and brake lock when open.
Electrically heated multi-layer windshield
Double-glazed side windows, tinted at the factory
2. Suspension system
Front axle: with independent air suspension
Rear axle: with independent air suspension
Suspension: with self-leveling system, height control of the vehicle from the driver's cockpit and independent tilting of the vehicle to the right
3. Appearance / colors / materials
Color RAL 9003
Exterior mirrors, bumpers, grille in body color
Alcoa alloy wheels
The i6 + seats extend to the side and fold out to the rear.
4. Engine / cooling system / fuel system
Engine: DAF MX 11 300 kW (408 hp) 10.8 l EURO 6
Fuel tank capacity: 470L
Engine compartment with additional sound insulation
The bonnet is lockable
Diagnostic connection for diagnosing the engine from an external diagnostic device
5. Steering, brakes and chassis, transmission
Multifunction steering wheel adjustable in two levels
Hydraulic power steering
Vented disc brakes front and rear.
Anti-lock braking system.
Anti-slip system when starting ASR.
ESC stabilization system.
Electronic brake force distribution EBD
Additional retarder brake integrated in the transmission.
A stop brake that prevents starting when the door is open
Automated ZF 12-speed transmission - Traxon
TPMS - wheel pressure and temperature control system.
LDWS - Lane Assistant.
AEBS - automatic emergency braking system (anti-collision radar)
ACC - active cruise control
6. Vehicle lighting / interior lighting / additional signaling
LED headlights with integrated LED daytime running lights.
The brake light is activated when the additional retarder brake is applied
Fog lights - LED
"Stop" buttons signal the driver to stop when necessary / notify
Engine compartment lighting
Backlight on the steps of the bus entrance
Interior and night lighting controlled from the driver's cockpit
Main luggage compartment lighting
Pneumatic and electric horn
7. Equipment
Two-zone air conditioning system electronically controlled.
47KW air conditioning compressor
Backup camera.
A separate 7-inch monitor is connected to the rear view camera
Outside mirrors heated and operated electrically
Interior mirror
Built-in wheel arches - protection against snow and mud
The left driver's window is heated and opened electrically
Cruise control with speed limitation system for steep descents
High-speed locking system programmable in the steering wheel.
Outside temperature display in the dashboard with 4 ° C temperature signaling
Two switches for electrical installation (main disconnection of the battery and the second one that leaves the Webasto power supply, tachograph and car alarm)
Additional heating independent of the operation of the Spheros motor with the possibility to program 7 days in advance.
The trunk lid opened pneumatically upwards and was controlled from the driver's cockpit.
Audio + DVD set with two monitors for passengers.
Water heater next to the pilot's seat
A fridge in front of the bus.
Carpets in the center tunnel, in the last row of seats and around the driver's seat
Cargo liner
Adaptation to the assembly of a ski box
Central on-board vacuum cleaner
8. Driver position:
The pneumatic driver's seat adapts to the driver's weight with seat heating and backrest.
Pneumatic 5-point adjustment of the backrest of the driver's seat.
Electrically operated front and side left blinds.
Document safe under the driver's seat.
9. Passenger compartment
Two-point seat belts
Leather headrests in the armchairs
Net for the press on the back of the backrest
A table next to the chair for every passenger
Luggage racks above the passenger seats
Individual lighting, air conditioning and ventilation
Stop button for every passenger
Curtains on the side and rear windows
Two emergency exits in the roof with manual tilt function
Footrests next to passenger seats
KONTAKT
show contacts
IRIZAR i6s INTEGRAL
1. Allgemeine Daten / Abmessungen
Trainer: Irizar
Modell: I6S
Typ: Integral
Länge: 12,2 m
Höhe: 3,73 m
Breite: 2,55 m
Anzahl der Achsen: 2
Anzahl der Sitzplätze 49 + 1 + 1
Produktionsjahr: 2021
Zulässiges Gesamtgewicht: 19.500 kg
Türanordnung: 1-1-0
Elektrisch betätigte Tür mit Einklemmschutz und Bremsschloss im geöffneten Zustand.
Elektrisch beheizte mehrschichtige Windschutzscheibe
Doppelt verglaste Seitenfenster, werkseitig getönt
2. Aufhängungssystem
Vorderachse: bei unabhängiger Luftfederung
Hinterachse: bei unabhängiger Luftfederung
Federung: mit selbstnivellierendem System, Höhenkontrolle des Fahrzeugs vom Cockpit des Fahrers aus und unabhängiges Kippen des Fahrzeugs nach rechts
3. Aussehen / Farben / Materialien
Farbe RAL 9003
Außenspiegel, Stoßstangen, Kühlergrill in Wagenfarbe
Alcoa Leichtmetallfelgen
Die i6 + Sitze erstrecken sich zur Seite und klappen nach hinten aus.
4. Motor / Kühlsystem / Kraftstoffsystem
Motor: DAF MX 11 300 kW (408 PS) 10,8 l EURO 6
Kraftstofftankinhalt: 470L
Motorraum mit zusätzlicher Schallschutzisolierung
Die Motorhaube ist abschließbar
Diagnoseanschluss zur Diagnose des Motors von einem externen Diagnosegerät
5. Lenkung, Bremsen und Fahrwerk, Getriebe
Multifunktionales Lenkrad in zwei Ebenen einstellbar
Hydraulische Servolenkung
Belüftete Scheibenbremsen vorne und hinten.
Antiblockiersystem.
Anti-Rutsch-System beim Starten von ASR.
ESC-Stabilisierungssystem.
Elektronische Bremskraftverteilung EBD
Zusätzliche Retarderbremse im Getriebe integriert.
Eine Stoppbremse, die das Starten bei geöffneter Tür verhindert
Automatisiertes ZF 12-Gang-Getriebe - Traxon
TPMS - Raddruck- und Temperaturregelsystem.
LDWS - Spurassistent.
AEBS - automatisches Notbremssystem (Antikollisionsradar)
ACC - aktive Geschwindigkeitsregelung
6. Fahrzeugbeleuchtung / Innenbeleuchtung / zusätzliche Signalisierung
LED-Scheinwerfer mit integriertem LED-Tagfahrlicht.
Das Bremslicht wird aktiviert, wenn die zusätzliche Retarder-Bremse betätigt wird
Nebelscheinwerfer - LED
"Stop" -Tasten signalisieren dem Fahrer das Anhalten bei Bedarf / Benachrichtigung
Motorraumbeleuchtung
Hintergrundbeleuchtung an den Stufen des Buseingangs
Innen- und Nachtbeleuchtung vom Cockpit des Fahrers aus gesteuert
Beleuchtung des Hauptgepäckraums
Pneumatische und elektrische Hupe
7. Ausrüstung
Zweizonen-Klimaanlage elektronisch gesteuert.
47KW Klimakompressor
Rückfahrkamera.
Ein separater 7-Zoll-Monitor ist an die Rückfahrkamera angeschlossen
Außenspiegel beheizt und elektrisch betrieben
Innenspiegel
Eingebaute Radkästen - Schutz vor Schnee und Schlamm
Das linke Fahrerfenster wird beheizt und elektrisch geöffnet
Tempomat mit Geschwindigkeitsbegrenzungssystem für steile Abfahrten
Im Lenkrad programmierbares Höchstgeschwindigkeits-Verriegelungssystem.
Außentemperaturanzeige im Armaturenbrett mit 4 ° C Temperatursignalisierung
Zwei Schalter für die elektrische Installation (Haupttrennung der Batterie und der zweite, der die Stromversorgung von Webasto, Fahrtenschreiber und Autoalarm verlässt)
Zusätzliche Heizung unabhängig vom Betrieb des Spheros-Motors mit der Möglichkeit, 7 Tage im Voraus zu programmieren.
Der Kofferraumdeckel öffnete sich pneumatisch nach oben und wurde vom Cockpit des Fahrers aus gesteuert.
Audio + DVD-Set mit zwei Monitoren für Passagiere.
Warmwasserbereiter neben dem Pilotensitz
Ein Kühlschrank vor dem Bus.
Teppiche im Mitteltunnel, in der letzten Sitzreihe und rund um den Fahrersitz
Frachtliner
Anpassung an die Montage einer Skibox
Zentraler Bordstaubsauger
8. Fahrerplatz:
Der pneumatische Fahrersitz passt sich mit Sitzheizung und Rückenlehne dem Fahrergewicht an.
Pneumatische 5-Punkt-Einstellung der Rückenlehne des Fahrersitzes.
Elektrisch betätigte vordere und seitliche linke Jalousien.
Dokumentensafe unter dem Fahrersitz.
9. Fahrgastraum
Zweipunkt-Sicherheitsgurte
Lederkopfstützen in den Sesseln
Netz für die Presse auf der Rückseite der Rückenlehne
Ein Tisch neben dem Stuhl für jeden Passagier
Gepäckablagen über den Beifahrersitzen
Individuelle Beleuchtung, Klimaanlage und Belüftung
Stopptaste für jeden Passagier
Vorhänge an den Seiten- und Heckscheiben
Zwei Notausgänge im Dach mit manueller Kippfunktion
Fußstützen neben Beifahrersitzen
Important
This offer is for guidance only. Please request more precise information from the seller.
Safety tips
Seller's contacts
Mateusz Biela
Languages:
English, Russian, Polish
Poland, Silesian, 43, Lędziny, S1
Seller's local time: 23:40 (CEST)
Selling machinery or vehicles?
You can do it with us!