New IRIZAR I8 15.37 coach bus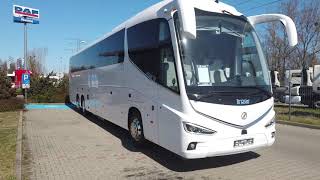 1/30
Need delivery?
Calculate the cost of delivery
Cabin
Cruise control (tempomat)
Electrically operated mirrors
CONTACT:
show contacts
IRIZAR i8 INTEGRAL
1. General data / dimensions
Coach: Irizar
Model: i8
Type: integral
Length: 15 m
Height: 3.98 m
Width: 2.55m
Number of axles: 3
Number of seats: 65 + 1 + 1
GVW: 25,000kg
Door arrangement: 1-1-0
Electrically operated door with anti-trap protection and brake lock when open.
Electrically heated multilayer windscreen.
Double glazed side windows factory heavily tinted VG7
2. Suspension system
Front axle: on independent air suspension
Rear axle: on independent air suspension
Suspension: with self-leveling system, vehicle height control from the driver's cockpit and independent tilting of the vehicle to the right
3. Appearance / colors / materials
Color white RAL9003
Exterior mirrors, bumpers, body color radiator grille
Alcoa Black alloy wheels
Photo i8 slid out and folded back.
4. Engine / cooling system / fuel system
Engine: DAF MX 13 355 kW (480 HP) 12.9 l EURO 6
Fuel tank capacity: 670L
Engine compartment with additional soundproofing insulation
The bonnet is lockable
Diagnostic connector for diagnosing the engine from an external diagnostic device
5. Steering, braking and chassis, gearbox
Multifunctional leather steering wheel adjustable in two planes
Hydraulic power steering
Ventilated front and rear disc brakes.
Anti-lock braking system.
Anti-slip system when starting ASR.
ESC stabilization system.
Electronic braking force distribution EMCDDA
Additional retarder brake integrated into the gearbox.
A stop brake that prevents starting when the door is open
ZF 12-speed automatic gearbox - Traxon
TPMS - wheel pressure and temperature control system.
LDWS - lane assistant.
AEBS - automatic emergency braking system (anti-collision radar)
ACC - active cruise control
PCC - adaptive cruise control
Built-in wheel arches - protection against snow and mud
6. Vehicle lights / interior lighting / additional signaling
LED headlights integrated with LED daytime running lights.
The stop light is activated when the additional Retarder brake is applied
Fog lights - LED
"Stop" buttons signaling stopping on demand / notification to the driver
Engine compartment lighting
Backlight on bus entrance steps
Indoor and night lighting controlled from the driver's cockpit
Lighting of the main luggage space
Pneumatic and electric horn
7. Equipment
Two-zone air conditioning controlled electronically.
47KW air conditioning compressor
Reversing camera.
Rear entrance camera
GPS navigation
Touch MMI monitor
Central vacuum cleaner
Rain sensor that automatically activates the wipers
Dusk sensor that automatically turns on the lights
Exterior mirrors heated and electrically operated
Interior mirror
The left driver's window is heated and electrically opened
Cruise control with a speed limiting system for steep descents
Maximum speed locking system programmable in the steering wheel.
Outside temperature indicator in dashboard with temperature signaling 4oC
Two switches for the electrical system (main disconnecting the battery, and the second leaving the Webasto power supply, tachograph and car alarm)
Additional heating independent of Spheros engine operation with the possibility of programming 7 days ahead.
Boot lid pneumatically opened upwards with control from the driver's cockpit.
Vinyl windshield cover
Bosch Professional and DVD audio system
Three passenger monitors (first 22 "and two 19" automatically folded)
Frenzel water heater next to the pilot seat with automatic water filling.
Driver's bedroom with heating and telephon for communication with the driver.
A fridge in the front of the bus.
Carpets in the central tunnel, at the last row of passenger seats and around the driver's seat
Carpets in the luggage space
Adaptation to mounting a ski box
8. Driver space:
Pneumatic driver's seat adapts to the driver's weight, with seat heating and seat back.
5 points, pneumatic driver seat backrest adjustment.
Electrically operated front and side left window blinds.
Document safe placed under the driver's seat.
9. Passenger space
Two-point seat belts
Mesh for the press placed on the back of the backrest
Luggage shelves located above the passenger seats
Individual lighting, air conditioning and ventilation
stop button for each passenger
Curtains at the side and rear windows
Two emergency exits in the roof with manual tilt function
Footrests next to passenger seats
KONTAKT:
show contacts
IRIZAR i8 INTEGRAL
1. Allgemeine Daten / Abmessungen
Trainer: Irizar
Modell: i8
Typ: Integral
Länge: 15 m
Höhe: 3,98 m
Breite: 2,55 m
Anzahl der Achsen: 3
Anzahl der Plätze: 65 + 1 + 1
GVW: 25.000 kg
Türanordnung: 1-1-0
Elektrisch betätigte Tür mit Einklemmschutz und Bremsschloss im geöffneten Zustand.
Elektrisch beheizte mehrschichtige Windschutzscheibe.
Doppelverglaste Seitenfenster ab Werk stark getönt VG7
2. Aufhängungssystem
Vorderachse: bei unabhängiger Luftfederung
Hinterachse: bei unabhängiger Luftfederung
Federung: mit selbstnivellierendem System, Höhenkontrolle des Fahrzeugs vom Cockpit des Fahrers aus und unabhängiges Kippen des Fahrzeugs nach rechts
3. Aussehen / Farben / Materialien
Farbe weiß RAL9003
Außenspiegel, Stoßstangen, Kühlergrill in Wagenfarbe
Alcoa Black Leichtmetallfelgen
Foto i8 rutschte heraus und faltete sich zurück.
4. Motor / Kühlsystem / Kraftstoffsystem
Motor: DAF MX 13 355 kW (480 PS) 12,9 l EURO 6
Kraftstofftankinhalt: 670L
Motorraum mit zusätzlicher Schallschutzisolierung
Die Motorhaube ist abschließbar
Diagnoseanschluss zur Diagnose des Motors von einem externen Diagnosegerät
5. Lenkung, Bremsen und Fahrwerk, Getriebe
Multifunktionales Lederlenkrad in zwei Ebenen verstellbar
Hydraulische Servolenkung
Belüftete Scheibenbremsen vorne und hinten.
Antiblockiersystem.
Anti-Rutsch-System beim Starten von ASR.
ESC-Stabilisierungssystem.
Elektronische Bremskraftverteilung EMCDDA
Zusätzliche Retarderbremse im Getriebe integriert.
Eine Stoppbremse, die das Starten bei geöffneter Tür verhindert
ZF 12-Gang-Automatikgetriebe - Traxon
TPMS - Raddruck- und Temperaturregelsystem.
LDWS - Spurassistent.
AEBS - automatisches Notbremssystem (Antikollisionsradar)
ACC - aktive Geschwindigkeitsregelung
PCC - adaptive Geschwindigkeitsregelung
Eingebaute Radkästen - Schutz vor Schnee und Schlamm
6. Fahrzeugbeleuchtung / Innenbeleuchtung / zusätzliche Signalisierung
LED-Scheinwerfer mit integriertem LED-Tagfahrlicht.
Das Bremslicht wird aktiviert, wenn die zusätzliche Retarder-Bremse betätigt wird
Nebelscheinwerfer - LED
"Stop" -Tasten signalisieren dem Fahrer das Anhalten bei Bedarf / Benachrichtigung
Motorraumbeleuchtung
Hintergrundbeleuchtung an den Stufen des Buseingangs
Innen- und Nachtbeleuchtung vom Cockpit des Fahrers aus gesteuert
Beleuchtung des Hauptgepäckraums
Pneumatische und elektrische Hupe
7. Ausrüstung
Zweizonen-Klimaanlage elektronisch gesteuert.
47KW Klimakompressor
Rückfahrkamera.
Rückfahrkamera
GPS-Navigation
Berühren Sie MMI-Monitor
Zentralstaubsauger
Regensensor, der die Scheibenwischer automatisch aktiviert
Dämmerungssensor, der das Licht automatisch einschaltet
Außenspiegel beheizt und elektrisch betrieben
Innenspiegel
Das linke Fahrerfenster wird beheizt und elektrisch geöffnet
Tempomat mit Geschwindigkeitsbegrenzungssystem für steile Abfahrten
Im Lenkrad programmierbares Höchstgeschwindigkeits-Verriegelungssystem.
Außentemperaturanzeige im Armaturenbrett mit Temperatursignalisierung 4 ° C.
Zwei Schalter für die elektrische Installation (Haupttrennung der Batterie und der zweite, der die Stromversorgung von Webasto, Fahrtenschreiber und Autoalarm verlässt)
Zusätzliche Heizung unabhängig vom Betrieb des Spheros-Motors mit der Möglichkeit, 7 Tage im Voraus zu programmieren.
Der Kofferraumdeckel öffnete sich pneumatisch nach oben und wurde vom Cockpit des Fahrers aus gesteuert.
Vinyl Windschutzscheibenabdeckung
Bosch Professional und DVD-Audiosystem
Drei Passagiermonitore (erste 22 "und zwei 19" automatisch zusammengeklappt)
Frenzel Warmwasserbereiter neben dem Pilotensitz mit automatischer Wasserfüllung.
Fahrerzimmer mit Heizung und Telefon zur Kommunikation mit dem Fahrer.
Ein Kühlschrank vor dem Bus.
Teppiche im Mitteltunnel, in der letzten Sitzreihe und rund um den Fahrersitz
Teppiche im Gepäckraum
Anpassung an die Montage einer Skibox
8. Fahrerplatz:
Der pneumatische Fahrersitz passt sich mit Sitzheizung und Rückenlehne dem Fahrergewicht an.
5 Punkte, pneumatische Einstellung der Fahrersitzlehne.
Elektrisch betätigte vordere und seitliche linke Jalousien.
Dokumentensafe unter dem Fahrersitz.
9. Fahrgastraum
Zweipunkt-Sicherheitsgurte
Netz für die Presse auf der Rückseite der Rückenlehne
Gepäckablagen über den Beifahrersitzen
Individuelle Beleuchtung, Klimaanlage und Belüftung
Stopptaste für jeden Passagier
Vorhänge an den Seiten- und Heckscheiben
Zwei Notausgänge im Dach mit manueller Kippfunktion
Fußstützen neben Beifahrersitzen
KONTAKT:
show contacts
IRIZAR i8 INTEGRAL
1. Dane ogólne / wymiary
Autokar: Irizar
Model: i8
Type: integral
Długość: 15 m
Wysokość: 3.98 m
Szerokość: 2.55m
Ilość osi: 3
Ilość miejsc siedzących 65 + 1 + 1
DMC: 25,000kg
Układ drzwi: 1-1-0
Drzwi sterowane elektrycznie z zabezpieczeniem przed przytrzaśnięciem i blokadą hamulców gdy są otwarte.
Szyba przednia wielowarstwowa podgrzewana elektrycznie.
Szyby boczne zespolone podwójne fabrycznie mocno przyciemniane VG7
2. Układ zawieszenia
Oś przednia: na zawieszeniu pneumatycznym niezależnym
Oś tylna: na zawieszeniu pneumatycznym niezależnym
Zawieszenie: z systemem samopoziomującym, sterowanie wysokości pojazdu z kokpitu kierowcy oraz niezależny przechył pojazdu na prawą stronę
3. Wygląd / kolorystyka / materiały
Color biały RAL9003
Lusterka zewnętrzne, zderzaki, osłona chłodnicy w kolorze nadwozia
Felgi aluminiowe Alcoa Black
Photo i8 rozsuwane na bok i rozkładane do tyłu.
4. Silnik / układ chłodzenia / układ paliwowy
Silnik: DAF MX 13 355 kW (480 KM) 12.9 l EURO 6
Pojemność zbiornika paliwa: 670L
Komora silnika z dodatkową izolacją wygłuszającą
Klapa komory silnika zamykana na klucz
Złącze diagnostyczne umożliwiające diagnozowanie silnika z zewnętrznego urządzenia diagnostycznego
5. Układ kierowniczy, hamulcowy i jezdny, skrzynia biegów
Wielofunkcyjna skórzana kierownica regulowana w dwóch płaszczyznach
Hydrauliczne wspomaganie układu kierowniczego
Hamulce na osi przedniej i tylnej tarczowe, wentylowane.
Układ zapobiegającym blokowaniu kół ABS.
Układ zapobiegający poślizgowi przy ruszaniu ASR.
Układ stabilizacji toru jazdy ESC.
Elektroniczny układ rozdziału sił hamowania EMCDDA
Dodatkowy hamulec retarder zintegrowany ze skrzynią biegów.
Hamulec przystankowy uniemożlwiający ruszenie z otwartymi drzwiami
Automatyczna 12 stopniowa skrzynia biegów ZF - Traxon
TPMS - układ control ciśnienia i temperatury kół.
LDWS - asystent pasa ruchu.
AEBS - automatyczny system awaryjnego hamowania (radar antykolizyjny)
ACC - aktywny tempomat
PCC - cruise control adaptacyjny
Zabudowane nadkola - ochrona przed śniegiem i błotem
6. Światła pojazdu / oświetlenie wewnątrz / sygnalizacja dodatkowa
Reflektory LED zintegrowane z światłami LED do jazdy dziennej.
Światło stop uruchamiane przy załączaniu dodatkowego hamulca Retardera
Reflektory przeciwmgielne - LED
Przyciski "Stop" sygnalizujący przystanek na żądanie / powiadomienie kierowcy
Oświetlenie komory silnika
Podświetlenie stopni wejściowych do autobusu
Oświetlenie wewnątrz główne i nocne sterowane z kokpitu kierowcy
Oświetlenie głównej przestrzeni bagażowej
Klakson pneumatyczny i elektryczny
7. Wyposażenie
Dwustrefowa klimatyzacja sterowana elektronicznie.
Compressor klimatyzacji o mocy 47KW
Camera cofania.
Camera tylnego wejścia
Nawigacja GPS
Dotykowy monitor MMI
Centralny odkurzacz
Sensor deszczu załączający automatycznie wycieraczki
Czujnik zmierzchu włączający automatycznie światła
Lusterka zewnętrzne podgrzewane i sterowane elektrycznie
Lusterko wewnętrzne
Lewa szyba kierowcy podgrzewana i otwierana elektrycznie
Cruise control z systemem ograniczającym wzrost prędkości przy stromych zjazdach
Układ blokujący prędkość maksymalną programowany w kierownicy.
Wskaźnik temperatury zewnętrznej w desce rozdzielczej z sygnalizacją Temperatury 4oC
Dwa Wyłączniki instalacji elektrycznej (główny rozłączający akumulator, i drugi pozostawiający zasilanie Webasto, tachografu i autoalarm)
Dodatkowe ogrzewanie niezależne od pracy silnika Spheros z możliwością programowania 7 dni do przodu.
Klapy bagażników otwierane pneumatycznie do góry ze sterowaniem z kokpitu kierowcy.
Winylowa osłona przedniej szyby
Zestaw audio i DVD Bosch Professional
Trzy monitory dla pasażerów (pierwszy 22 "a dwa 19" automatycznie składane)
Podgrzewacz wody Frenzel obok fotela pilota z automatycznym napełnianiem wody.
Sypialnia dla kierowcy z ogrzewaniem i telephon do komunikacji z kierowcą.
Lodówka w przedniej części autokaru.
Dywany w środkowym tunelu, przy ostatnim rzędzie foteli pasażerskich oraz wokół fotela kierowcy
Dywany w przestrzeni bagażowej
Przystosowanie do montażu bagażnika typu ski box
8. Przestrzeń kierowcy:
Pneumatyczny fotel kierowcy dostosowujący się do wagi kierowcy, z ogrzewaniem siedziska i oparcia fotela.
5 dotowa, pneumatyczna regulacja oparcia fotela kierowcy.
Rolety szyby przedniej i bocznej lewej sterowane elektrycznie.
Sejf na documenty umieszczony pod fotelem kierowcy.
9. Przestrzeń pasażerska
Dwupunktowe pasy bezpieczeństwa
Siateczki na prasę umieszczone na tylnej części oparcia
Półki na bagaż umieszczone nad fotelami pasażerów
Indywidualne oświetlenie, nawiew klimatyzacji oraz
przycisk stop dla każdego pasażera
Zasłonki przy szybach bocznych oraz tylnej
Dwa wyjścia ewakuacyjne w dachu z funkcją manualnego uchylenia
Podnóżki przy fotelach pasażerskich
Important
This offer is for guidance only. Please request more precise information from the seller.
Safety tips
Seller's contacts
Mateusz Biela
Languages:
English, Russian, Polish
Poland, Silesian, 43, Lędziny, S1
Seller's local time: 23:20 (CEST)
Selling machinery or vehicles?
You can do it with us!