You may find interesting
Close
JOHN DEERE 730
€41,670
JOHN DEERE 730
€41,670
JOHN DEERE 1910 Бункер для сухих минеральных удобрений
$9,900
JOHN DEERE 1890+1910
$45,000
JOHN DEERE 730
€39,170
JOHN DEERE 1890+1910
€18,270
JOHN DEERE 1890 + 1910 10,8 metra combine seed drill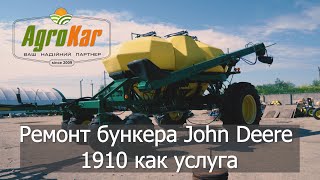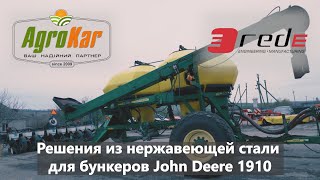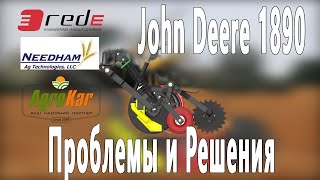 1/20
$150,000
Gross price, VAT – 20%
Location
Ukraine
Kiyiv
Placed on
more than 1 month
Description
Required tractor power
310 HP
Overall dimensions
width - 4 m
Посевной комплекс John Deere 1890 + 1910 2008 года после капитального ремонта

Пневмобункер Джон Дир 1910
* буксируемый сзади на 3 отсека
* 3 высевающих аппарата, 2 новых оригинальных и 1 из нержавеющей стали
* однорядная вакуумная система на 6 труб (все трубы из нержавеющей стали)
* все новые вакуумные уплотнения под банкой и между дозаторами
* Дефектовка и ремонт электропроводки (вся исправная)
* Пескоструй и порошковая покраска всех мет. частей рамы
* Переборка всех редукторов, звездочек, цепей, заливка нового масла
* Новый ремень элеватора подающего шнека
* Ремонт корпуса шахты элеватора
* Дефектовка и ремонт гидравлики

Сеялка Джон Дир 1890
* Ремонт всей секции запасными частями на выбор заказчика (замена, оригинал, RED-E США)
* Дефектовка и ремонт всей электропроводки
* Дефектовка и ремонт гидравлики
* Пескоструй и порошковая покраска по желанию заказчика


Индивидуальных подход к ремонту каждой единицы
Все цены обсуждаются и согласовываются лично с клиентом
Выбор запасных частей
Посівний комплекс John Deere 1890 + 1910 2008 року після капітального ремонту

Пневмобункер Джон Дір 1910
* Буксируваний ззаду на 3 відсіку
* 3 висівних апарату, 2 нових оригінальних і 1 з нержавіючої сталі
* Однорядная вакуумна система на 6 труб (всі труби з нержавіючої сталі)
* Все нові вакуумні ущільнення під банкою і між дозаторами
* Дефектовка і ремонт електропроводки (вся справна)
* Піскоструй і порошкове фарбування всіх мет. частин рами
* Переборка всіх редукторів, зірочок, ланцюгів, заливка нового масла
* Новий ремінь елеватора подає шнека
* Ремонт корпусу шахти елеватора
* Дефектовка і ремонт гідравліки

Сівалка Джон Дір 1890
* Ремонт всій секції запасними частинами на вибір замовника (заміна, оригінал, RED-E США)
* Дефектовка і ремонт всієї електропроводки
* Дефектовка і ремонт гідравліки
* Піскоструй і порошкове фарбування за бажанням замовника


Індивідуальних підхід до ремонту кожної одиниці
Всі ціни обговорюються і узгоджуються особисто з клієнтом
Вибір запасних частин
Important
This offer is for guidance only. Please request more precise information from the seller.
Safety tips
Seller's contacts
TOV AgroKar
Seller with Autoline for 9 years
The phone numbers have been checked
The address has been checked
Ukraine, Kyiv Oblast, Київ, 02000
Seller's local time: 20:40 (EEST)
Selling machinery or vehicles?
You can do it with us!