New GURLESENYIL container side loader container chassis semi-trailer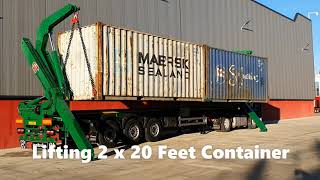 1/28
Model
container side loader
Type
container chassis semi-trailer
Year of manufacture
01/2021
Location
Turkey
Mah. Sincan - Ankara
CONTAINER SIDE LOADER SEMI TRAILER

Side Loader Container Semi Trailer also we produce side loading container trailer which is used for carrying different kind of containers like 20-30-40 feet with loading capacity up to 45 tons. Self-Loading Container Trailer is the most common trailer for container cargos. GT Sidelifter Semi Trailer can offer different specifications of Container Side Loader Semi Trailer or side lifter container trailer from Turkey to World according to customer demand.
ПОТРЕБИТЕЛ ЗА ПОТРЕБИТЕЛЯ НА КОНТЕЙНЕРА

Side Loader Container Semi Trailer също произвеждаме страничен товарен контейнерен ремарке, което се използва за превоз на различни видове контейнери като 20-30-40 фута с товароподемност до 45 тона. Самозареждащ се контейнерен ремарке е най-често срещаният ремарке за контейнерни товари. GT Sidelifter Полуремарке може да предложи различни спецификации на контейнер страничен товарач полуремарке или страничен повдигач контейнер ремарке от Турция към света според търсенето на клиента.
NÁDRŽ SNÍMAČE KONTAJNERU SEMI TRAILER

Boční nakladač Kontejner Semi Trailer také vyrábíme boční nákladní kontejner přívěs, který se používá pro přepravu různých druhů kontejnerů, jako je 20-30-40 stop s nosností až 45 tun. Samonakládací kontejnerový přívěs je nejběžnější přívěs pro kontejnerová nákladní vozidla. GT Sidelifter Semi Trailer nabízí různé specifikace kontejnerového bočního nakladače Semi Trailer nebo bočního vlečného kontejnerového přívěsu z Turecka do světa podle požadavků zákazníka.
CONTAINER SEITENLADER HALBANHÄNGER

Auflieger für Seitenladecontainer Wir stellen auch Seitenladecontainer her, die für die Beförderung verschiedener Containertypen wie 20-30-40 Fuß mit einer Ladekapazität von bis zu 45 Tonnen verwendet werden. Selbstladender Containeranhänger ist der gebräuchlichste Anhänger für Containerladungen. GT Sidelifter Semi Trailer bietet verschiedene Spezifikationen von Container Side Loader Semi Trailer oder Side Lifter Container Trailer von der Türkei in die Welt nach Kundenwunsch.
CONTENEDOR CARGADOR LATERAL SEMI TRAILER

Semirremolque de contenedores de carga lateral también producimos remolques de contenedores de carga lateral que se utilizan para transportar diferentes tipos de contenedores, como 20-30-40 pies, con capacidad de carga de hasta 45 toneladas. El remolque de contenedores de carga automática es el remolque más común para cargas de contenedores. Semirremolque GT Sidelifter puede ofrecer diferentes especificaciones de Semirremolque de carga lateral de contenedor o remolque de contenedor de elevación lateral de Turquía a Mundo según la demanda del cliente.
SEMI-REMORQUE CHARGEMENT LATÉRAL DE CONTENEUR

Semi-remorque porte-conteneurs à chargement latéral, nous produisons également une remorque porte-conteneurs à chargement latéral qui est utilisée pour transporter différents types de conteneurs tels que 20-30-40 pieds avec une capacité de chargement allant jusqu'à 45 tonnes. La remorque porte-conteneurs auto-chargeuse est la remorque la plus courante pour les conteneurs. La semi-remorque GT Sidelifter peut offrir différentes spécifications de semi-remorque porte-conteneur ou semi-remorque porte-conteneur de la Turquie au monde en fonction de la demande du client.
CSATLAKOZÓKÉSZÍTŐ SEMI TRAILER

A Side Loader konténer félpótkocsit is gyártunk oldalrakodó konténer pótkocsira, amelyet különböző típusú konténerek szállítására használnak, mint pl. 20-30-40 láb, 45 tonna terhelhetőséggel. Önrakodó konténer A pótkocsi a konténerszállítmányok leggyakoribb pótkocsija. A GT Sidelifter Semi Trailer különböző követelményeket kínál a Container Side Loader Semi Trailer vagy az oldalsó emelő konténer pótkocsikhoz Törökországtól a világig az ügyfél igényei szerint.
SEMI TRAILER LATERALE CONTAINER LATERALE

Il semirimorchio del contenitore laterale del caricatore inoltre produciamo il rimorchio del contenitore di caricamento laterale che è usato per il trasporto del genere differente di contenitori come 20-30-40 piedi con capacità di carico fino a 45 tonnellate. Il rimorchio container autocaricante è il rimorchio più comune per i carichi container. I semirimorchi GT Sidelifter possono offrire diverse specifiche di rimorchio per semirimorchio portacontainer o rimorchio portacontainer laterale dalla Turchia al mondo in base alle richieste del cliente.
КОНТЕЈНЕР БРОШУВАЧ НА ПЕЧАТНИЧКИ ПЕРЕКЛУЧОК

Натоварувач на контејнери за странични натоварувачи, исто така, произведуваме приколка за товарење на контејнери, која се користи за носење различни видови контејнери како 20-30-40 стапки со капацитет за товарење до 45 тони. Самовтоварениот сад за приколки е најчестата приколка за товарни контејнери. GT Sidelifter Semi Trailer може да понуди различни спецификации на приколка за контејнерски странични полуприколка или контејнер за контејнер од Турција кон светот по желба на купувачи.
ZIJLADER CONTAINERS HECHTE AANHANGWAGEN

Zijlader Semi-aanhangwagen ook produceren wij zijbeladingscontaineraanhangwagen die wordt gebruikt voor het vervoeren van verschillende soorten containers zoals 20-30-40 voet met ladingscapaciteit tot 45 ton. Self-Loading Container Trailer is de meest voorkomende trailer voor containercargo's. GT Sidelifter-semi-aanhanger kan verschillende specificaties van aanhanger-aanhanger voor aanhanger aan zijkant, aanhanger of zij-aanhangercontainer van Turkije naar wereld aanbieden, afhankelijk van de vraag van de klant.
ŁADOWARKA BOCZNA POJEMNIKOWA SEMI PRZYCZEPA

Side Loader Container Semi Trailer produkujemy również przyczepy do załadunku kontenerów bocznych, które są używane do przewozu różnego rodzaju kontenerów, takich jak 20-30-40 stóp o ładowności do 45 ton. Przyczepa samozaładowcza to najczęstsza przyczepa do przewozu kontenerów. Naczepa typu GT Sidelifter Semi Trailer może oferować różne specyfikacje naczepy z naczepą lub bocznym podnośnikiem kontenerowym z Turcji do świata zgodnie z zapotrzebowaniem klienta.
SEMI TRAILER LATERAL DE CONTAINERE

Side Loader Container Semi-remorcă fabricăm, de asemenea, remorcă pentru încărcare laterală, care este utilizată pentru transportul diferitelor tipuri de containere, cum ar fi 20-30-40 picioare, cu o capacitate de încărcare de până la 45 de tone. Autoutilitara este cea mai obisnuita remorca pentru cargourile de containere. Semiremorca GT Sidelifter poate oferi diferite specificații pentru semi-remorci cu containere laterale sau remorci pentru remorci laterali din Turcia în lume, în funcție de cerințele clienților.
КОНТЕЙНЕРНЫЙ ПОГРУЗЧИК ПОЛУПРИЦЕПА

Полуприцеп с боковой загрузкой также мы производим прицеп с боковой загрузкой, который используется для перевозки различных видов контейнеров, таких как 20-30-40 футов, грузоподъемностью до 45 тонн. Самозагружающийся контейнерный трейлер является наиболее распространенным прицепом для контейнерных грузов. Полуприцеп GT Sidelifter может предлагать различные спецификации полуприцепа с боковой загрузкой контейнеровозов или контейнеровозов с боковой загрузкой из Турции в мир в соответствии с требованиями заказчика.
NÁDRŽ SNÍMAČA KONTAJNERU SEMI TRAILER

Bočný nakladač Kontajner Semi Trailer tiež vyrábame bočné nakladače kontajner príves, ktorý sa používa na prepravu rôznych druhov kontajnerov, ako je 20-30-40 stôp s nosnosťou až 45 ton. Samonakladací kontajnerový príves je najčastejším prívesom pre kontajnerové nákladné vozidlá. Príves GT Sidelifter Semi Trailer ponúka rôzne špecifikácie kontajnerového prívesu kontajnerové bočné nakladače alebo prívesy na prepravu kontajnerov z Turecka do sveta podľa požiadaviek zákazníka.
INNEHÅLLARE SIDA LADER SEMI TRAILER

Sidlastare Container Semi Trailer tillverkar vi också lastbil för lastbil som används för att transportera olika slags behållare som 20-30-40 meter med lastkapacitet upp till 45 ton. Självlastande Container Trailer är den vanligaste släpvagnen för containertransport. GT Sidelifter Semi Trailer kan erbjuda olika specifikationer för Container Side Loader Semi Trailer eller sidoflåt container trailer från Turkiet till World enligt kundens efterfrågan.
КОНТЕЙНЕРНИЙ ПОБУТОВИЙ ЗАВАНТАЖЕННЯ SEMI TRAILER

Сторона навантажувача контейнер напівпричіп також ми виробляємо бічних завантаження контейнер причепа, який використовується для перевезення різних видів контейнерів, як 20-30-40 футів з вантажопідйомністю до 45 тонн. Самонавантажувальний контейнер - найпоширеніший причіп для контейнерних вантажів. GT Sidelifter Semi Trailer може запропонувати різні специфікації контейнерного бокового навантажувача напівпричепа або причіпного контейнера з Туреччини до світу відповідно до вимог замовника.
Important
This offer is for guidance only. Please request more precise information from the seller.
Safety tips
Seller's contacts
Ahmed Barakat
Languages:
English, Turkish, Arabic
Turkey, Central Anatolia, Mah. Sincan - Ankara, ASO2. OSB 2031.Cadde No:32 Alci
Seller's local time: 20:24 (+03)
Selling machinery or vehicles?
You can do it with us!