New HASTRAILER 2022 container chassis semi-trailer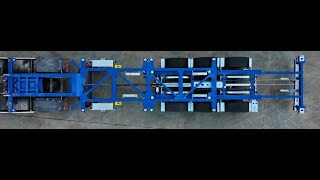 1/14
Type
container chassis semi-trailer
Year of manufacture
06/2022
Location
Turkey
Antalya
Description
Fifth wheel height
1200 mm
Overall dimensions
12.7 m × 2.48 m × 1.32 m
Truck body
For containers
1x20, 1x30, 1x40, 1x45
Buy by leasing
Get an offer to buy a vehicle by leasing
* 9 ton kapasiteli ve 120 mm ofset disk frenli hava süspansiyonlu 3 dingilli

* İlk aksta manuel kaldırma sistemi

* Aspöck Ecopoint II Elektrik aydınlatma sistemi

* 2 modüllü ve 2 sensörlü (2S / 2M) EBS-E Plus fren sistemi ECE R13 ile uyumlu RSS (Yol Stabilite Desteği) sistemi

* Çift devreli pnömatik frenler

* Manuel indirme ve kaldırma valfli süspansiyon sistemi

* 120 offsetli 6 adet Çelik Jant 458/2011 EU uyumlu 6 adet lastik 385/65 R 22.5 Gümüş RAL 9006 boyalı jantlar

* AKSESUARLAR:
1 adet doküman kutusu
4 adet hareketli 2adet sabit çamurluk ve lastikler için sprey önleyici.
Önden 2x20FT kapının açılmasını sağlayan sökülebilir konteyner merkezleme braketleri.
Pnömatik olarak uzatılabilir arka çerçeve
45FT Konteyner için ECE R 58'e uygun manuel uzatılabilir arka koruma cihazı.
Kullanıcı Dostu Fren Sistemi için Kontrol Paneli ve - Arka şasinin tam otomatik kilitleme uzantısı

*KONTEYNER POZİSYONLARI:

20 Ft Arka
20 Ft Merkez
2 x 20Ft
1 x 30 Ft arka
1 x 30 Ft Ön
1 x 40 Ft HC & ISO
1 x 42,5 bağlantılı 45 Ft HC &

* Araç, Uygunluk Sertifikası (COC) ile EC tip testine uygundur.
Important
This offer is for guidance only. Please request more precise information from the seller.
Safety tips
Seller's contacts
Turkey, Antalya, Antalya Organize Sanayi Bölgesi 3. Kısım 31. Cad. No:20 Döşemealtı
Seller's local time: 06:58 (+03)
Selling machinery or vehicles?
You can do it with us!