FERRARI Portofino convertible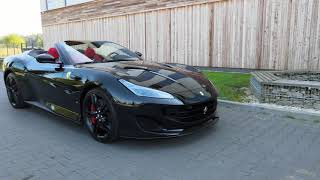 1/23
€239,600
Gross price, VAT – 23%
Year of manufacture
12/2018
First registration
2019-02-27
Location
Poland
Niepołomice
Placed on
more than 1 month
Need delivery?
Calculate the cost of delivery
Ferrari Portofino
year of production 12.2018
date of first registration 2019
mileage: 1960 km
goblet color metallic

Details for seriously interested people.
_
The announcement is informative and constitutes an invitation to conclude a contract (Article 71 of the Polish Civil Code); however, it does not constitute a commercial offer.
Ferrari Portofino
Produktionsjahr 12.2018
Datum der Erstzulassung 2019
Laufleistung: 1960 km
Kelchfarbe metallic

Details für ernsthaft Interessierte.
_
Die Bekanntmachung ist informativ und stellt eine Aufforderung zum Abschluss eines Vertrages dar (Artikel 71 des polnischen Bürgerlichen Gesetzbuches); es stellt jedoch kein kommerzielles Angebot dar.
Ferrari Portofino
rok produkcji 12.2018
data pierwszej rejestracji 2019
przebieg: 1960 km
kolor czary metalic

Szczegóły dla poważnie zainteresowanych osób.
_
Ogłoszenie ma charakter informacyjny i stanowi zaproszenie do zawarcia umowy (art. 71 Kodeksu cywilnego); nie stanowi natomiast oferty handlowej
Феррари Портофино
год выпуска 12.2018
дата первой регистрации 2019
пробег: 1960 км
цвет бокала металлик

Подробности для серьезно заинтересованных людей.
_
Объявление носит информативный характер и представляет собой приглашение к заключению договора (статья 71 Гражданского кодекса Польши); однако это не является коммерческим предложением.
Important
This offer is for guidance only. Please request more precise information from the seller.
Safety tips
Seller's contacts
Poland, Malopolskie, 32-005, Niepołomice, ul. Na Grobli 2c
Seller's local time: 01:20 (CEST)
Selling machinery or vehicles?
You can do it with us!