New HASTRAILER TENTELİ TREYLER curtain side semi-trailer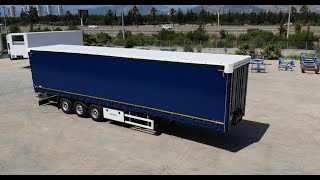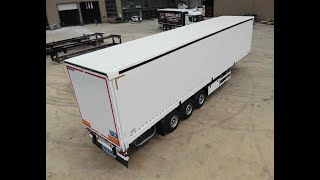 1/20
Type
curtain side semi-trailer
Year of manufacture
06/2022
Location
Turkey
Antalya
Description
Overall dimensions
13600 m × 2550 m × 4000 m
Truck body
Body dimensions
13.6 m × 2.55 m × 4 m
Buy by leasing
Get an offer to buy a vehicle by leasing
Chassis:
Chassis manufactured from S700MC (much stronger than ST52-3 steel) via submerged welding machine

Painting:
Steel-blasted SAE 2,5 norm blanc+ High zinc epoxy-based prime-coated + organic resin-based lining + acrylic final coat in colour RAL 7021 + oven dried.

Coupling:
Ø 2" (50.8 mm) coupling point conformant to SAE and DIN 74/08 Standards R55 Regulation.

Axles:
3 axles Brand SAF with a capacity of 9 tonnes and with 360mm air suspension with 120mm offset disc brake.
Automatic lifting system on the first axle = liftaxle

Landing Gears:
Telescopic SAF landing gears with 24 tonnes capacity and two speed landing gears painted in black

Brake System & Suspension:
EBS brake system with 2 modules and 2 sensors (2S/2M)
RSS (Road Stability Support) system compliant to ECE R13
Pneumatic brakes with double circuit
Suspension system with manuel lowering & lifting valves

Lighting System:
Lighting system with 24 Volt according to EC 76/756
Reflectors located on the sides and at rear according to ECE R 48
LED side, front and back marker lamps with reflectors
Rear marker lamps closed to the frame
Bulkhead division box with 2x7 pol DIN ISO 1185 and DIN ISO 3731 + 1x15 pol DIN ISO 12098

Tyres and Rims:
6+1 pieces Steel Rims with 120 offset
6+1 pieces of tyres 385/65 R 22.5 conformant to 458/2011 EU. Rims painted in silver RAL 9006.(A Brand choice of HASTRAILER)

Included Accessories of Chassis:
Foldable Side protection Anodised extruded aluminium profiles barriers conformant to ECE R 73
Rear bumper, made of steel, conformant to ECE R 58 .
Rear ramp rubber chock 2 pieces at left and right side.
Basket type double spare wheel holder on the back of the axle.
Spare wheel 385/65 R 22.5 , A-Brand same trailer. With steel rim
1 piece fire-extinguisher box.
Food box made of coated sheet metal.
1 piece 30 l water tank - CE certificated
Plastic document box.
2 yellow wheel chocks with holder.
Plastic tool box.
6 pieces of mud guards conformant to EC 109/2011 EU + 2 pieces of anti-spray mud guards
1 speed marker plate of 70-80 km/h in white and red colour, according to admission in European Countries.

Front Wall:
Standard height of the steel front wall is 2700 mm and front wall completely mounted with bolts & nuts.

Floor:
Durable to 7200 kg forklift axle load and covered with 30 mm plywood panel. Side board profiles produced with roll forming method from high quality steel S500MC and also have integrated binding rings 13x2 pieces.

Included Accessories of Body:
Fast opening and closing system with alumınıum profile, roof and side easy slidable, awning cover is high quality of 670g/m2. System has 3 + 3 stanchions and between them cover alumınıum planking profile and rear aluminum doors with 2x4 hinges and 2x2 integrated locking and bars. 2x4 Aluminum side boards, adjusted stanchions and rubber shocks full length – TIR execution regulation Body according TIR regulation.

Admission Plates:
Vehicle satisfies to the EC type-test with Certificate of Conformity (CoC).
Authorized in "REPUBLIC of TURKEY"
Two reflector plates vertically placed on the rear bumper (565x200 ECE-R70).
TIR PLATE and Reflektive Band according to ECE-R70

Additional options for body:
Coil gutter between longbeams after coupling section, reinforced of +/- 6000 mm with cover lids, for transport coils
2x4 Square stanchion holders for pools in the floor
Plywood cover for front wall.
ŞASE Full otomasyon toz altı kaynak makinesinde kaynatılarak elde edilen yüksek mukavemetli çelikten (700MC) imal edilen gömme şase. Duruma göre standart ve hafif şase tipleri kullanılmaktadır.
BOYA Boya öncesi SAE 2,5 standartına göre kumlama + pas mukavemeti yüksek epoksi esaslı astar boya ile astarlama, tek renk poliüretan boya ile RAL 7021 son kat boyama ve fırında kurutma
AKSLAR 9 ton kapasiteli 3 adet 120 offset disk frenli hava süspansiyonlu dingil & manuel veya otomatik dingil kaldırma (1. Aks üzerinde)
MEKANİK AYAKLAR 24 ton kapasiteli, çift hızlı ithal teleskopik ayaklar
FREN SİSTEMİ & SÜSPANSİYON 2 modül 2 sensörlü (2S/2M) EBS - E Plus fren sistemi . ECE R13'e uyumlu RSS(devrilmelere karşı sürüş emniyeti) sisitemi. Manuel indirme ve kaldırma valfleri ile süspansiyon sistemi
AYDINLATMA SİSTEMİ EC 76/756'ya uygun 24 Voltlu aydınlatma sistemi
Ön, arka ve yan işaret lambaları
Reflektörlü LED yan ,ön ve arka işaret lambaları
Şase üzerinde arka işaret lambaları
2x7 kutuplu DIN ISO 1185 ve DIN ISO 3731 veya 1x15 kutuplu DIN ISO 12098 ile dağıtıcı kutu
STANDART ŞASE AKSESUARLARI ECE R 73 nolu yönetmeliğe uygun elektrostatik boyanmış ekstrüzyon alüminyumdan üreitlmiş yan koruma bariyerleri
ECE R 58 nolu yönetmeliğe uygun çelik arka tampon
2 adet sarı tekerlek takozu
Çiftli sepet tipi stepne lastik taşıyıcı
2 çift feribot halkası
1 adet ithal plastik takım dolabı
1 adet yemek dolabı
1 adet yangın tüpü dolabı
1 adet 30 lt kapasiteli su tankı - CE sertifikalı
Arkad kapıda galvaniz kaplı katlanabilir araca çıkış merdiveni
EC 109/2011 EU yönetmeliğine uygun 4 adet yarım çamurluk ve 2 adet anti-sprey paspas


TABAN Yüksek mukavemetli saclarla ve 7200 kg forklift yüküne dayanıklı plywoodlarla (30 mm ) desteklenmiş taban
Important
This offer is for guidance only. Please request more precise information from the seller.
Safety tips
Seller's contacts
Turkey, Antalya, Antalya Organize Sanayi Bölgesi 3. Kısım 31. Cad. No:20 Döşemealtı
Seller's local time: 08:56 (+03)
Selling machinery or vehicles?
You can do it with us!