The ad KRONE SD SEMIREMOLQUE TAUTLINER 3 UDS curtain side semi-trailer has been sold and is not included in the search!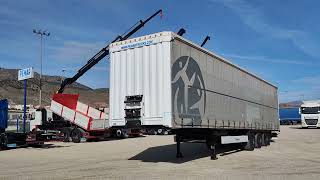 1/21
Model
SD SEMIREMOLQUE TAUTLINER 3 UDS
Type
curtain side semi-trailer
First registration
2012-07-15
Location
Spain
Lorca (Murcia)
Placed on
more than 1 month
Truck body
Body dimensions
13.6 m × 2.5 m × 2.8 m
Ref.: 2582. Semirremolque lona TAUTLINER marca KRONE modelo SD, tauliner, tres ejes, suspensión neumática, frenos disco, ABS, techo corredero, certificado XL, neumáticos 385/55R22.5, dos puertas traseras, piso de madera, dimensiones interiores de la carrocería 13.60 x 2.50 x 2.80 m,...en perfecto estado!!!