The ad New ZIL Gazon, Gaz, Valday dump truck body has been sold and is not included in the search!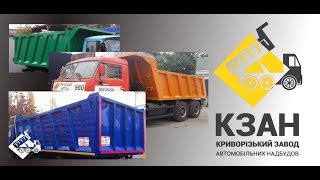 1/22
Year of manufacture
01/2019
Location
Ukraine
Krivoy Rog
Placed on
more than 1 month
Производим переоборудование автомобилей на шасси заказчика. Осуществляем замену самосвальных кузовов, полное переоборудование грузовых автомобилей из бортовых в самосвальные, изготовление бортовых кузовов на автомобили Зил, Газ, Валдай, Газон. На наши изделия действует гарантия в течении года. Сделаем любой вид опрокидывания: назад, на бок, право-лево, направо и назад, на 3 стороны.
В комплект к бортовому кузову идет надрамник и тент. Выгрузка - по желанию заказчика.
В комплект к самосвальному переоборудованию идет кузов, надрамник, тент, гидроцилиндр до 10 тонн грузоподъемностью (варианты большей грузоподъемности- по желанию заказчика), гидравлика, документы на переоборудование.
Также можем заменить износившийся кузов, оставляя Вашу гидравлику, надрамник, под Ваши гидроцилиндры, исполнив необходимый вид опрокидывания.
Виробляємо переобладнання автомобілів на шасі замовника. Здійснюємо заміну самосвальних кузовів, повне переобладнання вантажних автомобілів з бортових в самосвальні, виготовлення бортових кузовів на автомобілі ЗІЛ, Газ, Валдай, Газон. На наші вироби діє гарантія протягом року. Зробимо будь-який вид перекидання: назад, на бік, право-ліво, направо і назад, на 3 сторони.
У комплект до бортового кузова йде надрамник і тент. Вивантаження - за бажанням замовника.
У комплект до самоскидну переобладнання йде кузов, надрамник, тент, гідроциліндр до 10 тонн вантажопідйомністю (варіанти більшою грузопод'емності- за бажанням замовника), гідравліка, документи на переобладнання.
Також можемо замінити зносився кузов, залишаючи Вашу гідравліку, надрамник, під Ваші гідроциліндри, виконавши необхідний вид перекидання.