You may find interesting
Close
IVECO Daily
€24,950
IVECO Daily 35C15
€17,950
New IVECO Daily 35C18 3.0 180PK Automaat 3 zijdige Kipper Tipper Benne Air
€38,350
IVECO Daily 35C13 Lang AIRCO PTO Kraan / Kran
€16,900
IVECO Daily 35C14GD CNG DOKA Just 90.377 km!
€12,500
New IVECO Daily 35C21 210pk 3.0 Automaat 3-zijdige kipper Navi Tipper Benn
€39,700
IVECO Daily 35C14 140pk Kipper Dubbele cabine Airco Tipper Benne Toolb dump truck < 3.5t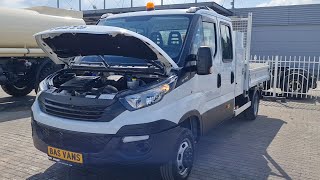 1/24
First registration
2017-10-05
Location
Netherlands
Veghel
Description
Overall dimensions
length - 6.51 m, width - 2.08 m
Truck body
Body dimensions
width - 2 m
Cabin
Cruise control (tempomat)
= More options and accessories =

Characteristics
- Chassis height: 63 (The height of the chassis of this vehicle)

Interior
- Arnrest
An armrest is a comfort option which allows the driver to rest his arm on the center console.
- Electric mirror control
With electric mirror control the mirrors are controlled electrically, and often also heated. Preventing them from fogging up.
- Multifunction steering wheel
A multifunction steering wheel has buttons for the navigation and infotainment on it, enabling the driver to change the channel or route without having to take their hands off the wheel.
- USB
With an USB connection it's possible to connect your phone or media device to the vehicle.
- Air-suspended seat
With an air-suspended seat the driver enjoys more comfort as the seat is not fixed directly to the cabin, with the air suspension in between bumps of the road are not direclty transferred to the driver.

Lighting
- Headlight type: halogen (The headlight type of this vehicle)

Superstructure
- Tipperunit
The vehicle is equipped with a tipping unit, enabling the raising and lowering of the cargo hold. With this it's possible to dump the load.
- Floor Material (The material of the floor.)
- Material: steel (The material of the superstructure.)

= Dealer information =

BAS Vans is your go-to specialist for vans and commercial vehicles. With a stock of over 400 units, we always have the right vehicle for you. Our stock includes all brands, models and configurations. BAS Vans is located in Veghel, the Netherlands.

Our workshop can equip your new commercial vehicle with a wide variety of accessories. For example: installation of a towbar, side-door, tail lift, reversing camera and more. In summary, at BAS Vans it's possible to configure your new vehicle according to your wishes.

Do you prefer leasing? BAS Vans can provide leasing for the Netherlands, Belgium, Germany, Romania, Poland, Slovakia, Czech-Republic, Bulgaria, Croatia, Ukraine, Albania, Kosovo, Lithuania, Latvia and Estonia.

For our international clients, we offer worldwide transport and shipping. If you want to pick up your vehicle in Veghel, we offer free airport transfer from Eindhoven airport. (20 minutes) We can also provide a variety of transit plates. Please contact us for more information and details.

Our business hours:

- Monday-Friday: 08:30AM – 06:00PM
- Saturday 09:00AM – 01:00PM
- In the evening by appointment.


For more information, photos (360 º) and an HD video inspection please visit our website.

= More information =

Max. towing weight: 3.500 kg
Dimensions of cargo space: 255 x 200 x 32 cm
Tipper: Back
VAT/margin: VAT deductible
BAS Vans е вашият специалист за микробуси и търговски превозни средства. С запас от над 400 бройки, ние винаги имаме подходящото превозно средство за вас. Нашият склад включва всички марки, модели и конфигурации. BAS Vans се намира във Вегел, Холандия.



Нашият сервиз може да оборудва новото ви търговско превозно средство с голямо разнообразие от аксесоари. Например: монтаж на теглич, странична врата, повдигане на опашката, камера за заден ход и други. В обобщение, в BAS Vans е възможно да конфигурирате новото си превозно средство според вашите желания.



Предпочитате лизинг? BAS Vans може да предостави лизинг за Холандия, Белгия, Германия, Румъния, Полша, Словакия, Чехия, България, Хърватия, Украйна, Албания, Косово, Литва, Латвия и Естония.



За нашите международни клиенти ние предлагаме транспорт и доставка по целия свят. Ако искате да вземете автомобила си във Вегел, ние предлагаме безплатен трансфер до летището от летището в Айндховен. (20 минути) Можем да предоставим и различни транзитни табели. Моля, свържете се с нас за повече информация и подробности.



Нашето работно време:


- Понеделник-петък: 08:30 - 18:00
- Събота: 09:00 - 13:00
- Вечерта по уговорка.


За повече информация, снимки (360 º) и HD видео инспекция, моля посетете нашия уебсайт
= Weitere Optionen und Zubehör =

Aufbau
- Kipperanlage
Das Fahrzeug ist mit einer Kippvorrichtung ausgestattet, die das Heben und Senken des Laderaums ermöglicht. Damit ist es möglich, die Last abzuladen.
- Material: steel (Das Material des Aufbau.)
- Material des Bodens (Das Material des Bodens.)

Beleuchtung
- Scheinwerfertyp: halogen (Der Scheinwerferstil dieses Fahrzeugs)

Charakteristik
- Fahrgestellhöhe: 63 (Die Höhe des Chassis dieses Fahrzeugs)

Innere
- Armlehne
Eine Armlehne ist eine Komfortoption, bei der der Fahrer seinen Arm auf der Mittelkonsole ablegen kann.
- Elektrische Spiegelkontrolle
Mit elektrischer Spiegelsteuerung werden die Spiegel elektrisch gesteuert und oft auch beheizt. Verhindern, dass sie beschlagen.
- Multifunktionslenkrad
Ein Multifunktionslenkrad verfügt über Tasten für Navigation und Infotainment, mit denen der Fahrer den Kanal oder die Route wechseln kann, ohne die Hände vom Lenkrad nehmen zu müssen.
- USB
Mit einer USB-Verbindung ist es möglich, Ihr Telefon oder Mediengerät mit dem Fahrzeug zu verbinden.
- Luftgefederter Sitz
Mit einem luftgefederten Sitz genießt der Fahrer mehr Komfort, da der Sitz nicht direkt an der Kabine befestigt ist, wobei die Luftfederung zwischen den Unebenheiten der Straße nicht direkt auf den Fahrer übertragen wird.

= Firmeninformationen =

BAS Vans ist Ihr Spezialist für Transporter und Nutzfahrzeuge. Mit einem Bestand von über 400 Einheiten haben wir immer das richtige Fahrzeug für Sie. Unser Bestand umfasst alle Marken, Modelle und Konfigurationen. BAS Vans hat seinen Sitz in Veghel (Niederlande).



In unserer Werkstatt können Sie Ihr neues Nutzfahrzeug mit verschiedenem Zubehör ausstatten. Zum Beispiel: Anbau einer Anhängerkupplung, Seitentür, Ladebordwand, Rückfahrkamera und mehr. Zusammenfassend ist es bei BAS Vans möglich, Ihr neues Fahrzeug nach Ihren Wünschen zu konfigurieren.



Bevorzugen Sie Leasing? BAS Vans können Leasing für die Niederlande, Belgien, Deutschland, Rumänien, Polen, die Slowakei, die Tschechische Republik, Bulgarien, Kroatien, die Ukraine, Albanien, das Kosovo, Litauen, Lettland und Estland anbieten.



Für unsere internationalen Kunden bieten wir weltweiten Transport und Versand an. Wenn Sie Ihr Fahrzeug in Veghel abholen möchten, bieten wir einen kostenlosen Flughafentransfer vom Flughafen Eindhoven an. (20 Minuten) Wir können auch verschiedene Transitschilder anbieten. Bitte kontaktieren Sie uns für weitere Informationen und Details.



Unsere Geschäftszeiten:

- Montag - Freitag: 08:30 - 18:00 Uhr
- Samstag: 09:00 - 13:00 Uhr
- Abends nach Vereinbarung.


Weitere Informationen, Fotos (360°) und eine HD-Videoinspektion finden Sie auf unserer Website.

= Weitere Informationen =

Max. Zuglast: 3.500 kg
Abmessungen des Laderaums: 255 x 200 x 32 cm
Kipper: Hinten
Mehrwertsteuer/Differenzbesteuerung: Mehrwertsteuer abzugsfähig
= Más opciones y accesorios =

Características
- Altura del chasis: 63 (La altura del chasis de este vehículo)

Carrocería
- Sistema autonomo para volcar
El vehículo está equipado con una unidad de vuelco, que permite subir y bajar la bodega de carga. Con esto, es posible descargar la carga.
- Material: steel (El material de la superestructura.)
- Material del piso (El material del piso)

Iluminación
- Tipo de faro: halogen (El tipo de faro de este vehículo)

Interior
- Brazo
Un apoyabrazos es una opción de confort que permite que el conductor apoye su brazo en la consola central.
- Control de espejo eléctrico
Con control de espejo eléctrico, los espejos se controlan eléctricamente, y a menudo también se calientan. Evitar que se empañen.
- USB
Con una conexión USB, es posible conectar su teléfono o dispositivo multimedia al vehículo.
- Volante multifunción
Un volante multifuncional tiene botones para la navegación y la infoentretenimiento, lo que permite al conductor cambiar el canal o la ruta sin tener que quitar las manos del volante.
- Asiento con suspensión neumática
Con un asiento con suspensión neumática, el conductor disfruta de mayor comodidad ya que el asiento no está fijado directamente a la cabina, con la suspensión de aire entre los baches de la carretera que no se transfiere directamente al conductor.

= Información de la empresa =

BAS Vans es su especialista de referencia para furgonetas y vehículos comerciales. Con un stock de más de 400 unidades, siempre tenemos el vehículo adecuado para usted. Nuestro stock incluye todas las marcas, modelos y configuraciones. BAS Vans se encuentra en Veghel, Países Bajos.



Nuestro taller puede equipar su nuevo vehículo comercial con una amplia variedad de accesorios. Por ejemplo: instalación de una barra de remolque, puerta lateral, elevador trasero, cámara de marcha atrás y más. En resumen, en BAS Vans es posible configurar su nuevo vehículo de acuerdo con sus deseos.



¿Prefieres el arrendamiento? BAS Vans puede proporcionar arrendamiento financiero para los Países Bajos, Bélgica, Alemania, Rumania, Polonia, Eslovaquia, República Checa, Bulgaria, Croacia, Ucrania, Albania, Kosovo, Lituania, Letonia y Estonia.



Para nuestros clientes internacionales, ofrecemos transporte y envío a nivel mundial. Si desea recoger su vehículo en Veghel, ofrecemos traslado gratuito desde el aeropuerto de Eindhoven. (20 minutos) También podemos proporcionar una variedad de placas de tránsito. Por favor contáctenos para más información y detalles.



Nuestro horario de atención:

- De lunes a viernes: 08:30 a.m. a 6 p.m.
- Sábado de 09:00 a.m. a 01:00 p.m.


Para obtener más información, fotos (360º) y una inspección de video HD, visite nuestro sitio web.

= Más información =

Peso máx. de remolque: 3.500 kg
Dimensiones espacio de carga: 255 x 200 x 32 cm
Volquete: Trasera
IVA/margen: IVA deducible
= Plus d'options et d'accessoires =

Caractéristiques
- Hauteur de châssis: 63 (La hauteur du châssis de ce véhicule)

Construction
- Valve de nivellement
Le véhicule est équipé d'une unité de basculement, permettant le levage et l'abaissement de la soute. Avec cela, il est possible de vider la charge.
- Matériau du sol (Le matériau de l'étage.)
- Matériel: steel (Le matériau de la superstructure.)

Intérieur
- Accoudoir
Un accoudoir est une option de confort qui permet au conducteur de reposer son bras sur la console centrale.
- Commande de miroir électrique
Avec le contrôle du miroir électrique, les miroirs sont contrôlés électriquement et souvent également chauffés. Les empêcher de s'embuer.
- USB
Avec une connexion USB, il est possible de connecter votre téléphone ou périphérique multimédia au véhicule.
- Volant multifonction
Un volant multifonction comporte des boutons pour la navigation et l'infodivertissement, permettant au conducteur de changer de canal ou de route sans avoir à quitter le volant.
- Siège à suspension pneumatique
Avec un siège à suspension pneumatique, le conducteur bénéficie d'un plus grand confort car le siège n'est pas fixé directement à la cabine, la suspension pneumatique entre les bosses de la route n'étant pas directement transmise au conducteur.

Éclairage
- Type de phare: halogen (Le type de phare de ce véhicule)

= Information sur la société =

BAS Vans est votre spécialiste incontournable des camionnettes et des véhicules utilitaires. Avec un stock de plus de 400 unités, nous avons toujours le bon véhicule pour vous. Notre stock comprend toutes les marques, modèles et configurations. BAS Vans est situé à Veghel, aux Pays-Bas.



Notre atelier peut équiper votre nouveau véhicule utilitaire d'une grande variété d'accessoires. Par exemple: installation d'une barre de remorquage, d'une porte latérale, d'un hayon élévateur, d'une caméra de recul et plus encore. En résumé, chez BAS Vans, il est possible de configurer votre nouveau véhicule selon vos souhaits.



Préférez-vous la location? BAS Vans peut fournir un leasing pour les Pays-Bas, la Belgique, l'Allemagne, la Roumanie, la Pologne, la Slovaquie, la République tchèque, la Bulgarie, la Croatie, l'Ukraine, l'Albanie, le Kosovo, la Lituanie, la Lettonie et l'Estonie.



Pour nos clients internationaux, nous proposons le transport et l'expédition dans le monde entier. Si vous souhaitez récupérer votre véhicule à Veghel, nous proposons un transfert aéroport gratuit depuis l'aéroport d'Eindhoven. (20 minutes) Nous pouvons également fournir une variété de plaques de transit. Veuillez nous contacter pour plus d'informations et de détails.



Nos heures d'ouverture:

- Lundi-vendredi: 08h30 - 18h00
- Samedi 09h00 - 13h00
- Le soir sur rendez-vous.


Pour plus d'informations, des photos (360º) et une inspection vidéo HD, veuillez visiter notre site Web.

= Plus d'informations =

Poids de traction max.: 3.500 kg
Dimensions espace de chargement: 255 x 200 x 32 cm
Kipper: Arrière
TVA/marge: TVA déductible
BAS Vans je vaš specijalista za kombije i komercijalna vozila. S zalihom od preko 400 jedinica, uvijek imamo pravo vozilo za vas. Naša zaliha uključuje sve marke, modele i konfiguracije. BAS Vans se nalazi u mjestu Veghel, Nizozemska.



Naša radionica može vaše novo komercijalno vozilo opremiti širokim spektrom opreme. Na primjer: ugradnja vučne trake, bočna vrata, stražnja vrata, kamera za vožnju unazad i drugo. Ukratko, na BAS Vansu moguće je novo vozilo konfigurirati prema vašim željama.



Da li više volite leasing? BAS Vans mogu pružati leasing za Nizozemsku, Belgiju, Njemačku, Rumunjsku, Poljsku, Slovačku, Češku, Bugarsku, Hrvatsku, Ukrajinu, Albaniju, Kosovo, Litvu, Latviju i Estoniju.



Za naše međunarodne klijente nudimo prijevoz i otpremu širom svijeta. Ako želite preuzeti vozilo u Veghelu, nudimo besplatan prijevoz do zračne luke iz zračne luke Eindhoven. (20 minuta) Možemo ponuditi i razne tranzitne tablice. Molimo kontaktirajte nas za više informacija i detalja.



Naše radno vrijeme:


- Ponedjeljak-petak: 08:30 - 18:00
- Subota: 09:00 - 13:00
- Navečer po dogovoru.


Za dodatne informacije, fotografije (360 º) i HD video pregled posjetite našu web stranicu
Caratteristiche
- Altezza del telaio: 63 (L'altezza del telaio di questo veicolo)

Carrozzeria
- Impianto idraulico
Il veicolo è dotato di un'unità di ribaltamento, che consente il sollevamento e l'abbassamento della stiva. Con questo è possibile scaricare il carico.
- Materiale: steel (Il materiale della sovrastruttura.)
- Materiale del pavimento (Il materiale del pavimento.)

Illuminazione
- Tipo di faro: halogen (Il tipo di faro di questo veicolo)

Interno
- Bracciolo
Un bracciolo è un'opzione di comfort che consente al guidatore di appoggiare il braccio sulla console centrale.
- Controllo elettrico dello specchio
Con il controllo elettrico dello specchio, gli specchi sono controllati elettricamente e spesso anche riscaldati. Impedendo che si appannino.
- USB
Con una connessione USB è possibile collegare il telefono o il dispositivo multimediale al veicolo.
- Volante multifunzione
Un volante multifunzione ha pulsanti per la navigazione e l'infotainment su di esso, consentendo al guidatore di cambiare il canale o il percorso senza dover togliere le mani dal volante.
- Sedile con sospensioni pneumatiche
Con un sedile a sospensione pneumatica, il conducente gode di un maggiore comfort in quanto il sedile non è fissato direttamente alla cabina, con le sospensioni pneumatiche tra gli urti della strada non trasferiti direttamente al conducente.

BAS Vans è il tuo specialista di riferimento per furgoni e veicoli commerciali. Con uno stock di oltre 400 unità, abbiamo sempre il veicolo giusto per te. Il nostro magazzino comprende tutte le marche, i modelli e le configurazioni. BAS Vans si trova a Veghel, nei Paesi Bassi.



La nostra officina può equipaggiare il tuo nuovo veicolo commerciale con una vasta gamma di accessori. Ad esempio: installazione di un gancio di traino, porta laterale, sponda montacarichi, telecamera di retromarcia e altro. In sintesi, presso BAS Vans è possibile configurare il nuovo veicolo in base ai propri desideri.



Preferisci il leasing? BAS Vans può fornire servizi di leasing per Paesi Bassi, Belgio, Germania, Romania, Polonia, Slovacchia, Repubblica Ceca, Bulgaria, Croazia, Ucraina, Albania, Kosovo, Lituania, Lettonia ed Estonia.



Offriamo ai nostri clienti internazionali trasporti e spedizioni in tutto il mondo. Se desideri ritirare il tuo veicolo a Veghel, ti offriamo il trasferimento gratuito dall'aeroporto di Eindhoven. (20 minuti) Possiamo anche fornire una varietà di piastre di transito. Vi preghiamo di contattarci per ulteriori informazioni e dettagli.



Il nostro orario di lavoro:


- Lunedi-Venerdì: 08:30 - 18:00
- Sabato: 09:00 - 13:00
- La sera entro appuntamento.


Per ulteriori informazioni, foto (360 º) e un'ispezione video HD, visitare il nostro sito Web
= Aanvullende opties en accessoires =

Interieur
- Armleuning
Een armsteun is een comfortoptie waarmee de bestuurder zijn arm op de middenconsole kan laten rusten.
- Elektrische spiegelbediening
Met elektrische spiegelregeling worden de spiegels elektrisch geregeld en vaak ook verwarmd. Voorkomen dat ze beslaan.
- Multifunctioneel stuurwiel
Een multifunctioneel stuurwiel heeft knoppen voor de navigatie en infotainment erop, waardoor de bestuurder het kanaal of de route kan wijzigen zonder zijn handen van het stuur te hoeven nemen.
- USB
Met een USB-verbinding is het mogelijk om uw telefoon of media-apparaat aan te sluiten op het voertuig.
- Luchtgeveerde stoel
Met een luchtgeveerde stoel geniet de bestuurder van meer comfort, aangezien de stoel niet rechtstreeks aan de cabine is bevestigd, waarbij de luchtvering tussen hobbels van de weg niet direct naar de bestuurder wordt overgebracht.

Kenmerken
- Chassishoogte: 63 (De hoogte van het chassis van dit voertuig)

Opbouw
- Kiepinrichting
Het voertuig is uitgerust met een kanteleenheid die het heffen en neerlaten van het laadruim mogelijk maakt. Hiermee is het mogelijk om de lading te dumpen.
- Materiaal: steel (Het materiaal van de opbouw.)
- Materiaal vloer (Het materiaal van de vloer.)

Verlichting
- Koplamptype: halogen (Het koplamptype van dit voertuig)

= Bedrijfsinformatie =

BAS Vans is de goedkoopste van Nederland in nieuwe en gebruikte lichte bedrijfswagens. Onze voorraad bedrijfswagens van ruim 200 voertuigen wisselt continu. De voorraad omvat uiteenlopende merken, modellen en types waardoor wij u altijd kunnen voorzien van de geschikte bedrijfswagen. Daarnaast heeft u ook de optie om uw bedrijfswagen in te ruilen bij ons.

Onze professionele werkplaats kan uw nieuwe bedrijfswagen voorzien van aanpassingen zoals het monteren van een trekhaak, camera, betimmering, imperiaal en alle andere denkbare extra's. Ook bieden wij de mogelijkheid om uw bedrijfswagen te spuiten, bestickeren of volledig te wrappen. Kortom, bij BAS Vans is het mogelijk om uw bedrijfswagen compleet naar eigen wens samen te stellen.

Wilt u een compleet nieuwe Renault bedrijfswagen geheel naar eigen wens? Wij leveren u, als officiële Renault dealer, op bestelling en uit voorraad een nieuwe Renault bedrijfswagen.

Liever een bedrijfswagen leasen? Ook dat kan bij BAS Vans, bijvoorbeeld via onze eigen leasemaatschappij BAS Lease met soepele accreditatie is het leasen zo geregeld voor u. Neem vrijblijvend contact op voor meer informatie over de mogelijkheden of een offerte op maat van BAS Lease.

Openingstijden:
Maandag – vrijdag: 08:30 tot 18:00
Zaterdag 09:00 tot 13:00
Ook bent u s 'avonds op afspraak welkom

U vindt BAS Vans direct aan de A50 bij afslag Veghel (tussen Eindhoven en Nijmegen).
- Vanaf Nijmegen 40 minuten
- Vanaf Utrecht 60 minuten
- Vanaf Rotterdam 75 minuten
- Vanaf Amsterdam 80 minuten
- Vanaf Antwerpen 90 minuten

Voor meer informatie, foto's (360 graden) en een HD video inspectie kunt u terecht op onze website.

= Meer informatie =

Max. trekgewicht: 3.500 kg
Afmetingen laadruimte: 255 x 200 x 32 cm
Kipper: Achter
Bekleding: Stof
BTW/marge: BTW verrekenbaar voor ondernemers
= Więcej opcji i akcesoriów =

Charakterystyka
- Wysokość podwozia: 63 (Wysokość podwozia tego pojazdu)

Oświetlenie
- Typ reflektorów: halogen (Typ reflektorów tego pojazdu)

Rozszerzone info
- Kipper
Pojazd jest wyposażony w zespół wywrotny, umożliwiający podnoszenie i opuszczanie ładowni. Dzięki temu można zrzucić ładunek.
- Materiał: steel (Materiał nadbudowy.)
- Materiał podłogi (Materiał podłogi.)

Wnętrze
- Elektryczna kontrola lustra
Przy sterowaniu elektrycznym lusterkiem lusterka sterowane są elektrycznie, a często również podgrzewane. Zapobieganie ich zamgleniu.
- Kierownica wielofunkcyjna
Kierownica wielofunkcyjna wyposażona jest w przyciski do nawigacji i infotainment, umożliwiające kierowcy zmianę kanału lub trasy bez konieczności zdejmowania rąk z kierownicy.
- Podłokietnik
Podłokietnik to wygodna opcja, która pozwala kierowcy oprzeć rękę na konsoli środkowej.
- USB
Dzięki połączeniu USB możesz podłączyć telefon lub urządzenie multimedialne do pojazdu.
- Siedzenie z zawieszeniem pneumatycznym
Dzięki siedzeniu z zawieszeniem pneumatycznym kierowca cieszy się większą wygodą, ponieważ nie jest przymocowany bezpośrednio do kabiny, a zawieszenie pneumatyczne pomiędzy wybojami nie jest kierowane do kierowcy.

= Informacje o przedsiębiorstwie =

BAS Vans to specjalista od furgonetek i pojazdów użytkowych. Dysponując ponad 400 jednostkami, zawsze mamy dla Ciebie odpowiedni pojazd. Nasze zapasy obejmują wszystkie marki, modele i konfiguracje. BAS Vans znajduje się w Veghel w Holandii.



Nasz warsztat może wyposażyć Twój nowy samochód dostawczy w szeroką gamę akcesoriów. Na przykład: instalacja haka holowniczego, drzwi bocznych, windy załadowczej, kamery cofania i innych. Podsumowując, w BAS Vans można skonfigurować nowy pojazd zgodnie z własnymi życzeniami.



Wolisz leasing? BAS Vans oferuje leasing dla Holandii, Belgii, Niemiec, Rumunii, Polski, Słowacji, Czech, Bułgarii, Chorwacji, Ukrainy, Albanii, Kosowa, Litwy, Łotwy i Estonii.



Dla naszych międzynarodowych klientów oferujemy transport i spedycję na całym świecie. Jeśli chcesz odebrać samochód w Veghel, oferujemy bezpłatny transfer z lotniska w Eindhoven. (20 minut) Możemy również zapewnić różne tablice transportowe. Skontaktuj się z nami, aby uzyskać więcej informacji i szczegółów.



Nasze godziny pracy:


- Poniedziałek-piątek: 08:30 - 18:00
- Sobota: 09:00 - 13:00
- Wieczorem po uzgodnieniu.


Aby uzyskać więcej informacji, zdjęć (360 º) i kontroli wideo HD, odwiedź naszą stronę internetową.

= Więcej informacji =

Mak. waga uciągu: 3.500 kg
Wymiary ładowni: 255 x 200 x 32 cm
Wywrotka: Tył
VAT/marża: Możliwość odliczenia podatku VAT
Características
- Altura do chassi: 63 (A altura do chassi deste veículo)

Construção
- sistema autonomo para volcar
O veículo está equipado com uma unidade basculante, que permite elevar e baixar o porão de carga. Com isso, é possível descarregar a carga.
- Material: steel (O material da superestrutura.)
- Material do chão (O material do chão.)

Iluminação
- Tipo de farol: halogen (O tipo de farol deste veículo)

Interior
- Apoio de braço
Um apoio de braços é uma opção de conforto que permite ao condutor apoiar o braço na consola central.
- Controle de espelho elétrico
Com o controle elétrico do espelho, os espelhos são controlados eletricamente e, muitas vezes, também aquecidos. Impedindo-os de embaçar.
- USB
Com uma conexão USB, é possível conectar seu telefone ou dispositivo de mídia ao veículo.
- Volante multifunções
Um volante multifuncional tem botões para navegação e infotainment, permitindo que o motorista mude de canal ou rota sem ter que tirar as mãos do volante.
- Assento suspenso a ar
Com um assento suspenso a ar, o condutor desfruta de mais conforto, uma vez que o banco não está fixo directamente na cabina, com a suspensão pneumática entre as colisões da estrada não é transferida directamente para o condutor.

A BAS Vans é sua especialista em vans e veículos comerciais. Com um estoque de mais de 400 unidades, sempre temos o veículo certo para você. Nosso estoque inclui todas as marcas, modelos e configurações. A BAS Vans está localizada em Veghel, na Holanda.



Nossa oficina pode equipar seu novo veículo comercial com uma ampla variedade de acessórios. Por exemplo: instalação de uma barra de reboque, porta lateral, plataforma traseira, câmera de ré e muito mais. Em resumo, na BAS Vans é possível configurar seu novo veículo de acordo com seus desejos.



Você prefere alugar? A BAS Vans pode fornecer leasing para a Holanda, Bélgica, Alemanha, Romênia, Polônia, Eslováquia, República Tcheca, Bulgária, Croácia, Ucrânia, Albânia, Kosovo, Lituânia, Letônia e Estônia.



Para nossos clientes internacionais, oferecemos transporte e remessa mundial. Se você quiser pegar seu veículo em Veghel, oferecemos transporte gratuito do aeroporto de Eindhoven. (20 minutos) Também podemos fornecer uma variedade de placas de trânsito. Entre em contato conosco para mais informações e detalhes.



Nosso horário comercial:

- De segunda a sexta-feira: 08:30 - 18:00
- sábado 09:00 - 13:00
- À noite, mediante agendamento.


Para mais informações, fotos (360º) e inspeção de vídeo em HD, visite nosso site
Caracteristici
- Înălțimea șasiului: 63 (Înălțimea șasiului acestui vehicul)

Constructie
- Instalatie de basculare
Vehiculul este echipat cu o unitate de basculare, care permite ridicarea și coborârea portbagajului. Cu aceasta este posibilă încărcarea încărcăturii.
- Material: steel (Materialul suprastructurii.)
- Materialul podelei (Materialul podelei.)

Iluminat
- Tipul farurilor: halogen (Tipul farului acestui vehicul)

Interior
- Controlul oglinzii electrice
Cu controlul oglinzii electrice, oglinzile sunt controlate electric și adesea încălzite. Împiedicându-i să se oprească.
- Cotiera
O cotieră este o opțiune de confort care permite șoferului să-și sprijine brațul pe consola centrală.
- USB
Cu o conexiune USB este posibil să conectați telefonul sau dispozitivul media la vehicul.
- Volan multifuncțional
Un volan multifuncțional are butoane pentru navigare și infotainment pe acesta, permițând șoferului să schimbe canalul sau traseul fără a trebui să scoată mâinile de pe roată.
- Scaun suspendat cu aer
Cu un scaun suspendat cu aer, șoferul se bucură de mai mult confort, deoarece scaunul nu este fixat direct în cabină, iar suspensia pneumatică între loviturile drumului nu este transferată direct șoferului.

BAS Vans este specialistul dumneavoastră pentru autoutilitare și vehicule comerciale. Cu un stoc de peste 400 de unități, avem întotdeauna vehiculul potrivit pentru dvs. Stocul nostru include toate mărcile, modelele și configurațiile. BAS Vans este localizat în Veghel, Olanda.



Atelierul nostru vă poate echipa noul dvs. vehicul comercial cu o mare varietate de accesorii. De exemplu: instalarea unei bara de remorcare, a unei părți laterale, a unei ridicări a cozii, a camerei de mers și multe altele. Pe scurt, la BAS Vans este posibil să vă configurați noul vehicul în funcție de dorințele dvs.



Preferi închirierea? BAS Fans poate asigura leasing pentru Olanda, Belgia, Germania, România, Polonia, Slovacia, Republica Cehă, Bulgaria, Croația, Ucraina, Albania, Kosovo, Lituania, Letonia și Estonia.



Pentru clienții noștri internaționali, oferim transport și transport mondial. Dacă doriți să vă ridicați vehiculul în Veghel, vă oferim transfer gratuit de la aeroport de la aeroportul Eindhoven. (20 minute) Putem oferi, de asemenea, o varietate de plăci de tranzit. Vă rugăm să ne contactați pentru mai multe informații și detalii.



Orele noastre de afaceri:


- Luni-vineri: 08:30 - 06:00 PM
- Sâmbătă: 09:00 - 01:00 PM
- Seara, prin programare.


Pentru mai multe informații, fotografii (360 º) și o inspecție video HD, vă rugăm să vizitați site-ul nostru web
= Дополнительные опции и оборудование =

Осветительные приборы
- Тип фары: halogen (Тип фары этого автомобиля)

Характеристики
- высота корпуса: 63 (Высота шасси этого автомобиля)

интерьер
- USB
С USB-соединением можно подключить телефон или мультимедийное устройство к транспортному средству.
- Многофункциональное рулевое колесо
Многофункциональное рулевое колесо имеет кнопки для навигации и информационно-развлекательной системы, позволяя водителю менять канал или маршрут, не снимая руки с колеса.
- Подлокотник
Подлокотник - это вариант комфорта, который позволяет водителю опирать руку на центральную консоль.
- Управление электрическим зеркалом
При управлении электрическим зеркалом зеркала управляются электрически и часто также нагреваются. Предотвращение их запотевания.
- Подвесное сиденье
С сиденьем с пневматическим приводом водитель пользуется большим комфортом, так как сиденье не фиксируется непосредственно в салоне, а воздушная подвеска между шипами дороги не передается водителю.

кузов
- опрокидывание
Автомобиль оснащен опрокидывающейся частью, позволяющей поднимать и опускать грузовой отсек. С этим можно сбросить нагрузку.
- Материал пола (Материал пола.)
- материал: steel (Материал надстройки.)

= Информация о дилере =

BAS Vans - ваш специализированный специалист по фургонам и коммерческим автомобилям. С запасом более 400 единиц, у нас всегда есть подходящий автомобиль для вас. Наш ассортимент включает в себя все бренды, модели и конфигурации. BAS Vans находится в Вегеле, Нидерланды.



Наша мастерская может оснастить ваш новый коммерческий автомобиль разнообразными аксессуарами. Например: установка фаркопа, боковой двери, гидроборта, камеры заднего хода и многое другое. Таким образом, в BAS Vans можно настроить ваш новый автомобиль в соответствии с вашими пожеланиями.



Вы предпочитаете лизинг? BAS Vans может предоставить лизинг для Нидерландов, Бельгии, Германии, Румынии, Польши, Словакии, Чехии, Болгарии, Хорватии, Украины, Албании, Косово, Литвы, Латвии и Эстонии.



Для наших международных клиентов мы предлагаем транспортировку и доставку по всему миру. Если вы хотите забрать свой автомобиль в Вегеле, мы предлагаем бесплатный трансфер из аэропорта Эйндховена. (20 минут) Мы также можем предоставить различные транзитные номера. Пожалуйста, свяжитесь с нами для получения дополнительной информации и деталей.



Наши рабочие часы:


- Понедельник-пятница: с 08:30 до 18:00
- Суббота: с 09:00 до 13:00
- Вечером назначение.


Для получения дополнительной информации, фотографий (360 º) и просмотра HD-видео посетите наш веб-сайт.

= Дополнительная информация =

Макс. буксируемый вес: 3.500 kg
Размеры грузового отсека: 255 x 200 x 32 cm
Самосвал: Сзади
НДС/маржа: С вычетом НДС
Important
This offer is for guidance only. Please request more precise information from the seller.
Safety tips
Seller's contacts
Netherlands, Noord Brabant, 5466AP, Veghel, Mac Arthurweg 2
Seller's local time: 20:18 (CEST)
Selling machinery or vehicles?
You can do it with us!