You may find interesting
Close
New MERCEDES-BENZ Arocs4145K 39T Zul./8x4 E6+20m3 Thermo VS-Mont
€119,900
New MERCEDES-BENZ Arocs 3246 K 8x4 Meiller Kipper Bordmatik
€121,889.92
New MERCEDES-BENZ Arocs 4146K
€117,900
New MERCEDES-BENZ Arocs4145K 8x4 E6+20m3 Thermomulde VS-Mont+Plane
€115,000
MERCEDES-BENZ Arocs 3251 K 8x4 Meiller Bordmatik Retarder AHK
€124,889.92
MERCEDES-BENZ Arocs4142
€107,900
MERCEDES-BENZ Acocs 1835 AK PK19001 5x Ausschübe dump truck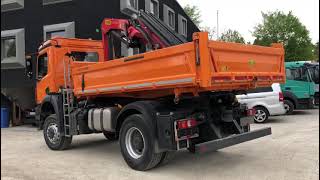 1/17
Model
Acocs 1835 AK PK19001 5x Ausschübe
First registration
2019-10
Location
Germany
Oberschleissheim
Placed on
more than 1 month
Description
Overall dimensions
75.2 m × 25.5 m × 3.7 m
Truck body
Body dimensions
4.1 m × 4.2 m × 0.6 m
Remote inspection
Request an independent technical inspection
Condition
Technical inspection valid till
2021-10
Kippermasse: 4100mmx2460mmbreitx600mm hohe Bordweände hinten Hydraulische Bordwand
oder schreiben Sie uns per Whatsapp:
show contacts
cab: local distance
delivery date: 10.03.2021
country-version: DE
combined power consumption: 0.0000
Palfinger Kran PK 19.001 SLD 5x Hydraulischer Ausschub 5.und.6.Steuerkreis nur Lasthaken Schwenkbereich 420 Grad Abstützbasis 2 fach Abstützweiten 6600mm 4.3m 4000kg 6.3m 2550kg
8,3m 1840kg
10,4m 1400kg
12,6m 1120kg,14,7m 950kg
Leergewicht 11120kg Nutzlast 6880kg
Diffsperre Vorderachse
Diffsperre Hinterachse!
Besuchen Sie uns auf Facebook! (lkw.fuechsl)
229 029 08
Alle Angaben sind ohne Gewähr auf Vollständigkeit und Richtigkeit. Das Angebot ist freibleibend. Zwischenverkauf und Irrtum vorbehalten. Es werden ausdrücklich absolut keine Eigenschaften zugesichert. Wir empfehlen
das Fahrzeug vor dem Kauf zu besichtigen
Important
This offer is for guidance only. Please request more precise information from the seller.
Safety tips
Seller's contacts
Germany, Bayern, 85764, Oberschleissheim, Hicklstrasse 7
Seller's local time: 06:36 (CEST)
Selling machinery or vehicles?
You can do it with us!