The ad SCANIA P94 G260 GRUA HIAB 166-4 HIPRO BASCULANTE dump truck has been sold and is not included in the search!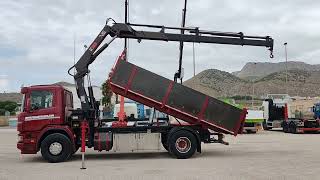 1/34
Model
P94 G260 GRUA HIAB 166-4 HIPRO BASCULANTE
First registration
2004-09-22
Location
Spain
Lorca (Murcia)
Truck body
Body dimensions
5.3 m × 2.48 m × 0.9 m
Ref.: 2618. Camión rígido 4x2 BASCULANTE marca SCANIA modelo P94 G260,equipado con grúa HIAB 166-4 HIPRO, con 4 prolongas hidráulicas, la longitud máxima de grúa es de 15 metros (posibilidad de añadir alguna prolonga mas), mando radio control remoto, estabilizadores delanteros, caja basculante con medidas interiores 5.30 m largo x 2.48 m ancho x 0.90 m de alto de lateral, cambio semiautomático, aire acondicionado, cámara de visión trasera, dimensiones de los neumáticos 1º eje 385/65r22.5 y del 2º eje 315/80r22.5 , distancia entre ejes 4.7 metros, PMA 18.000 kg, carga útil 8.500 kg,...se encuentra en perfecto estado!!!