You may find interesting
Close
TOYOTA AURIS 4 SZTUKI HYBRYDA / LIFTING
€8,800
HYUNDAI i30
€9,589
PEUGEOT 308
€8,925
SEAT Leon 1,4TSI,FR, Ładny,Najtańszy! Do końca tylko Serwis w ASO
€7,000
VOLKSWAGEN PASSAT
€8,500
VOLVO V90 Cross Country PRO D5 173kW/235KM AT8 SCR AWD
€37,270
PEUGEOT 508 1.6 HDI estate car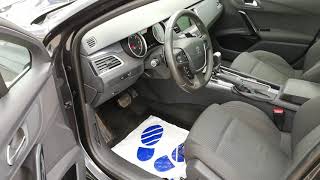 1/29
Dear Customer!
The prices of our cars are adjusted to their actual condition and equipment and are symbolically negotiated on the spot in the showroom

The car has been ozonated by our service (to remove bacteria). The most touched elements, such as the steering wheel or gear knob, have been wrapped in foil to increase your safety.

We issue a 23% VAT invoice for this vehicle
NET PRICE: 39 800 PLN APPLIES TO FOREIGN COMPANIES AND CUSTOMERS.
A big discount for individual clients!
Please call us directly.

Price is negotiable after prior inspection.
Mileage documented
The car is in very good condition
The engine and gearbox work very well.
The center is clean and tidy.

MILEAGE CHECKED IN BASES:
-DNA Poland
-At the dealer
-Italy

Inspection report:
All original glass
Rear tires HANKOOK 215/55 / ​​R17 Aluminum rims - NEW
Front tires Yokohama 215/55 / ​​R17 Aluminum rims - Tire condition Very good.

Equipment:
- Navigation
- AUTOMATIC, dual-zone air conditioning
- Cruise control
- LED daytime running lights
- Roof panorama
- Leather steering wheel, multifunctional and adjustable in two planes
- Gear shifters
- Electrically operated, folding and heated mirrors
- AUX factory radio, MP3, Bluetooth
- On-board computer
- Dusk and rain sensor
- ABS, ESP
- Power windows x4
- Isofix x2
- Front airbags
- Side airbags
- Air curtains
- Metallic paint
- Rear vents
- Trunk blind
- Body color bumper mirrors and door handles
- Central locking, remote control, immobilizer

Please familiarize yourself with the following amenities, which are often unique solutions on a national scale, significantly differentiating us from other showrooms, and very useful for you when buying your dream car:
1. As we have been a legally operating company for over 20 years, we guarantee the security of purchase based on appropriate records and documents confirming the legality of the origin, which entails our full liability for legal defects of the vehicle.
2. Before selling the cars, we check them technically free of charge at the Service Center and a diagnostic station.
3. We pay for the customer and prepare all the documents necessary to register the car, just go with them to the Communication Department and register the selected car free of charge.
4. For most of the cars we offer, we provide a technical warranty with no mileage limit, even for 2 years, after a detailed service inspection.
5. We provide professional, free consultancy and we have an individual approach to the client. We always provide you with reliable advice.
6. We have attractive credit or leasing conditions in 10 banks and leasing companies. Even without the first payment, with a low commission and the possibility of early repayment, which will satisfy the most demanding client who prefers financing.

7. As we are not a commission or broker, but a direct importer and owner of vehicles, we guarantee you no hidden commissions and at the same time one of the best prices in Poland.
8. We have cards for our regular customers and we offer a system of large discounts, which also works in our service or rental.
9. All cars on offer are available immediately, most of them are in the building, so eg bad weather is a secondary matter.
10. We invite you to a comfortable sofa, where, over a freshly roasted coffee, we will talk about your expectations and how you want to finance your new car.
11. After the purchase, we offer the option of delivering the car to the address indicated.
Due to the above, we hope that you will devote your valuable time to us and decide to choose our offer. We will be really pleased to host you.


THIS ANNOUNCEMENT IS FOR INFORMATION ONLY AND DOES NOT CONSTITUTE AN OFFERING IN THE MEANING OF ART. 66, § 1 of the CIVIL CODE. OUR COMPANY SHALL NOT BE LIABLE FOR MINOR ERRORS AND INCOMPLETE INFORMATION OR NOT UPDATED IN THE ADVERTISEMENT.
Szanowny Kliencie!
Ceny naszych aut są dostosowane do ich realnego stanu i wyposażenia i podlegają symbolicznej negocjacji na miejscu w salonie

Samochód poddany został przez nasz serwis ozonowaniu(celem usunięcia bakterii).Elementy najczęściej dotykane jak kierownica czy gałka zmiany biegów zostały owinięte folią aby zwiększyć Państwa bezpieczeństwo.

Na ten pojazd wystawiamy Fakturę VAT 23%
CENA NETTO: 39 800zl OBOWIĄZUJE DLA FIRM I KLIENTÓW ZAGRANICZNYCH.
Dla klientów indywidualnych duży rabat !
Prosimy dzwonić bezpośrednio.

Cena do negocjacji po wcześniejszych oględzinach.
Przebieg udokumentowany
Samochód w bardzo dobrym stanie
Silnik i skrzynia pracują bardzo dobrze.
Środek czysty i zadbany.

PRZEBIEG SPRAWDZONY W BAZACH:
-DNA Polska
-U dealera
-Włochy

Raport z oględzin:
Wszystkie szyby oryginalne
Opony tył HANKOOK 215/55/R17 Felgi aluminiowe - NOWE
Opony przód Yokohama 215/55/R17 Felgi aluminiow - Stan opon Bardzo dobry.

Wyposażenie:
- Nawigacja
– Klimatyzacja AUTOMATYCZNA,Dwustrefowa
– Tempomat
- Światła do jazdy dziennej LED
- Panorama dach
– Kierownica skórzana, wielofunkcyjna i regulowana w dwóch płaszczyznach
– Manetki zmiany biegów
– Lusterka elektrycznie sterowane, składane i podgrzewane
– Radio fabryczne AUX,MP3,Bluetooth
– Komputer pokładowy
– Czujnik zmierzchu i deszczu
– ABS, ESP
– Szyby elektrycznie sterowane x4
– Isofix x2
– Poduszki powietrzne przednie
– Poduszki powietrzne boczne
– Kurtyny powietrzne
- Lakier metalic
– Tylne nawiewy
– Roleta bagażnika
– Lusterka zderzaki i klamki w kolorze nadwozia
– Centralny zamek,pilot , immobilizer

Prosimy Państwa o zapoznanie się z poniższymi udogodnieniami, które często są rozwiązaniami unikatowymi w skali kraju, w znaczny sposób odróżniającymi nas od innych salonów, a jakże przydatnymi dla Was przy zakupie wymarzonego auta:
1. Jako, że od ponad 20 lat jesteśmy legalnie działającą firmą, gwarantujemy bezpieczeństwo zakupu oparte odpowiednimi zapisami i dokumentami potwierdzającymi legalność pochodzenia co wiąże się z naszą pełną odpowiedzialnością za wady prawne pojazdu.
2. Przed sprzedażą bezpłatnie sprawdzamy auta pod względem technicznym na Serwisie i stacji diagnostycznej.
3. Opłacamy za klienta i przygotowujemy wszelkie niezbędne do rejestracji auta dokumenty, wystarczy udać się z nimi do Wydziału Komunikacji i bezpłatnie zarejestrować wybrany samochód.
4. Na większość oferowanych samochodów udzielamy gwarancji technicznej bez limitu kilometrów nawet na 2 lata po uprzednim szczegółowym przeglądzie serwisowym.
5. Udzielamy fachowego, bezpłatnego doradztwa

NINIEJSZE OGŁOSZENIE MA CHARAKTER JEDYNIE INFORMACYJNY I NIE STANOWI OFERTY W MYŚL ART. 66, § 1. KODEKSU CYWILNEGO. NASZA FIRMA NIE PONOSI ODPOWIEDZIALNOŚCI ZA DROBNE BŁĘDY ORAZ ZAWARTE W OGŁOSZENIU NIEKOMPLETNE INFORMACJE LUB NIEAKTUALNOŚĆ OGŁOSZENIA.
tel. 323226665
Important
This offer is for guidance only. Please request more precise information from the seller.
Safety tips
Seller's contacts
Mariusz Gruchel
właściciel
Languages:
English, Polish
Poland, Silesian, 43-170, ŁAZISKA GÓRNE, ul. HUTNICZA 6
Seller's local time: 05:04 (CEST)
Selling machinery or vehicles?
You can do it with us!