You may find interesting
Close
New КПП(Ш) -6 Каток измельчитель гидрофицированный водоналивной
€6,490
New Каток спиральный
price on request
New ROLMAKO
€19,000
New Каток измельчитель прямой КПП-6
€6,490
New AGROKALINA CRUSH-10
€11,510
New JOHN DEERE
€320.50
New Voshod K-6M K-8M K-10 field roller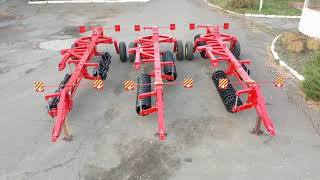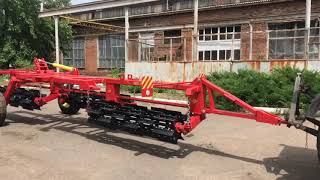 1/8
Location
Ukraine
Korsun-Shevchenkivskiy r-n, misto Korsun-Shevchenkivskiy
Placed on
more than 1 month
Котки К-6М, К-8М та К-10 мають універсальну жорстку раму.
Увага! Котки комплектуються взаємозамінними секціями
Котки ріжучі призначені для подрібнення пожнивних залишків ріпаку, соняшнику, кукурудзи та часткового мульчування поверхні ґрунту.
Котки шпорові призначені для післяпосівного прикатування поверхневих шарів ґрунту з метою їх ущільнення та подрібнення грудок, часткового вирівнювання поверхні ґрунту.
Котки зубчато-кільчаті призначені для передпосівного і післяпосівного прикатування ґрунту при вирощуванні зернових і овочевих культур, цукрового буряка, рапсу та інших сільськогосподарських культур
Котки К-6М, К-8М та К-10 мають універсальну жорстку раму.
Увага! Котки комплектуються взаємозамінними секціями
Котки ріжучі призначені для подрібнення пожнивних залишків ріпаку, соняшнику, кукурудзи та часткового мульчування поверхні ґрунту.
Котки шпорові призначені для післяпосівного прикатування поверхневих шарів ґрунту з метою їх ущільнення та подрібнення грудок, часткового вирівнювання поверхні ґрунту.
Котки зубчато-кільчаті призначені для передпосівного і післяпосівного прикатування ґрунту при вирощуванні зернових і овочевих культур, цукрового буряка, рапсу та інших сільськогосподарських культур
Important
This offer is for guidance only. Please request more precise information from the seller.
Safety tips
Seller's contacts
Andrey Nikolaevich
Languages:
Ukrainian, Russian
Ukraine, Cherkasy Oblast, 19401, Корсунь-Шевченківський р-н, місто Корсунь-Шевченківський, вул. Костомарова, будинок 26
Seller's local time: 23:11 (EEST)
Selling machinery or vehicles?
You can do it with us!