The ad New ADAKON flatbed semi-trailer has been sold and is not included in the search!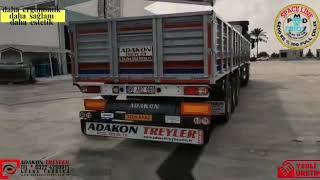 1/7
Type
flatbed semi-trailer
Year of manufacture
06/2022
Location
Turkey
Sarıçam/ADANA
Description
Overall dimensions
13.6 m × 2.55 m × 0.9 m
Axles
Tyre condition
100 % / 100 mm
FULL ÇELİK DAHA HAFİF-DAHA GÜÇLÜ-DAHA ZARİF
13.60 KAPAKLI SAL DORSE 6200 KİLO
TEKNİK ÖZELLİKLER


ŞASİ VE ÜST YAPI
 Domex MC 700 kalitesindeki sacların kesilip bükülerek mukavemet kazandırılmış gaz altı kaynağı ile birleştirilmiş esnek ve mukavim bir yapıya sahiptir. Şase ön uzantısı ve serbestisi ISO 1726'ya uygundur.
BOYA VE KUMLAMA
Sa 2 ½ kalitesinde kumlandıktan sonra ortalama 120 mikron boya kalınlığında istenilen RAL kodlarına göre boyanır
YÜRÜYÜŞ AKSAMI , LASTİK – LER VE JANTLAR
 Akslar yerli menşeli 3x12 ton kapasiteli kampana balatalı, ön dingil kalkabilir PIRLANTA MARKA
 Ağır hizmet tipi yükselip alçalabilir rampa seviyeleri için pnömatik kaldırma indirme düzeneği,
 Makas ve körükle desteklenmiş havalı süspansiyon sistemi
 Lastikler 385/65 R 22.5 ebatlı Pırelli RHT2 marka (6.Adet)
 Jantlar 11.75x22.5 ebatlı adetler 6 (altı) adet
ŞASİ AKSESUARLARI
 2"çapında SAE ve DIN normlarına uygun king pimi
 24 t kaldırma kapasiteli, çift hızlı, tek taraftan kumandalı, destek ayakları
 Yedek lastik için bağlantı yeri 89/297/EEC normlarına uygun önde ve arkada yan koruma tertibatı
EG-RL 70/221/EEC normlarında sabit arka tampon
KASA
 Taban : 30 mm kaymaz MDF (upm Visa)
 Ön Kapak : 1500 mm, 1,2 mm docol
 Yan Kapaklar : 800 mm 1,2 mm docol
 Kapak dıştan kapaklı
FRENLER
 Avrupa Topluluğu 71/320/EEC standartlarına uygun EBS'li fren sistemi,
 2S-2M sensör, Wabco Otomatik fren cırcırları
 1.dingilde 30'lük servis fren körüğü, 2 ve 3. dingillerde yay bagetli diyafram destekli 30X30 imdatlı fren körükleri.
ARFESAN marka
 Aşırı dingil hareketlerini engelleyen Amortisör
ELEKTRİK SİSTEMİ
 Elektrik seti Adr'li, yanmaz ıslanmaz SABA marka
STANDART AKSESUARLAR
 1 adet takım dolabı ve 1. adet erzak dolabı
 1 adet tekerlek takozu
 35 litre su tankı
 2 adet yangın söndürme tüp dolabı
 2 adet plastik tozluk
GARANTİ
 1 ( BİR) Yıl – 35 Ton
Açıklama - Bu satış paketimizde tarafınızdan yapılan değiştirilebilir tüm ekipmanlar ölçü-ilave özelliklerinde ayrıca fiyatlandırma yapılmaktadır.