Kleyn Vans B.V.
In stock: 443 ads
11 years at Autoline
RENAULT MASTER 2.3 open laadbak xl l3 flatbed truck < 3.5t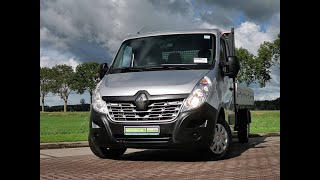 1/15
Type
flatbed truck < 3.5t
First registration
2018-10-01
Location
Netherlands
Vuren
Description
Overall dimensions
length - 6.55 m, width - 2.15 m
Truck body
Body dimensions
3.83 m × 2.03 m × 1.43 m
Need delivery?
Calculate the cost of delivery
Cabin
Electrically operated mirrors
= Additional options and accessories =
- ASR
- Coloured windows
- None
= Remarks =
Number of axles: 2, Configuration: 4x2, Loading Capacity: 1372 kg, Own weight: 2128 kg, Gross vehicle weight: 3500 kg, Unbraked towing capacity: 750 kg, Braked towing capacity, center axle: 2500 kg, Suspension type: spring suspension, Cabin type: single cabin, Airconditioning, Number of airbags: 1, Parking assistance: None, Coloured windows, Electric windows, Electric mirrors, Color: Gray, Metallic, maintenance Guide, Engine capacity: 96 Kw (129 Hp), Fuel type: diesel, Euro: 6, Gearbox kind: Manual, Number of Gears: 6, Power steering, ABS, ASR, Build kind: Extra long - Standard roof, Roof-rack: None, Back doors: taillift, Number of seats: 3, Seat cover: cloth, Open Laadbak XL L3 Airco 131PK 1e Eigenaar!
= Dealer information =
Why buy at Kleyn Vans? The choice is easy!
Kleyn Vans is one of the largest independent traders of used vans in the world. You can choose from a continually changing stock of 600 used vehicles. Our range includes all European and Asian brands, model years and price categories. You will always find the vehicle you want for the right price!
Kleyn Vans offers:
Sharp prices
Good service
Fast changing, big stock!
Always sure about the quality!
Trading expertise you can trust!
Professional technical service.
Guidance at import and transport.
License plates quickly arranged.
And more…
Visit our website at:
show contacts
and check out our complete stock and special offers!
= More information =
Cab: day
Height of cargo floor: 99 cm
General condition: good
Technical condition: good
Visual appearance: good
Number of keys: 2
VAT/margin: VAT qualifying
= Dealer information =
Где находятся автомобили? – Вся техника находится на нашей площадке в Фурене, Голландия
ASR
- Нито едно от посочените
- Тонирани стъкла

Брой на осите: 2, Конфигурация: 4x2, Максимално тегло: 1372 kg, Собствено тегло: 2128 kg, Бруто тегло: 3500 kg, маса без спирачки: 750 кг, Централна ос на натоварването на ремаркето, спирачна: 2500 kg, Тип на окачването: ресьори, Тип на кабината: единична кабина, Климатик, Брой на въздушните възглавници: 1, Паркинг помощ: Нито едно от посочените, Тонирани стъкла, Електрически прозорци, Електрически огледала, цвят: сив, метален, Поддръжка Ръководство, Vertaling: "AchteruitrijCamera" niet gevonden., Мощност на двигателя: 96 Kw (129 Hp), Тип на горивото: дизел, Евро: 6, Вид на скоростната кутия: механичен, Брой на предавките: Брой на предавките, Серво на волана, ABS, ASR, Вид на постройката : много удължен, Багажник за покрива: Нито едно от посочените, Задни врати: заден капак на каросерията, Брой на седалките: 3, Калъф на седалката: плат, Open Laadbak XL L3 Airco 131PK 1e Eigenaar!

Где находятся автомобили? – Вся техника находится на нашей площадке в Фурене, Голландия
Regulace trakce
- Tónované sklo
- Řízení stability

Где находятся автомобили? – Вся техника находится на нашей площадке в Фурене, Голландия
= Weitere Optionen und Zubehör =
- ASR
- Getönte Scheiben
- Keiner
= Anmerkungen =
Anzahl der Achsen: 2, Konfiguration: 4x2, Nutzlast: 1372 kg, Eigengewicht: 2128 kg, Bruttogewicht: 3500 kg, Anhängelast, ungebremst: 750 kg, Anhängelast Mittelachse, gebremst: 2500 kg, Federungstyp: Blattfederung, Art der Kabine: Einzelkabine, Klimaanlage, Anzahl Airbags: 1, Einparkhilfe: Keiner, Getönte Scheiben, Elektrische Fensterheber, Elektrische Spiegel, Farbe: Grau, Metallisch, Wartungshandbuch, Motorleistung: 96 kW (129 Hp), Kraftstoff: Diesel, Euro: 6, Getriebeart: Handschalter, Gänge: 6, Servolenkung, ABS, ASR, Aufbautyp: zusätzlich verlängert, Dachgepäckträger: Keiner, Verschluss hinten: Ladebordwand, Sitzplätze: 3, Sitzbezug: Stoff, Open Laadbak XL L3 Airco 131PK 1e Eigenaar!
= Firmeninformationen =
Kleyn Vans ist weltweit eines der größten unabhängigen Handelsunternehmen für gebrauchte Kleintransporter. Sie finden bei uns einen ständig neuen Vorrat von etwa 600 gebrauchten Kraftfahrzeugen. Unser Sortiment umfasst alle europäischen und asiatischen Marken, Baujahre und Preisklassen.
Warum Sie bei Kleyn Vans kaufen? Einfach!
Großer, sich schnell ändernder
Erkennbare Qualität
Ein guter Preis
Korrekte Kaufmannschaft
Wir sprechen viele Sprachen
Wir verstehen unsere Kunden
Betreuung von Einfuhr und Transport
(Ausfuhr-)Kennzeichen sind schnell geregelt
Fachkundige technische Dienstleistungen
Die Sicherheit "erkennbarer Qualität"
Und mehr....
Besuchen Sie bitte unsere Website für spezielle Angebote und vollständige Vorrat:
show contacts
= Weitere Informationen =
Kabine: Tag
Höhe der Ladefläche: 99 cm
Allgemeiner Zustand: gut
Technischer Zustand: gut
Optischer Zustand: gut
Anzahl der Schlüssel: 2
Mehrwertsteuer/Differenzbesteuerung: Mehrwertsteuer abzugsfähig
= Firmeninformationen =
Где находятся автомобили? – Вся техника находится на нашей площадке в Фурене, Голландия
= Flere valgmuligheder og mere tilbehør =

- Farvet glas
- Stabilitetskontrol
- Trækstyring

= Yderligere oplysninger =

Førerhus: day cab
Gulvhøjde i lastrum: 99 cm
Overordnet stand: god
Teknisk stand: god
Visuelt udseende: god
Antal nøgler: 2
moms/margin: Moms fradragsberettiget

= Forhandleroplysninger =

Где находятся автомобили? – Вся техника находится на нашей площадке в Фурене, Голландия
Где находятся автомобили? – Вся техника находится на нашей площадке в Фурене, Голландия
= Más opciones y accesorios =

- ASR
- Cristal ahumado
- Ninguno

= Comentarios =

Número de ejes: 2, Configuración: 4x2, Carga útil: 1372 kg, Peso en vacío: 2128 kg, Peso bruto: 3500 kg, Peso max. remolcable sin freno: 750 kg, Peso max. remolcable con freno, Eje centro: 2500 kg, Tipo de suspensión: Ballestas, Tipo de cabina: Cabina individual, Aire acondicionado, Cantidad de airbags: Cantidad de airbags, Ayuda al aparcamiento: Ninguno, Cristal ahumado, Ventanas eléctricas, Espejos eléctricos, Color: Gris, Metálico, Guía de mantenimiento, Capacidad del motor: 96 Kw (129 Hp), Combustible: Diésel, Euro: 6, Clase de caja de cambios: Manual, Nº de las velocidades: 6, Dirección asistida, ABS, ASR, Modelo de la carrocería: extra prolongado, Baca: Ninguno, Puertas traseras: Puerta elevadora, Nº de asientos: 3, Revestimientos para asientos: tela, Open Laadbak XL L3 Airco 131PK 1e Eigenaar!

= Información de la empresa =

Kleyn Vans es una de las mayores empresas comerciales independientes del mundo dedicadas a las furgonetas de segunda mano. Aquí podrá elegir entre unas existencias de más de 600 vehículos de segunda mano. Nuestra oferta reúne todas las marcas, años de fabricación y categorías de precio de Europa y Asia.

¿Por qué comprar en Kleyn Vans? ¡Es fácil!
Buen precio
Calidad conocida
Comercio bien organizado
Hablamos muchos idiomas
Entendemos al cliente
Un extenso catálogo que se renueva con rapidez
Garantía sobre las furgonetas poco usadas
Ayuda para la importación y el transporte
Matrícula (de exportación) rápidamente tramitada
Un servicio técnico experto
La seguridad de la "calidad conocida"
Y mas...

Por favor, visite nuestra página web para ofertas especiales y el inventario completo. es.kleynvans.com

= Más información =

Cabina: día
Altura piso de carga: 99 cm
Estado general: bueno
Estado técnico: bueno
Estado óptico: bueno
Número de llaves: 2
IVA/margen: IVA deducible

= Información de la empresa =

Где находятся автомобили? – Вся техника находится на нашей площадке в Фурене, Голландия
Где находятся автомобили? – Вся техника находится на нашей площадке в Фурене, Голландия
= Plus d'options et d'accessoires =
- ASR
- Aucun
- Vitre teintée
= Remarques =
Nombre d'essieux: 2, Configuration: 4x2, Type de plancher: 1372 kg, Poids net: 2128 kg, Poids nominal brut: 3500 kg, Capacité de remorquage non freiné: 750 kg, Capacité de remorquage freinée, Axe médian: 2500 kg, Type de suspension: à lames, Type de cabine: Cabine simple, Air conditionné, Nombre d'airbags: 1, Aide au stationnement: Aucun, Vitre teintée, Vitres electriques, Rétoviseurs électriques, Couleur: Gris, Métallique, Guide d'entretien, Puissance du moteur: 96 Kw (129 Hp), Type de carburant: Gas-oil, Norme Euro: 6, Genre de boîte de vitesses: Boîte manuelle, Vitesses: 6, Direction assistée, ABS, ASR, Modèle construction: rallongé, Galerie: Aucun, Fermeture arrière: Hayon élévateur, Places assises: 3, Revêtement de siège: en tissu, Open Laadbak XL L3 Airco 131PK 1e Eigenaar!
= Information sur la société =
Kleyn Vans est l'une des plus importantes entreprises commerciales au monde dans le domaine des camionnettes d'occasion. Chez nous, vous choisissez dans un stock sans cesse renouvelé de plus de 600 véhicules d'occasion. Nous vous proposons des véhicules de toute marque européenne et asiatique, de toute année de construction et de toute gamme.
Pourquoi acheter chez Kleyn Vans? Il est facile!
Qualité accréditée
Garantie sur les camionnettes récentes
Prix avantageux
Commerce honnête
Nous parlons de nombreuses langues
Nous comprenons le client
Assistance pour l'importation et le transport
Plaque d'immatriculation (export) réglée rapidement
Service technique professionnel
La garantie d'une 'qualité accréditée'
S'il vous plaît visitez notre site web pour les offres spéciales et les stocks complète.
show contacts
= Plus d'informations =
Cabine: jour
Hauteur du plancher de chargement: 99 cm
État général: bon
État technique: bon
État optique: bon
Nombre de clés: 2
TVA/marge: TVA déductible
= Information sur la société =
Где находятся автомобили? – Вся техника находится на нашей площадке в Фурене, Голландия
Где находятся автомобили? – Вся техника находится на нашей площадке в Фурене, Голландия
ASR
- Nincs
- Színezett üveg

Tengelyek száma: 2, Konfiguráció: 4x2, Maximális súly: 1372 kg, Önsúly: 2128 kg, Peso bruto: 3500 kg, Tömege fékezetlen: 750 kg, A pótkocsi középtengelyének fékezése: 2500 kg, Felfüggesztés típusa: rugós felfüggesztés, Fülke fajtája: Szimpla fülke, Légkondicionálás, Légzsákok száma: 1, Parkolási támogatás: Nincs, Színezett üveg, Elektromos ablak, Elektromos tükrök, Szín: Szürke, Fémes, Karbantartási útmutató, Motorteljesítmény: 96 Kw (129 Hp), Üzemanyag fajtája: dízel, Euró: 6, Sebessségváltó fajtája: kézi kapcsolású, Sebességek száma: 6, Szervokormány, ABS, ASR, Felépítmény fajtája: extra hosszabbított, Tetőcsomagtartó: Nincs, Hátsó ajtók: rakodótér-ajtó, Ülések száma: 3, Üléshuzat: Szövet, Open Laadbak XL L3 Airco 131PK 1e Eigenaar!

Где находятся автомобили? – Вся техника находится на нашей площадке в Фурене, Голландия
ASR
- Nessuno
- Vetro ombreggiato

Nr. assali: 2, Configurazione: 4x2, Peso massimo: 1372 kg, Pesa tara: 2128 kg, Peso lordo: 3500 kg, Massa non frenato: 750 kg, Asse centrale del carico del rimorchio, frenato: 2500 kg, Tipo di sospensione: sospensione balestra, Tipo della cabina: cabina corta, Aria condizionata, Nr. di airbag: 1, Assistenza al parcheggio: Nessuno, Vetro ombreggiato, Finestrini a comanda elettrico, Retrovisori a comando elettrico, Colore: Grigio, Metallico, Guida alla manutenzione, Potenza del motore: 96 kW (129 Hp), Tipo di carburante: gasolio, Euro: 6, Genre del cambio: Cambio manuale, Numero di marche: 6, Servosterzo, ABS, ASR, Modello della sovrastruttura: allungato extra, Imperiale: Nessuno, Porta posteriore: sponda idraulica, Posti: 3, Foderame dei sedili: telo, Open Laadbak XL L3 Airco 131PK 1e Eigenaar!

Где находятся автомобили? – Вся техника находится на нашей площадке в Фурене, Голландия
= Aanvullende opties en accessoires =
- ASR (Anti Slip Regeling)
- Geen
- Getint glas
= Bijzonderheden =
Aantal Assen: 2, Configuratie: 4x2, Laadvermogen: 1372 kg, Eigen gewicht: 2128 kg, Totaalgewicht: 3500 kg, Trekgewicht ongeremd: 750 kg, Trekgewicht middenas geremd: 2500 kg, Vering type: bladvering, Soort cabine: enkele cabine, Airconditioning, Aantal airbags: 1, Parkeerhulp: Geen, Getint glas, Elektrische ramen, Elektrische spiegels, Kleur: Grijs, Metallic, Onderhoudsboekje, Motorvermogen: 96 Kw (129 Hp), Brandstof: diesel, Euro: 6, Soort versnellingsbak: Handgeschakeld, Versnellingen: 6, Stuurbekrachtiging, ABS (Anti Blokkeer Systeem), ASR (Anti Slip Regeling), Opbouw model: Extra lang – Standaard dak, Imperiaal: Geen, Achtersluiting: achterklep, Zitplaatsen: 3, Stoelbekleding: stof, Open Laadbak XL L3 Airco 131PK 1e Eigenaar!
= Bedrijfsinformatie =
Waarom u bij
show contacts
leaset of koopt?
U kiest voor professioneel geselecteerde bussen die wij aan dealers en eindgebruikers leveren.
We zijn van maandag t/m donderdag van 8 tot 19 uur geopend, vrijdag van 8 tot 17 uur en zaterdag van 9 tot 17 uur. Bel ons op 088-2243300 of mail
show contacts
en wij zoeken voor u.
Bestelbus.nl is de grootste onafhankelijke dealer in jong gebruikte gesloten bussen, bakwagens, koelers, vriezers, personenbussen, open bakken, kippers, pick-ups, huiven en chassis-cabines.
Met meer dan 650 vans vindt u altijd een bij uw situatie passende bedrijfsauto:
- Scherpe prijzen
- Merkonafhankelijke ervaren bedrijfswagenadviseurs
- Wij kopen uw auto graag in
- Soepele en snelle (starters)lease
- Tot 2 jaar garantie bij uw eigen dealer
- Open inzichtelijk TÜV-kwaliteitsrapport
U betaalt bij ons geen verplichte afleverkosten en elke auto is standaard voorzien van afleverpakket Base.
Kortom, bezoek
show contacts
of komt u zich centraal in Nederland aan Afslag 29 van de A15 op 20 minuten van Utrecht geheel vrijblijvend oriënteren. Goede koffie staat klaar!
Bestelbus.nl is onderdeel van de KLEYN Groep, die sinds 1919 ruim 100 jaar vertrouwd Trucks, Trailers, Vans en onderdelen wereldwijd levert.
= Meer informatie =
Cabine: dag
Hoogte laadvloer: 99 cm
Algemene staat: goed
Technische staat: goed
Optische staat: goed
Aantal sleutels: 2
Garantie: Bedrijfsauto's tot 180.000 km en 8 jaar leveren wij met tot wel 2 jaar garantie, wanneer u kiest voor een afleverpakket waarbij wij van u de auto ook een servicebeurt mogen geven. Garantiewerk kunt u in overleg met onze snel beslissende 14-talige servicedesk bij u in de buurt laten uitvoeren. In tegenstelling tot bij andere adressen is deze garantie ook geldig als u door Europa rijdt of op vakantie bent. Naast garantie bent u bij ons zeker van de kwaliteit van uw aankoop! Elke bus wordt namelijk door ons TÜV-Nord gecontroleerde testcentrum op 22 punten op voorhand volledig geïnspecteerd. Er wordt gekeken hoe de bus zich verhoudt tot anderen van hetzelfde type met vergelijkbare kilometerstand en leeftijd. Dit levert een open in te zien testrapport op, waarin staat hoe de auto op dat moment verhoudingsgewijs scoort. Dit rapport plaatsen we standaard bij ieder voertuig bij ons op de website en daarnaast ligt het in de auto achter de voorruit. Aan de hand van de uitkomst van deze test wordt de prijs van de bus bepaald. Daarom kan het zijn dat twee op het oog dezelfde auto's van hetzelfde jaar of met dezelfde kilometerstand toch in prijs schelen. Juist om deze reden nodigen wij u ook van harte uit in de grootste bestelbusshowroom van Europa, gelegen centraal in Nederland. Elke auto is anders. Een ding is zeker: Uw volgende staat er zeker tussen: Wij luisteren naar uw verhaal.
BTW/marge: BTW verrekenbaar voor ondernemers
= Bedrijfsinformatie =
Где находятся автомобили? – Вся техника находится на нашей площадке в Фурене, Голландия
Где находятся автомобили? – Вся техника находится на нашей площадке в Фурене, Голландия
= Więcej opcji i akcesoriów =

- ASR
- Szyby cieniowane
- Żadne

= Uwagi =

Ilość osi: 2, Konfiguracja: 4x2, Ladownosc: 1372 kg, Ciężar własny: 2128 kg, Masa całkowita: 3500 kg, Masa bez hamulca: 750 kg, Oś centralna obciążenia przyczepy, hamowana: 2500 kg, Typ zawieszenia: Zawieszenie resorowe, Rodzaj kabiny: Kabina pojedyncza, Klimatyzacja, Airbag - ilość: 1, Parkowania: Żadne, Szyby cieniowane, Okna elektryczne, Lusterka elektryczne, Kolor: Szary, Metaliczny, Instrukcja użytkowania, Moc silnika: 96 kw (129 Hp), Typ paliwa: Dizel / elktryczny, Euro: 6, Rodzaj skrzynki biegów: Ręczna, Biegi: 6, Wspomaganie kierownicy, ABS, ASR, Model zabudowy: Ekstra przedłużony, Bagażnik dachowy: Żadne, Zamknięcie tylne: Klapa załadowcza / winda, Miejsca siedzące: 3, Pokrycie siedzeń: tkanina, Open Laadbak XL L3 Airco 131PK 1e Eigenaar!

= Więcej informacji =

Kabina: dzienna
Wysokość podłogi ładowni: 99 cm
Stan ogólny: dobrze
Stan techniczny: dobrze
Stan wizualny: dobrze
Liczba kluczyków: 2
VAT/marża: Możliwość odliczenia podatku VAT

= Informacje o przedsiębiorstwie =

Где находятся автомобили? – Вся техника находится на нашей площадке в Фурене, Голландия
ASR
- Nenhum
- Vidro sombreado

Número de eixos: 2, Configuração: 4x2, Capacidade de carga: 1372 kg, Tara: 2128 kg, Peso bruto: 3500 kg, Massa sem travões: 750 kg, Eixo central do reboque, travado: 2500 kg, Tipo de suspensão: suspensão de molas, Tipo de cabina: cabina simples, Ar condicionado, Número airbags: 1, Assistência de estacionamento: Nenhum, Vidro sombreado, Janelas eléctricas, Espelhos eléctricos, Cor: Cinza, Metálico, Guia de Manutenção, Potência do motor: 96 kW (129 Hp), Combustível: Diesel, Euro: 6, Tipo de caixa de mudanças: Manual, Número de mudanças: 6, Direcção assistida, ABS, ASR, Modelo da superestrutura: adicionalmente prolongado, Imperial: Nenhum, Fecho traseiro: porta hidráulica, Número de assentos: 3, Revestimento da cadeira: tecido, Open Laadbak XL L3 Airco 131PK 1e Eigenaar!

Где находятся автомобили? – Вся техника находится на нашей площадке в Фурене, Голландия
ASR
- Geam fumuriu
- Niciunul

Număr de osii (arbori) : 2, Configuraţie: 4x2, Greutate maximă: 1372 kg, Greutate proprie: 2128 kg, Greutate brută: 3500 kg, Masa nefrânate: 750 kg, Puntea centrului de sarcină a remorcii, frânată: 2500 kg, Tip suspensie: suspensie pe arcuri, Tip cabină: cabină simplă, Aer condiţionat, Număr de airbaguri: 1, Asistenta la parcarea cu: Niciunul, Geam fumuriu, Ferestre electrice, Oglinzi electrice, Culoare: gri, Metalic, Ghid de întreținere, Capacitate motor: 96 Kw (129 Hp), Carburant: motorină, Euro: 6, Cutie de viteze categorie: Manual, Număr viteze: 6, Servodirecţie, ABS, ASR, Model suprastructură: supralungit, Portbagaj suplimentar pe caroserie: Niciunul, Uşile din spate: perete rabatabil al unui camion, Număr de locuri: Număr de locuri, Capitonaj scaune: stofă, pânză, Open Laadbak XL L3 Airco 131PK 1e Eigenaar!

Где находятся автомобили? – Вся техника находится на нашей площадке в Фурене, Голландия
= Дополнительные опции и оборудование =
- ASR
- Затемнённые стекла
- Нет
= Примечания =
Количество осей: 2, Конфигурация: 4x2, Грузоподъёмность: 1372 кг, Собственный вес: 2128 кг, Maксимальный вес: 3500 kg, Масса без торможения: 750 кг, Центральная ось нагрузки прицепа, тормозная: [с] кг, Тип подвески: пружинная подвеска, Вид кабины: одиночная кабина, Кондиционер, Количество подушек безопасности: 1, Система помощи при парковке: Нет, Затемнённые стекла, Электрические стёкла, Электрические зеркала, цвет: Грэй, металлический, Руководство по техническому обслуживанию, Мощность двигателя: 96 кв (129 Hp), Тип топлива: дизель, Евро: 6, Вид коробки передач: Механика, Передачи: 6, Гидроусилитель руля, ABC, ASR, Модель кузова: экстра удлинённый, Съёмный багажник: Нет, Задний затвор: задний борт, Сидячие места: 3, Обивка сидений : ткань, Open Laadbak XL L3 Airco 131PK 1e Eigenaar!
= Информация о дилере =
Kleyn Vans является одним из ведущих мировых независимых торговых предприятий в сфере торговли подержанными фургонами. Здесь у вас будет выбор из постоянно обновляющегося ассортимента, в который входят более 600 подержанных транспортных средств. Мы предлагаем транспортные средства производства всех европейских и азиатских фирм, годов выпуска и ценовых категорий.
Почему покупать у компании Kleyn Vans выгодно? Это просто!
Широкий, быстро обновляющийся ассортимент
Гарантированное качество
Гарантия на фургоны с недавним годом выпуска
Выгодные цены
Достойный бизнес
Мы говорим на многих языках
Мы понимаем клиента
Оформление импорта и транспортировки
Быстрое оформление (экспортного) номерного знака
Профессиональные технические услуги
Надежность "гарантированного качества"
Пожалуйста, посетите наш веб-сайт для специальных предложений и полная инвентаризация.
show contacts
= Дополнительная информация =
Кабина: кабина без спального места (day)
Высота грузового пола: 99 cm
Общее состояние: хорошее
Техническое состояние: хорошее
Внешнее состояние: хорошее
Количество ключей: 2
НДС/маржа: С вычетом НДС
= Информация о дилере =
Где находятся автомобили? – Вся техника находится на нашей площадке в Фурене, Голландия
Kontrola stability
- Kontrola trakcie
- Tónované sklo

Где находятся автомобили? – Вся техника находится на нашей площадке в Фурене, Голландия
Где находятся автомобили? – Вся техника находится на нашей площадке в Фурене, Голландия
Renkli cam
- Stabilite kontrolü
- Çekiş kontrolü

Где находятся автомобили? – Вся техника находится на нашей площадке в Фурене, Голландия
Important
This offer is for guidance only. Please request more precise information from the seller.
Safety tips
Seller's contacts
Kleyn Vans B.V.
The phone numbers have been checked
The address has been checked
Marcel Balsters
Languages:
English, French, Portuguese, Dutch, German, Italian, Spanish, Hungarian
Jeroen van Geffen
Languages:
English, Romanian, Polish, Dutch, German, Bulgarian, Arabic
Netherlands, Gelderland, 4214 KT, Vuren, Zeiving 12
Seller's local time: 20:17 (CET)
Selling machinery or vehicles?
You can do it with us!