You may find interesting
Close
SCANIA P370 8X4 Crane Kran Fassi F1100RA
€289,800
MERCEDES-BENZ Atego 1221 Euro 6
€29,500
DAF FA CF 400 Just 28.615 km!
€65,000
VOLVO FM 460 8X4 Fassi/1300 28+JIB/kran/kraan/Montagekran/dachdeckerkr
price on request
RENAULT D180 4X2 EURO 6 + PALFINGER PK4200
€33,950
VOLVO FM 460 8x4 / EFFER 140 t/m / JIB / LIER
price on request
FOTON 4X2 Auman Manual Euro 4 XCMG SQ8ZK3Q Crane Kran flatbed truck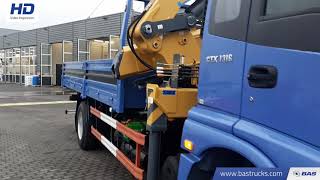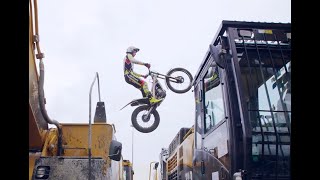 1/22
Year of manufacture
04/2016
First registration
2016-04-01
Location
Netherlands
Veghel
Placed on
more than 1 month
Description
Overall dimensions
length - 9.24 m, width - 2.5 m
Truck body
Body dimensions
width - 2.32 m
Remote inspection
Request an independent technical inspection
= More options and accessories =

Characteristics
- Chassis height: 93

Crane
- Lift capacity crane: 8000
- 360 degree rotatable
- Front outriggers
- Hydraulically extendable

Engine
- PTO Type: Flens PTO
- Number of fuel tanks: 1

Lighting
- Headlight type: halogen

Superstructure
- Hydraulic
- Capacity of the superstructure: 7 m3
- Floor Material
- Material: steel
- Superstructure construction year: 2006

= Dealer information =

We recommend you to view this vehicle directly on our website to see FULL vehicle details:

- Detailed HD video inspection
- 360 degree pictures
- Complete specifications

BAS Trucks is located in Veghel, the Netherlands and has a stock of over 1.500 vehicles from all brands, types, ages and mileages.
This sales price is based on a full payment within 5 working days.

Our team speaks 13 languages and we are opened 6 days a week.
We can assist with the export, import, shipping, and transport of your purchase. We can also buy your current trucks and trailers.
We offer leasing in 13 countries, contact our sales team and they will find a solution which fits for you.
We also have the largest independent workshop in Europe where we can service or modify your vehicle to your wishes.
Fitting new or used tyres to your truck or trailer is also possible, we sell the popular premium brands, as well as safe and reliable budget options.
BAS Parts has over 100.000 new and used spare parts on stock, we are OEM supplier of Volvo, DAF, and Renault.

= More information =

Transmission: 8JS85E
Dimensions of cargo space: 550 x 232 x 55 cm
Crane: XCMG SQ8ZK3Q, year of manufacture 2006, behind the cab
Препоръчваме ви да видите това превозно средство директно на нашия уебсайт, за да видите ПЪЛНИ подробности за превозното средство:

- Подробна HD видео проверка
- 360 градусови снимки
- Пълни спецификации

BAS Trucks разполага с запас от над 1500 автомобила от всички марки, видове, възрасти и пробег.
Тази продажна цена се основава на пълно плащане в рамките на 5 работни дни.

Нашият екип говори 13 езика и ние сме отворени 6 дни в седмицата.
Можем да помогнем при износа, вноса, доставката и транспорт на вашата покупка. Можем да закупим и вашите настоящи камиони и ремаркета.
Ние предлагаме лизинг в 13 страни, свържете се с нашия екип по продажбите и те ще намерят решение, което е подходящо за вас.
Имаме и най-голямата независима работилница в Европа, където можем обслужва или модифицира вашия автомобил според вашите желания.
Поставянето на нови или употребявани гуми на вашия камион или ремарке също е възможно, ние продаваме популярните марки премиум, както и безопасни и надеждни бюджетни опции.
BAS Parts има над 100 000 нови и употребявани резервни части на склад, ние са OEM доставчик на Volvo, DAF и Renault
Caratteristiche
- Altezza del telaio: 93

Carrozzeria
- Idraulico
- Anno di costruzione della sovrastruttura: 2006
- Capacità della carrozzeria: 7 m3
- Materiale: steel
- Materiale del pavimento

Gru
- Capacità di sollevamento della gru: 8000
- Estensibile idraulicamente
- Girevole a 360 gradi
- Stabilizzatori anteriori

Illuminazione
- Tipo di faro: halogen

Motore
- Tipo di presa di forza: Flens PTO
- Quantità di serbatoi di carburante: 1

Ti consigliamo di visualizzare questo veicolo direttamente sul nostro sito Web per vedere i dettagli COMPLETI del veicolo:

- Ispezione video HD dettagliata
- Immagini a 360 gradi
- Specifiche complete

BAS Trucks ha uno stock di oltre 1.500 veicoli di tutte le marche, tipi, età e chilometraggi.
Questo prezzo di vendita si basa su un pagamento completo entro 5 giorni lavorativi.

Il nostro team parla 13 lingue e siamo aperti 6 giorni alla settimana.
Siamo in grado di fornire assistenza per l'esportazione, l'importazione, la spedizione e trasporto del tuo acquisto. Possiamo anche acquistare i vostri camion e rimorchi attuali.
Offriamo servizi di leasing in 13 paesi, contattate il nostro team di vendita e troveranno una soluzione adatta a voi.
Abbiamo anche la più grande officina indipendente in Europa dove possiamo assistere o modificare il veicolo in base ai propri desideri.
È anche possibile montare pneumatici nuovi o usati sul tuo camion o rimorchio, vendiamo i marchi premium più diffusi e opzioni di bilancio sicure e affidabili.
BAS Parts ha in magazzino oltre 100.000 pezzi di ricambio nuovi e usati, noi sono fornitore OEM di Volvo, DAF e Renault
= Дополнительные опции и оборудование =

Осветительные приборы
- Тип фары: halogen

Подъёмный кран
- Грузоподъемный кран: 8000
- Вращающийся на 360 градусов
- Гидравлически расширяемый
- Передние выносные опоры

Характеристики
- высота корпуса: 93

двигатель
- Тип ВОМ: Flens PTO
- Количество топливных баков: 1

кузов
- Гидравлический
- Год постройки надстройки: 2006
- Материал пола
- Мощность кузов: 7 m3
- материал: steel

= Информация о дилере =

Мы рекомендуем вам посмотреть этот автомобиль прямо на нашем веб-сайте, чтобы увидеть ПОЛНУЮ информацию об автомобиле:

- Детальный осмотр HD видео
- 360-градусные снимки
- Полные технические характеристики

BAS Trucks имеет более 1500 автомобилей всех марок, типов, возрастов и миль.
Эта цена продажи основана на полной оплате в течение 5 рабочих дней.

Наша команда говорит на 13 языках, и мы открыты 6 дней в неделю.
Мы можем помочь с экспортом, импортом, доставкой и транспорт вашей покупки. Мы также можем купить ваши текущие грузовые автомобили и прицепы.
Мы предлагаем лизинг в 13 странах, свяжитесь с нашим отделом продаж, и они найдут решение, которое подходит для вас.
У нас также есть крупнейшая в Европе независимая мастерская, где мы можем обслуживать или модифицировать свой автомобиль в соответствии с вашими пожеланиями.
Возможна установка новых или бывших в употреблении шин для вашего грузовика или прицепа, мы продаем популярные марки премиум-класса, а также безопасные и надежные бюджетные опции.
BAS Parts имеет более 100 000 новых и бывших в употреблении запасных частей, мы являются OEM-поставщиками Volvo, DAF и Renault.

= Дополнительная информация =

Трансмиссия: 8JS85E
Размеры грузового отсека: 550 x 232 x 55 cm
Кран: XCMG SQ8ZK3Q, год выпуска 2006, сзади кабины
Caracteristici
- Înălțimea șasiului: 93

Constructie
- Hidraulic
- Capacitatea constructie: 7 m3
- Construcție anstructură: 2006
- Material: steel
- Materialul podelei

Iluminat
- Tipul farurilor: halogen

Macara
- Ridicați macaraua de capacitate: 8000
- 360 grade rotative
- Extensibil hidraulic
- Flanșele frontale

Motor
- Tip PTO: Flens PTO
- Cantitatea rezervoarelor de combustibil: 1

Vă recomandăm să vizualizați acest vehicul direct pe site-ul nostru web pentru a vedea detalii complete ale vehiculului:

- Inspecție video detaliată HD
- Imagini 360 de grade
- Specificații complete

BAS Trucks este localizat în Veghel, Olanda și are un stoc de peste 1.500 de vehicule de la toate mărcile, tipurile, vârstele și kilometri.
Acest preț de vânzare se bazează pe o plată completă în 5 zile lucrătoare.

Echipa noastră vorbește 13 limbi și suntem deschise 6 zile pe săptămână.
Putem ajuta la export, import, transport și transportul achiziției dvs. De asemenea, vă putem cumpăra camioanele și remorcile actuale.
Oferim închiriere în 13 țări, contactăm echipa noastră de vânzări și vor găsi o soluție potrivită pentru dumneavoastră.
Avem și cel mai mare atelier independent din Europa unde putem reparați sau modificați vehiculul în funcție de dorințele dvs.
Este posibilă montarea de anvelope noi sau uzate la camionul sau remorca dvs., vindem mărcile populare premium, precum și opțiuni bugetare sigure și fiabile.
BAS Parts are peste 100.000 de piese de schimb noi și folosite pe stoc, noi sunt furnizor OEM de Volvo, DAF și Renault
Características
- Altura do chassi: 93

Construção
- Hidráulico
- Ano de construção da superestrutura: 2006
- Capacidade da construção: 7 m3
- Material: steel
- Material do chão

Grua
- Guindaste de capacidade de elevação: 8000
- 360 graus rotativo
- Estabilizadores dianteiros
- Hidraulicamente extensível

Iluminação
- Tipo de farol: halogen

Motor
- Tipo de tomada de força: Flens PTO
- Quantidade de tanques de combustível: 1

Recomendamos que você visualize este veículo diretamente em nosso site para ver detalhes completos do veículo:

- Inspeção detalhada de vídeo em HD
- imagens em 360 graus
- Especificações completas

A BAS Trucks possui um estoque de mais de 1.500 veículos de todas as marcas, tipos, idades e quilometragens.
Este preço de venda é baseado no pagamento integral em 5 dias úteis.

Nossa equipe fala 13 idiomas e estamos abertos 6 dias por semana.
Podemos ajudar na exportação, importação e transporte e transporte da sua compra. Também podemos comprar seus caminhões e reboques atuais.
Oferecemos leasing em 13 países, entre em contato com nossa equipe de vendas e eles encontrarão uma solução adequada para você.
Também temos a maior oficina independente da Europa onde podemos conserte ou modifique seu veículo de acordo com seus desejos.
Também é possível instalar pneus novos ou usados ​​em seu caminhão ou reboque, vendemos as marcas premium populares, além de opções de orçamento seguras e confiáveis.
A BAS Parts possui mais de 100.000 peças de reposição novas e usadas em estoque, nós são fornecedores OEM da Volvo, DAF e Renault
= Więcej opcji i akcesoriów =

Charakterystyka
- Wysokość podwozia: 93

Dźwig
- Dźwig podnośnika: 8000
- Hydraulicznie wysuwany
- Obrót o 360 stopni
- Przednie podpory

Oświetlenie
- Typ reflektorów: halogen

Rozszerzone info
- Hydrauliczny
- Materiał: steel
- Materiał podłogi
- Pojemność nadbudówki: 7 m3
- Rok budowy nadbudowy: 2006

Silnik
- Typ WOM: Flens PTO
- Ilość zbiorników paliwa: 1

= Informacje o przedsiębiorstwie =

Zalecamy zapoznanie się z tym pojazdem bezpośrednio na naszej stronie internetowej, aby zobaczyć PEŁNE dane pojazdu:

- Szczegółowa inspekcja wideo HD
- Zdjęcia 360 stopni
- Pełna specyfikacja

BAS Trucks znajduje się w Veghel w Holandii i ma ponad 1500 pojazdów wszystkich marek, typów, grup wiekowych i przebiegów.
Ta cena sprzedaży jest oparta na pełnej płatności w ciągu 5 dni roboczych.

Nasz zespół mówi w 13 językach i jesteśmy otwarci 6 dni w tygodniu.
Możemy pomóc przy eksporcie, imporcie, wysyłce i transport twojego zakupu. Możemy również kupić twoje obecne ciężarówki i przyczepy.
Oferujemy leasing w 13 krajach, skontaktuj się z naszym zespołem sprzedaży i znajdą rozwiązanie, które będzie pasować do Ciebie.
Mamy również największy niezależny warsztat w Europie, w którym możemy serwisować lub modyfikować swój pojazd według własnych życzeń.
Możliwe jest również dopasowanie nowych lub używanych opon do ciężarówki lub przyczepy, sprzedajemy popularne marki premium, a także bezpieczne i niezawodne opcje budżetowe.
BAS Parts ma ponad 100 000 nowych i używanych części zamiennych w magazynie, my są dostawcami OEM Volvo, DAF i Renault.

= Więcej informacji =

Pędnia: 8JS85E
Wymiary ładowni: 550 x 232 x 55 cm
Żuraw: XCMG SQ8ZK3Q, rok produkcji 2006, z tyłu kabiny
Vi anbefaler deg å se dette kjøretøyet direkte på vår hjemmeside for å se FULL kjøretøysdetaljer:

- Detaljert HD-videoinspeksjon
- 360 graders bilder
- Komplette spesifikasjoner

BAS Trucks har et lager på over 1.500 biler fra alle merker, typer, aldre og kjørelengder.
Denne salgsprisen er basert på en full betaling innen 5 virkedager.

Teamet vårt snakker 13 språk og vi åpnes 6 dager i uken.
Vi kan bistå med eksport, import, frakt , og transport av kjøpet ditt. Vi kan også kjøpe nåværende lastebiler og tilhengere.
Vi tilbyr leasing i 13 land, kontakter vårt salgsteam og de vil finne en løsning som passer for deg.
Vi har også det største uavhengige verkstedet i Europa hvor vi kan service eller endre kjøretøyet ditt etter ønske.
Å montere nye eller brukte dekk på din lastebil eller tilhenger er også mulig, vi selger de populære premiummerkene, i tillegg til trygge og pålitelige budsjettalternativer.
BAS Parts har over 100.000 nye og brukte reservedeler på lager, vi er OEM-leverandør av Volvo, DAF og Renault
= Aanvullende opties en accessoires =
Kenmerken
- Chassishoogte: 93
Kraan
- Hefvermogen kraan: 8000
- 360 graden roteerbaar
- Gestempeld voor
- Hydraulisch uitschuifbaar
Motor
- Type PTO: Flens PTO
- Hoeveelheid brandstoftanks: 1
Opbouw
- Hydrauliek
- Bouwjaar opbouw: 2006
- Capaciteit van de opbouw: 7 m3
- Materiaal: steel
- Materiaal vloer
Verlichting
- Koplamptype: halogen
= Bedrijfsinformatie =
WhatsApp?
show contacts
Bezoek onze website voor:
-Gedetailleerde HD video inspectie
-360 graden fotos
-Complete specificaties
BAS Trucks heeft een voorraad van meer dan 1.500 voertuigen van alle merken, types, leeftijden en kilometrages.
De prijs vermeld is geldig bij betaling binnen 5 dagen.
We zijn 6 dagen per week geopend.
Heeft u hulp nodig bij het exporteren, importeren, of verschepen van uw voertuig? Neem contact op met ons after sales team. Uw huidig voertuig aan ons verkopen is ook mogelijk.
Leasing is bij ons mogelijk in 13 landen. Ook hebben we de grootste onafhankelijke werkplaats in Europa waar we onderhoud en reparaties kunnen verrichten.
Via BAS Tyres kunnen we zowel nieuwe als gebruikte banden leveren van betrouwbare budget merken, als ook premium merken.
BAS Parts heeft meer dan 100.000 nieuwe en gebruikte onderdelen op voorraad, ook zijn we leverancier van Volvo, DAF en Renault.
= Meer informatie =
Transmissie: 8JS85E
Afmetingen laadruimte: 550 x 232 x 55 cm
Kraan: XCMG SQ8ZK3Q, bouwjaar 2006, achter de cabine
Bekleding: Stof
Preporučujemo vam da ovo vozilo pogledate izravno na našoj web stranici kako biste vidjeli PUNE detalje o vozilu:

- Detaljan HD video pregled
- Slike od 360 stupnjeva
- Kompletne specifikacije

BAS Trucks raspolaže sa preko 1.500 vozila svih marki, tipova, dobnih skupina i prijeđenih kilometara.
Ova prodajna cijena temelji se na cjelovitom plaćanju u roku od 5 radnih dana.

Naš tim govori 13 jezika, a otvoreni smo šest dana u tjednu.
Možemo pomoći u izvozu, uvozu, otpremi i prijevoz vaše kupnje. Također možemo kupiti vaše trenutne kamione i prikolice.
Nudimo lizing u 13 zemalja, obratite se našem prodajnom timu i oni će naći rješenje koje odgovara vama.
Također imamo i najveću neovisnu radionicu u Europi gdje možemo servisirati ili modificirati vozilo prema vašim željama.
Moguća je ugradnja novih ili rabljenih guma u vaš kamion ili prikolicu, prodajemo popularne premium marke, kao i sigurne i pouzdane proračunske mogućnosti.
BAS Parts ima na zalihama preko 100 000 novih i rabljenih rezervnih dijelova, OEM dobavljač su Volvo, DAF i Renault
Javasoljuk, hogy tekintse meg ezt a járművet közvetlenül a weboldalunkon, hogy megtekintse a teljes jármű adatait:

- Részletes HD videoellenőrzés
- 360 fokos képek
- Teljes specifikációk

A BAS Trucks több mint 1500 járműből áll, minden márkából, típusból, korból és futásteljesítményből.
Ez az eladási ár egy 5 munkanapon belüli teljes kifizetésen alapul.

Csapatunk 13 nyelven beszél, és heti 6 napon nyitva tartunk.
Segítünk az export, import, szállítás területén. , és a vásárlás szállítását. Megvásárolhatjuk a jelenlegi teherautóit és pótkocsijait is.
13 országban kínálunk lízingt, vegye fel a kapcsolatot értékesítési csapatunkkal, és megtalálja az Ön számára megfelelő megoldást.
Európában van a legnagyobb független műhely is, ahol tudunk szervizelje vagy módosítsa a járművet az Ön igényei szerint.
Új vagy használt gumiabroncsok felszerelése teherautóra vagy pótkocsira is lehetséges, a népszerű prémium márkákat, valamint a biztonságos és megbízható költségvetési lehetőségeket árusítjuk.
A BAS Parts több mint 100 000 új és használt alkatrészt tartalmaz, a Volvo, a DAF és a Renault OEM szállítói
Doporučujeme, abyste si toto vozidlo prohlédli přímo na našich webových stránkách a zobrazili se ÚPLNÉ podrobnosti o vozidle:

- Podrobná HD video kontrola
- 360 stupňů
- Kompletní specifikace

Společnost BAS Trucks má sklad více než 1 500 vozidel všech značek, typů, věku a ujetých kilometrů.
Tato prodejní cena je založena na plné platbě do 5 pracovních dnů.

Náš tým hovoří třinácti jazyky a my jsme otevřeni 6 dní v týdnu.
Můžeme vám pomoci s vývozem, dovozem, odesláním , a přeprava vašeho nákupu. Můžeme také zakoupit vaše současné nákladní automobily a přívěsy.
Nabízíme leasing ve 13 zemích, kontaktujte náš prodejní tým a najdou řešení, které se vám hodí.
Máme také největší nezávislou dílnu v Evropě, kde můžeme opravte nebo upravte své vozidlo podle vašich představ.
Je také možné namontovat nové nebo ojeté pneumatiky na váš kamion nebo přívěs, prodáváme populární prémiové značky a bezpečné a spolehlivé možnosti rozpočtu.
BAS Parts má na skladě více než 100 000 nových a použitých náhradních dílů, my jsou OEM dodavatelem Volvo, DAF a Renault
= Plus d'options et d'accessoires =

Caractéristiques
- Hauteur de châssis: 93

Construction
- Hydraulique
- Année de construction de la superstructure: 2006
- Capacité de la construction: 7 m3
- Matériau du sol
- Matériel: steel

Grue
- Grue de capacité de levage: 8000
- 360 degrés rotatif
- Hydrauliquement extensible
- Stabilisateurs avant

Moteur
- Type de prise de force: Flens PTO
- Quantité de réservoirs de carburant: 1

Éclairage
- Type de phare: halogen

= Information sur la société =

Nous vous recommandons de voir ce véhicule directement sur notre site Web pour voir les détails complets du véhicule:

- Inspection vidéo HD détaillée
- Images à 360 degrés
- Spécifications complètes

BAS Trucks possède un stock de plus de 1 500 véhicules de toutes marques, types, âges et kilométrages.
Ce prix de vente est basé sur un paiement complet dans les 5 jours ouvrables.

Notre équipe parle 13 langues et nous sommes ouverts 6 jours par semaine.
Nous pouvons vous aider à l'exportation, l'importation, l'expédition , et transport de votre achat. Nous pouvons également acheter vos camions et remorques actuels.
Nous proposons la location dans 13 pays, contactez notre équipe de vente et ils trouveront une solution qui vous convient.
Nous avons également le plus grand atelier indépendant en Europe où nous pouvons entretenir ou modifier votre véhicule selon vos envies.
Le montage de pneus neufs ou d'occasion sur votre camion ou votre remorque est également possible, nous vendons les marques premium populaires, ainsi que des options budgétaires sûres et fiables.
BAS Parts a plus de 100 000 pièces de rechange neuves et d'occasion en stock, nous sont fournisseur OEM de Volvo, DAF et Renault.

= Plus d'informations =

Transmission: 8JS85E
Dimensions espace de chargement: 550 x 232 x 55 cm
Grue: XCMG SQ8ZK3Q, année de construction 2006, derrière la cabine
Suosittelemme, että katsot tätä ajoneuvoa suoraan verkkosivustoltamme nähdäksesi täydelliset ajoneuvotiedot:

- yksityiskohtainen HD-videotarkastus
- 360 asteen kuvia
- täydelliset tiedot

BAS Trucksilla on varastossa yli 1 500 ajoneuvoa kaikista merkeistä, tyypeistä, ikistä ja ajokilometreistä.
Tämä myyntihinta perustuu täyteen maksuun 5 työpäivän kuluessa.

Tiimimme puhuu 13 kieltä ja olemme avoinna 6 päivää viikossa.
Voimme auttaa viennissä, tuonnissa ja lähetysissä , ja ostoksesi kuljetus. Voimme ostaa myös nykyiset kuorma-autot ja perävaunut.
Tarjoamme leasing-sopimusta 13 maassa, ota yhteyttä myyntitiimiimme ja he löytävät sinulle sopivan ratkaisun.
Meillä on myös Euroopan suurin riippumaton työpaja, jossa voimme huoltaa tai muokata ajoneuvoasi toiveidesi mukaan.
Uusien tai käytettyjen renkaiden asentaminen kuorma-autoosi tai perävaunuun on myös mahdollista, myymme suosittuja premium-merkkejä sekä turvallisia ja luotettavia budjettivaihtoehtoja.
BAS Parts -yrityksessä on varastossa yli 100 000 uutta ja käytettyä varaosaa, me ovat Volvon, DAF: n ja Renaultin OEM-toimittajia
= Más opciones y accesorios =

Características
- Altura del chasis: 93

Carrocería
- Hydralic
- Año de construcción de la superestructura: 2006
- Capacidad de la carrocería: 7 m3
- Material: steel
- Material del piso

Grúa
- Grúa de capacidad de elevación: 8000
- 360 grados giratorio
- Estabilizadores delanteros
- Extensible hidráulicamente

Iluminación
- Tipo de faro: halogen

Motor
- Tipo de toma de fuerza: Flens PTO
- Cantidad de tanques de combustible: 1

= Información de la empresa =

Recomendamos que vea este vehículo directamente en nuestro sitio web para ver los detalles COMPLETOS del vehículo:

- Inspección detallada de video HD
- Imágenes de 360 ​​grados
- Especificaciones completas

BAS Trucks tiene un stock de más de 1,500 vehículos de todas las marcas, tipos, edades y millajes.
Este precio de venta se basa en un pago completo dentro de los 5 días hábiles.

Nuestro equipo habla 13 idiomas y estamos abiertos 6 días a la semana.
Podemos ayudar con la exportación, importación, envío y transporte de su compra. También podemos comprar sus camiones y remolques actuales.
Ofrecemos arrendamientos en 13 países, póngase en contacto con nuestro equipo de ventas y encontrarán una solución que se adapte a usted.
También tenemos el taller independiente más grande de Europa donde podemos servicio o modificar su vehículo a su gusto.
También es posible instalar neumáticos nuevos o usados ​​en su camión o remolque, vendemos las marcas premium populares, así como opciones de presupuesto seguras y confiables.
BAS Parts tiene más de 100,000 repuestos nuevos y usados ​​en stock, nosotros somos proveedores OEM de Volvo, DAF y Renault.

= Más información =

Transmisión: 8JS85E
Dimensiones espacio de carga: 550 x 232 x 55 cm
Grúa: XCMG SQ8ZK3Q, año de fabricación 2006, detrás de la cabina
Σας συνιστούμε να δείτε αυτό το όχημα απευθείας στον ιστότοπό μας για να δείτε τα πλήρη στοιχεία του οχήματος:

- Λεπτομερής επιθεώρηση βίντεο HD
- Φωτογραφίες 360
- Συμπληρωματικές προδιαγραφές

Η BAS Trucks διαθέτει ένα απόθεμα πάνω από 1.500 οχημάτων από όλες τις μάρκες, τύπους, ηλικίες και χιλιόμετρα.
Αυτή η τιμή πώλησης βασίζεται σε πλήρη πληρωμή εντός 5 εργάσιμων ημερών.

Η ομάδα μας μιλά 13 γλώσσες και ανοίγουμε 6 ημέρες την εβδομάδα
Μπορούμε να βοηθήσουμε με την εξαγωγή, την εισαγωγή, τη ναυτιλία , και τη μεταφορά της αγοράς σας. Μπορούμε επίσης να αγοράσουμε τα τρέχοντα φορτηγά και τα ρυμουλκούμενά σας.
Προσφέρουμε leasing σε 13 χώρες, επικοινωνήστε με την ομάδα πωλήσεών μας και θα βρουν μια λύση που σας ταιριάζει.
Έχουμε επίσης το μεγαλύτερο ανεξάρτητο εργαστήριο στην Ευρώπη όπου μπορούμε την υπηρεσία ή να τροποποιήσετε το όχημά σας σύμφωνα με τις επιθυμίες σας.
Είναι δυνατή η τοποθέτηση καινούργιων ή μεταχειρισμένων ελαστικών στο φορτηγό ή το ρυμουλκούμενο σας, πουλάμε τα δημοφιλή εμπορικά σήματα premium καθώς και ασφαλείς και αξιόπιστες επιλογές προϋπολογισμού.
Η BAS Parts διαθέτει πάνω από 100.000 νέα και μεταχειρισμένα ανταλλακτικά στο απόθεμα, εμείς είναι προμηθευτής OEM της Volvo, της DAF και της Renault
= Flere valgmuligheder og mere tilbehør =

- Halogenforlygter

= Yderligere oplysninger =

Transmission: 8JS85E
Mål for lastrum: 550 x 232 x 55 cm
Kran: XCMG SQ8ZK3Q, produktionsår 2006, bag førerhuset
Indtræk: stof
= Weitere Optionen und Zubehör =

Aufbau
- Hydraulik
- Aufbau Baujahr: 2006
- Kapazität des Aufbau: 7 m3
- Material: steel
- Material des Bodens

Beleuchtung
- Scheinwerfertyp: halogen

Charakteristik
- Fahrgestellhöhe: 93

Kran
- Hubkapazität Kran: 8000
- 360 Grad drehbar
- Frontstabilisatoren
- Hydraulisch ausziehbar

Motor
- Zapfwelle-Typ: Flens PTO
- Kraftstofftanks Menge: 1

= Firmeninformationen =

Wir empfehlen Ihnen, dieses Fahrzeug direkt auf unserer Website anzusehen, um die vollständigen Fahrzeugdetails zu sehen:

- Detaillierte HD-Videoinspektion
- 360-Grad-Bilder
- Vollständige Spezifikationen

BAS Trucks verfügt über einen Bestand von über 1.500 Fahrzeugen aller Marken, Typen, Altersgruppen und Laufleistungen.
Dieser Verkaufspreis basiert auf einer vollständigen Zahlung innerhalb von 5 Arbeitstagen.

Unser Team spricht 13 Sprachen und wir sind 6 Tage die Woche für Sie da.
Wir können Ihnen beim Export, Import und Versand behilflich sein und Transport Ihres Kaufs. Wir können auch Ihre aktuellen LKWs und Anhänger kaufen.
Wir bieten Leasing in 13 Ländern an. Wenden Sie sich an unser Verkaufsteam, um eine für Sie passende Lösung zu finden.
Wir haben auch die größte unabhängige Werkstatt in Europa, wo wir können warten oder modifizieren Sie Ihr Fahrzeug nach Ihren Wünschen.
Es ist auch möglich, neue oder gebrauchte Reifen an Ihrem LKW oder Anhänger zu montieren. Wir verkaufen die beliebten Premium-Marken sowie sichere und zuverlässige Budgetoptionen.
BAS Parts hat über 100.000 neue und gebrauchte Ersatzteile auf Lager sind OEM-Zulieferer von Volvo, DAF und Renault.

= Weitere Informationen =

Getriebe: 8JS85E
Abmessungen des Laderaums: 550 x 232 x 55 cm
Kran: XCMG SQ8ZK3Q, Baujahr 2006, hinter der Kabine
Vi rekommenderar dig att se detta fordon direkt på vår webbplats för att se FULL fordonsdetaljer:

- Detaljerad HD-videokontroll
- 360 graders bilder
- Kompletta specifikationer

BAS Trucks har ett lager på över 1 500 fordon från alla märken, typer, åldrar och körsträckor.
Detta försäljningspris baseras på en full betalning inom 5 arbetsdagar.

Vårt team talar 13 språk och vi öppnas 6 dagar i veckan.
Vi kan hjälpa till med export, import, frakt , och transport av ditt köp. Vi kan också köpa dina nuvarande lastbilar och släpvagnar.
Vi erbjuder leasing i 13 länder, kontakta vårt säljteam så hittar de en lösning som passar för dig.
Vi har också den största oberoende verkstaden i Europa där vi kan service eller ändra ditt fordon efter dina önskemål.
Att montera nya eller begagnade däck på din lastbil eller släp är också möjligt, vi säljer de populära premiummärkena samt säkra och pålitliga budgetalternativ.
BAS Parts har över 100.000 nya och begagnade reservdelar på lager, vi är OEM-leverantör av Volvo, DAF och Renault
Important
This offer is for guidance only. Please request more precise information from the seller.
Safety tips
Seller's contacts
BAS Trucks
Seller with Autoline for 17 years
The phone numbers have been checked
The address has been checked
Netherlands, Noord Brabant, 5466, Veghel, Mac Arthurweg, 2
Seller's local time: 16:40 (CEST)
Selling machinery or vehicles?
You can do it with us!