MAN 33.321 33.000 KG 6 X 2 FULL STEEL flatbed truck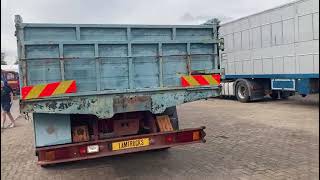 1/22
Model
33.321 33.000 KG 6 X 2 FULL STEEL
First registration
1985-08-22
Location
Netherlands
Veen
Description
Overall dimensions
9.7 m × 2.5 m × 3.2 m
Truck body
Body dimensions
7.3 m × 2.45 m × 0.8 m
Remote inspection
Request an independent technical inspection
Need delivery?
Calculate the cost of delivery
= Additional options and accessories =
- Aluminum fuel tank
- Drawbar coupling
- Heater
- Locking differential
- Sleeper cabin
= Remarks =
MAN
Net price without delivery or export documents
We can arrange transport to the ports
We arrange shipping all over the world
We provide customs documents
we also provide export license plates with insurance
More information
show contacts
Contact Tinie 't Lam
ATTENTION PLEASE CALL BEFORE VISIT
= More information =
Cab: sleep
General condition: good
Technical condition: good
Visual appearance: good
Number of keys: 1
Pезервоар алуминий гориво
- Заключване на диференциала
- нагревател
- спален вагон
- теглич
Hliníková palivová nádrž
- Ohřívač
- Spáč
- Uzamykání diferenciálu
- čelist
= Weitere Optionen und Zubehör =
- Aluminium Kraftstofftank
- Deichsel
- Heizung
- Schläfer
- Sperrdifferential
= Anmerkungen =
MAN
Nettopreis ohne Lieferung oder Export dokumenten
Wir können den Transport zu den Häfen arrangieren
Wir arrangieren den Versand in die ganze Welt
Wir liefern Zolldokumenten
Wir versichern auch Exportkennzeichen mit Versicherung
Wir bitten Sie vor Ihrem Besuch telefonisch Kontakt mit uns aufzunehm
Weitere Informationen
show contacts
= Weitere Informationen =
Kabine: Schlafkabine
Allgemeiner Zustand: gut
Technischer Zustand: gut
Optischer Zustand: gut
Anzahl der Schlüssel: 1
= Flere valgmuligheder og mere tilbehør =

- Aluminiumsbrændstoftank
- Kobling
- Sleeper Cab
- Styret spærredifferentiale
- Varme
- Varmeapparat

= Yderligere oplysninger =

Førerhus: sleeper cab
Overordnet stand: god
Teknisk stand: god
Visuelt udseende: god
Antal nøgler: 1
Θερμάστρα
- δεξαμενή καυσίμων αλουμινίου
- εμπλοκής του διαφορικού
- κρεβάτι
- ράβδου έλξης
= Más opciones y accesorios =
- Barra de tracción
- Bloqueo del diferencial
- Calentador
- Depósito de aluminio
- Durmiente
= Comentarios =
MAN
Precio neto sin documentos de entrega o exportación
Podemos organizar el transporte a los puertos.
Organizamos envíos a todo el mundo
Proporcionamos documentos aduaneros
también proporcionamos placas de exportación con seguro
Póngase en contacto con Tinie 't Lam
POR FAVOR LLAME ANTES DE VISITAR
Más información
show contacts
Contact Tinie 't Lam
GELIEVE BELLEN VOOR BEZOEK
= Más información =
Cabina: litera
Estado general: bueno
Estado técnico: bueno
Estado óptico: bueno
Número de llaves: 1
= Plus d'options et d'accessoires =
- Barre
- Différentiel autobloquant
- Dormeur
- Réchauffeur
- Réservoir de carburant en aluminium
= Remarques =
MAN
Prix net sans documents de livraison ou d'exportation
Nous pouvons organiser le transport vers les ports
Nous organisons l'expédition dans tout la monde
Nous fournissons des documents douaniers
nous fournissons également des plaques d'immatriculation d'exportation avec assurance
Plus d'informations
show contacts
Contact Tinie 't Lam
Veuillez-nous téléphoner pour une visite!
= Plus d'informations =
Cabine: couché
État général: bon
État technique: bon
État optique: bon
Nombre de clés: 1
Grijač
- Ruda za vuču
- Spavač
- Spremnik za gorivo od aluminija
- zaključavanje diferencijal
Alumínium üzemanyagtartály
- Alvó
- Fűtés
- Állkapocs
- Önzáró differenciálmű
Bloccaggio del differenziale
- Cabina letto
- Gancio di traino
- Preriscaldamento elettrico
- Serbatoio in alluminio
= Aanvullende opties en accessoires =
- Aluminium brandstoftank
- Slaapcabine
- Sperdifferentieel
- Standkachel
- Vangmuil
= Bijzonderheden =
MAN
Netto prijs zonder levering of export documenten
Wij kunnen transport regelen naar de havens
Wij regelen verschepen over de hele wereld
Wij verzorgen douane documenten
wij verzorgen ook export kenteken platen met verzekering
Meer informatie
show contacts
Contact Tinie 't Lam
GELIEVE BELLEN VOOR BEZOEK
= Meer informatie =
Cabine: slaap
Algemene staat: goed
Technische staat: goed
Optische staat: goed
Aantal sleutels: 1
= Więcej opcji i akcesoriów =

- Aluminiowy zbiornik paliwa
- Blokada mechanizmu różnicowego
- Ciągło
- Podgrzewacz
- śpiący

= Więcej informacji =

Kabina: sypialna
Stan ogólny: dobrze
Stan techniczny: dobrze
Stan wizualny: dobrze
Liczba kluczyków: 1
Aquecedor
- Barra de tração
- Bloqueio do diferencial
- Dorminhoco
- Tanque de combustível de alumínio
Blocare diferential
- Clevis
- Rezervor de combustibil din aluminiu
- Traversă
- Încălzitor
= Дополнительные опции и оборудование =

- Блокировка дифференциала
- Вангмюль
- алюминиевый топливный бак
- нагреватель
- шпала

= Дополнительная информация =

Кабина: кабина со спальным местом (sleep)
Общее состояние: хорошее
Техническое состояние: хорошее
Внешнее состояние: хорошее
Количество ключей: 1
Diferenciál s riadeným sklzom
- Hliníková palivová nádrž
- Kabína na spanie
- Spojka
- Vyhrievanie vozidla
Alüminyum yakıt deposu
- Araç ısıtıcısı
- Kaplin
- Kontrollü diferansiyel kilidi
- Sleeper cab
Important
This offer is for guidance only. Please request more precise information from the seller.
Safety tips
Seller's contacts
Tinie 't Lam
Languages:
English, German, French, Dutch
Netherlands, Noord Brabant, 4261 AT, Veen, Wielstraat 19
Seller's local time: 11:57 (CET)
Selling machinery or vehicles?
You can do it with us!