The ad KRONE BIG X 600 forage harvester has been sold and is not included in the search!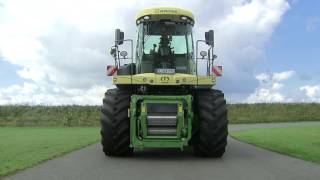 1/19
€230,500
Gross price, VAT – 20%
Year of manufacture
04/2015
Location
Belarus
Minsk
Placed on
more than 1 month
Description
Colour
metallic, metallic
Кормоуборочный комбайн Krone BIG X 600.
VIN KOD - BX928019

Год 2015.
Моточасы 2450 ч.
Двигатель MAN V 8 D2868
Мощность двигателя
459 кВт / 624 л.с.

Скорость движения 40 км / ч

Комплектация:
Кукурузная жатка
Krone EASY 903.
Год 2013.
Кол-во рядов 10.

Подборщик EASYFLOW 300 год 2012

EasyCut Buss-контроль работы навесного оборудования и датчиков комбайна
GPS - навигация

Размеры:
Собственный вес 14,35 т
Задние шины 650/75 R 32
Передние шины 540/65 R 30
Транспортная длина 7,2 м
Транспортная ширина 3 м
Транспортная высота 3.94 м

Группа компаний из Германии "CLIM Group" совместно с "ООО ТехноФермер" торгуют импортной сельхозтехникой на территории Беларуси и СНГ.

Мы подбираем индивидуально и доставим из Германии и Франции: трактора, комбайны, пресс-подборщики, картофелеуборочный комбайны, плуги, сеялки, бороны, погрузчики, косилки, жатки.
Делаем все таможенные оформления, платежи, выдаем ПСМ.
Наши заказчики получают гарантийное и сервисное обслуживание с выездом к заказчику, поставка запчастей.

Если вы хотите повышать качество работы в своем хозяйстве, заказываете John Deere, чья эффективность доказана в 10 странах и 50 регионах России, Беларуси.

Хотите экономить силы и деньги при выборе трактора?
Заказываете оборудование напрямую у дилера в Германии с расширенной гарантией и обслуживанием вашем регионе!