The ad KASSBOHRER STB 38 fuel tank semi-trailer has been sold and is not included in the search!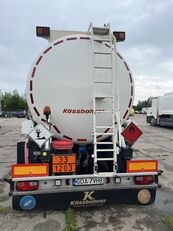 1/22
Type
fuel tank semi-trailer
Year of manufacture
12/2012
First registration
2012-12-04
Location
Poland
Suchy Dąb
Placed on
more than 1 month
Tank transport
Volume of tank compartments
6950 l, 6150 l, 6430 l, 10920 l, 8500 l
Thickness of tanker walls
5 mm
Thickness of the end walls
5 mm
Thickness of partition walls
5 mm
Condition
Technical inspection valid till
2022-10-05
The tanker is in very good technical condition

Distribution system for gasoline and diesel fuel.

Manufacturer of distribution system: Alfons Haar - Hamburg
Type: PreciPURE C 1350
Assembled at the manufacturer.

Dangerous goods approved for transport: according to code-LGBF

Full documentation
TDT protocol, CEOC
Certificate of approval of the vehicle for the carriage of dangerous goods ADR
Legalization of the measuring system

I am the first owner.
Cysterna jest w bardzo dobrym stanie technicznym

Układ dystrybucyjny dla benzyny i oleju napędowego.

Producent: Alfons Haar - Hamburg
Typ: PreciPURE C 1350
Zamontowany u producenta.

Towar dopuszczony do przewozu zgodny z kodem LGBF

Pełna dokumentacja
Protokół TDT, CEOC
Świadectwo ADR
Legalizacja układu pomiarowego

Jestem pierwszym właścicielem.