You may find interesting
Close
New EVERLAST Бензовоз
price on request
New EVERLAST
price on request
New Jeho 99983 Топливоцистерна (битум, дизель, бензин)
price on request
New ALI RIZA USTA БЕНЗОВОЗ
price on request
New ALI RIZA USTA ARU
price on request
BC LDS NCP-37
price on request
New EVERLAST Benzovoz fuel tank trailer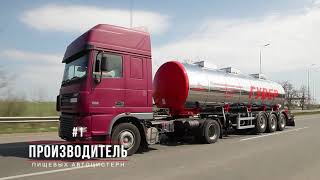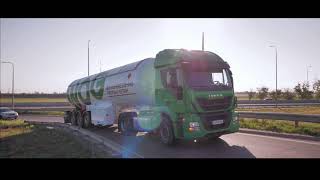 1/11
Location
Ukraine
Odessa
Tank trailer
Volume of tank compartments
9000 l, 6000 l, 5000 l, 8000 l
Thickness of tanker walls
4 mm
Thickness of the end walls
4 mm
Thickness of partition walls
4 mm
Полуприцеп-цистерна для транспортировки ГСМ
На цистерну выдаётся освидетельствование на перевозку опасных грузов и паспорт на сосуд.
- Надежная конструкция;
- Сниженная масса полуприцеп-цистерны;
- Низкий центр тяжести;
- Off-Road подвеска BPW/SAF
ST-EVL – Стальные полуприцеп-цистерны:
- Объем 30 м3;
- Отсеки от 1 до 7;
- Прочная стальная полурама;
- Материал емкости: сталь 09Г2С, 4 мм.
Масса ППЦ 30 м3, 5 секций, оси BPW – 7 500 кг.
AL-EVL – алюминиевые полуприцеп-цистерны:
- Объем от 33 до 36 м3;
- Отсеки от 1 до 6;
- Прочная стальная полурама;
- Материал емкости: алюминий 50830/Н 111, 5 мм.
Масса ППЦ 32 м3, 5 секций, оси SAF – 5 500 кг.
Опции:
- Насос;
- Счетчик;
- Система рекуперации;
- Нижний налив.
Автоцистерны и топливозаправщики:
- объем от 8 до 22 м3;
- в алюминиевом и стальном исполнении;
- шасси заказчика – MAN, DAF, Volvo, Scania ,
Mercedes и др. производителей.
Гарантия производителя - 2 года.
Производство в Украине. Обеспечиваем послегарантийный сервис и ремонт. На цистерну выдаётся освидетельствование на перевозку опасных грузов и паспорт на сосуд.
Для консультации по всем вопросам касательно существующих комплектаций, сроков изготовления, финансирования и др., обращайтесь к нашим специалистам по номеру телефона
show contacts
.
Everlast — завод по производству специализированных автомобильных полуприцепов, прицепов, надстроек на шасси автомобилей для транспортировки светлых и темных нефтепродуктов, газов, а также пищевых и химических продуктов.
• 18 лет на рынке
• Более 1500 реализованных проектов
• Более 300 клиентов по всей Украине, в Африке и странах СНГ
Производство автоцистерн. Объем от 20 до 40 м3, 1-6 секций. Разный уровень комплектации: бюджет, стандарт, премиум. Возможность индивидуальной покраски. При необходимости возможна установка насоса, счётчика, раздаточной колонки. Предоставляется гарантия и сервис.
Important
This offer is for guidance only. Please request more precise information from the seller.
Safety tips
Seller's contacts
Ukraine, Odesa Oblast, 65013, Одесса, ул.Локомотивная 24в
Seller's local time: 09:31 (EEST)
Selling machinery or vehicles?
You can do it with us!