The ad New OKT TRAILER 38.000 L CONICAL TANKER fuel tank trailer has been sold and is not included in the search!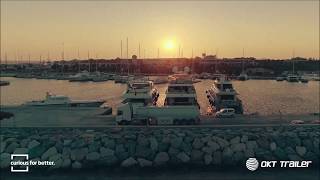 1/9
Model
38.000 L CONICAL TANKER
Location
Turkey
Aydın
Placed on
more than 1 month
Tank trailer
Volume of tank compartments
8250 l, 6500 l, 6250 l, 9750 l, 5750 l
Charismatic and Attractive

While interiorising innovative and creative solutions tailored to the specific needs of our customers as the basic principle of flexible production concept with our own know-how licenses and created technologies, Conical Tanker Semi Trailer that can be filled up from the top and bottom, carry the dangerous goods in accordance with ADR Class 3 appropriate to LGBF tank code and its hierarchy in the single or till seven compartments, discharged by gravity or pump-driven, can be made of carbon, stainless steel and aluminium alloyed materials, with the thicknesses conforms to design calculation, in conical-cylindrical cross section and large volume range according to ADR-EN 13094 regulations, the climate and road conditions of the geographical region it serves; its "Charismatic and Attractive" unique body structure challenges both the roads and years with its technologies and stand while being produced by the longest welding seam technology with minimum number of (T) joints and one-piece plates in the main body structure.
Karizmatik ve Çekici

Müşterilerimizin spesifik ihtiyaçlarına özel, yenilikçi ve yaratıcı çözümler sunmayı esnek üretim anlayışının temel prensibi olarak benimserken kendi know-how lisansımız ve ürettiğimiz teknolojiler ile ADR - EN 13094 mevzuatlarına, hizmet edeceği coğrafi bölge iklim ve yol koşullarına göre karbon, paslanmaz çelik ve alaşımlı alüminyum malzemelerden, tasarım hesaplamalarına uygun kalınlıklarda, konik kesitte, geniş hacim aralığında, üstten - alttan dolum yapılabilen, LGBF tank kodu ve hiyerarşisine uygun ADR Sınıf-3' teki tehlikeli maddeleri tek veya yedi bölmeye kadar taşıyabilen, tahrikli ve akarına boşaltım yapabilen Konik Tanker Semi Treyler; ana gövde yapısında eksiz yekpare levhalardan oluşan en az birleşim (T) noktasıyla ve en uzun kaynak dikiş teknolojisi ile üretilirken duruşuyla Karizmatik ve Çekici olan eşsiz gövde yapısı, teknolojisiyle hem yollara hem yıllara meydan okur.