New HARSAN 57 m3 LPG Transport Tank With Counter Meter System gas tank trailer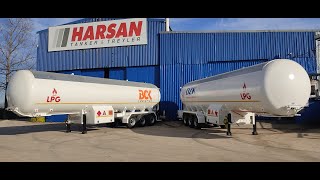 1/10
Model
57 m3 LPG Transport Tank With Counter Meter System
Location
Turkey
Tank transport
Thickness of tanker walls
10 mm
Thickness of the end walls
12 mm
1) TECHNICAL SPECS OF SEMI-TRAILER

CHASSIS Will be made of material with "IPE" type cross-section.
Cross traverses will be in the shape of "I".
All sections will be welded with gas arc welding.
AXLE Local Brand, 3 x 12 ton loading capacity, domestic brand axles.
SUSPENSION SYSTEM Air Suspension
BRAKE SYSTEM Standard type with drum system.
SUPPORT/LIFT LEGS Each one has 24ton bearing capacity.
WHEELS 385/65 R22.5, PETLAS brand, 6 (Spare Optional)
RIMS 11.75 x 22.5, JANTSA brand, 6 (Spare Optional)
FENDERS Made of Steel
KING PIN 2" flanged type. Resistant against stress and rupture.
Made of forged steel. Bolted system and easily detachable.
ELECTRICAL SYSTEM 24V system with standard 7 pole plug conforming to European norms. Signature plate lighting lamps. Signal lamps. Parking, braking and reversing lamps. Side lamps.
There will be some warning stickers on the tank and trailer.
ACCESSORIES 1 pc Cabinet for loading-unloading system.
2 pc Cabinet for Fire Extinguisher
1 pc Bumper
1 pc Water Tank
1 pc Spare Tire Bearer Basket
1 pc Plastic Chock and its port
1 set Anti Solar
Warranty Mechanical parts will be under warranty during 1 year against production defects.
NOTE :


• King-pin height from the ground : 1180 mm
• The distance between axles : 1310 mm




2) TECHNICAL SPECS OF LPG TANK

Brand and Condition Brand: HARSAN Condition: Brand New
Volume 57 m³
Tare Weight (Approx.) 15000 kg
Max. Payload 27132 kg (regarding 85% filling rate)
Diameter 2450 mm
Length 13096 mm
Height 3849 mm
Shell Plate Thickness 10 mm
Dished End Plate Thickness 12 mm
Manhole 16''
Warranty Mechanical parts will be under warranty during 1 year against production defects.

3) DESIGN DATA OF TANK

Design Standard AD 2000 Merkblatt
Tank and Dished End Type Tank Body Type: Horizontal and Cylindrical Dished Ends Type: Ellipsoidal
Design Temperature -20°C / +50°C
Design Pressure 17,5 bar
Material Material Conform to AD 2000
Welding EN 9606-1 and ISO14732 Certified welder and welding operators according to their standards Welding materials conforming to EN ISO 14171 and 14341.
Shell and Caps Welding: SAW or SMAW + SAW
Nozzle Welding' : GTAW or SMAW
Heat Treatment Will be applied to only dished ends.
Painting System Sand blasting according to SIS 05 5900 in SA 2.5 degree.
One layer shop primer anti-corrosion.
One layer epoxy primer. One layer final acrylic paint.

4) INSPECTION

Certificate of Conformity to Resource Quality Requirements Welding Radiographic and ultrasonic examination.
Hydrostatic Test A third party authorized by hydrostatic testing at 24.6 bar.
Leak Test Tested with by HARSAN.

5) ACCESSORIES

1 Pc Hydraulic Operator
1 Pc Hydraulic Valve DN80 PN40
2 Pc Hydraulic Valve DN50 PN40
2 Pc Mono Block Ball Valve DN50 PN40
1 Pc Mono Block Ball Valve DN40 PN40
2 Pc Safety Relief Valve 3'' NPT
1 Pc Rotogauge 1" NPT
1 Pc Drain Valve 1 ¼'' NPT
1 Pc Manometer + Excess Flow Valve
1 Pc Thermometer

6) Certificate

ISO 9001-2015 * HARSAN Certificate of Quality Management System
ISO 3834-2* HARSAN Certificate of Conformity to Resource Quality Requirements
EN 10204 / 3.1 *Certificate of Pressure Vessel Material
Certificate of Ultrasonic and Radiographic İnspection.
Certificate of Hydrostatic Test.
EN 9606-1 * Certificate of Welding
ISO14732 * Certificate of Welding Operator
Certificate of Accessories
Important
This offer is for guidance only. Please request more precise information from the seller.
Safety tips
Seller's contacts
Ömer Mican
Languages:
English, Turkish, French, Arabic
Ali Moussa Djibrine
Languages:
English, French, Turkish
Turkey, Sanayi Mah. Meşale Sok. No: 17 İzmit
Seller's local time: 16:40 (+03)
Selling machinery or vehicles?
You can do it with us!