New GURLESENYIL inloader semi trailers glass transport semi-trailer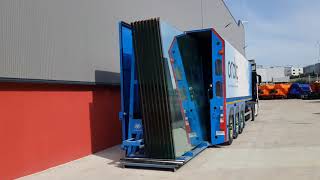 1/26
Model
inloader semi trailers
Type
glass transport semi-trailer
Location
Turkey
Mah. Sincan - Ankara
Need delivery?
Calculate the cost of delivery
Подходящие для работ по погрузке и разгрузке стеклянных или бетонных элементов, полуприцепы Inloader представляют собой анализаторы и практичные добавки, предназначенные для использования людьми, выполняющими перевозки. Прицепы - это части, которые соединяют заднюю часть автомобилей и выполняют нагрузку. Они производятся из разных материалов в зависимости от функций, которые они будут использовать. Предлагаются модели полуприцепов, изготовленные из разных материалов, для разных работ из разных материалов. Прицепы - это немоторизованные надстройки, используемые позади автомобилей. В зависимости от типа, для которого они предназначены, они могут использоваться для панелей из бетона или для транспортировки стеклянных изделий.
Каковы преимущества использования трейлеров?
Прицепы, являющиеся неотъемлемой частью грузовых перевозок, делятся на три класса: полные прицепы, полуприцепы. Полностью загруженные прицепы называются полностью загруженными системами прицепов, а прицепы, которые разделяют большую часть груза с тягачом, называются полуприцепами. сборные железобетонные элементы. Полуприцеп Gt стремится обеспечить другую перспективу и качество транспортировки, реализуя конструкции и производство прицепов в формах, подходящих для потребностей клиентов. Теперь вы можете упростить себе жизнь с помощью соответствующих решений в системах прицепов, которые незаменимы при строительных и транспортных работах.
Каковы технические характеристики полуприцепа загрузчика?
Технические характеристики полуприцепа Inloader, который часто предпочитают при перевозке плоских стеклянных или бетонных элементов, можно перечислить следующим образом:
Низкий вес (меньший вес прицепа дает больше возможностей для перевозки груза).
Больше возможностей погрузки и разгрузки за короткое время
Использование передовых технологических компонентов для удобства использования
Простая загрузка и разгрузка благодаря дизайну деталей
Высокая степень эксплуатационной безопасности
Полуприцеп Gt отдает предпочтение большому внутреннему объему и защите в конструкции полуприцепа. Благодаря прочному материалу, использованному в конструкции, вы можете безопасно использовать полуприцеп Inloader в течение многих лет. Вы получите привилегии легкой транспортировки и комфорта с полуприцепами, изготовленными с использованием всех элементов технологии. Полуприцеп, который вы будете использовать в течение многих лет, вместе с полуприцепом GT ускорит вашу работу, а ваш профессиональный выбор сделает вас профессиональным выбором.
За более подробной информацией и комфортными впечатлениями вы можете обратиться к нашему продавцу Эльбаю Мурадову. При желании вы можете связаться по телефону (
show contacts
).
Suitable for glass or concerete elements loading & unloading work, Inloader semi-trailer types are analyzer and practical additive products designed for the use of individuals doing transportation. Trailers are parts that connect the rear of the vehicles and carry out the load carrying action. They are produced from different materials according to the functions they will be used. Semi-trailer models produced from different materials are offered for use in different jobs according to different materials. Trailers are non-motorized add-on structures used behind motor vehicles. Depending on the type they are designed for, they can be used for concerete panels or glass product transportation functions.
What are the Advantages of Using Trailers?
Trailers, which are indispensable parts of freight transportation, are divided into three classes as full trailers, semi trailers. Trailers that are fully loaded are called the full trailer system, while trailers that share a large part of the load with the towing vehicle are called semi-trailers.. Inloader semi trailer type is a preferred type of trailer for the transportation of float glass or precast concrete elements. Gt semitrailer aims to provide a different perspective and quality to transportation by realizing the trailer designs and productions in forms suitable for the customers' needs. It is now possible for you to make things easier with the appropriate solutions in the trailer systems, which are indispensable for construction and transportation works.
What are Inloader Semi Trailer Specifications?
Technical characteristics of the Inloader semi-trailer product, which is often preferred in the transportation of flat glass or concrete elements, can be listed as follows:
Low weight feature (Less weight of the trailer provides more load carrying opportunity.)
More loading & unloading opportunities in short time
Use of advanced technological components for easy use
Easy loading and unloading with the design of the parts
High operational safety privilege
Gt semitrailer prioritizes wide interior volume and protection in semi-trailer designs. With the durable material used in the designs, you can safely use your Inloader semi-trailer for many years. You will have the privileges of easy transportation and comfort with semi-trailers produced by utilizing all the elements of technology. Together with the GT semitrailer, the semi-trailer that you will use for many years will accelerate your work and your professional choice will make you a professional choice.
For more detailed information and comfort experience, you can contact our sales Elbay Muradov . If you wish, you can reach via the phone number (
show contacts
, and you can request a quote for the products by providing communication via the website.
Important
This offer is for guidance only. Please request more precise information from the seller.
Safety tips
Seller's contacts
Ahmed Barakat
Languages:
English, Turkish, Arabic
Turkey, Central Anatolia, Mah. Sincan - Ankara, ASO2. OSB 2031.Cadde No:32 Alci
Seller's local time: 04:29 (+03)
Selling machinery or vehicles?
You can do it with us!