Condition
Technical inspection valid till
2022-02
Need delivery?
Calculate the shipment price to your country
Important
This offer is for guidance only. Please request more precise information from the seller.
Safety tips
Seller's contacts
China, Shanghai, NO. 2700 Fanghe Rd
Seller's local time: 11:57 (CST)
Product description
Offer from "TAIHE MACHINERY TRADE CO.,LIMITED" company on the Autoline marketplace:
CATERPILLAR 140K grader, used, manufactured in 2016, running hours 1200 m/h, price: $70,000 (Net price), colour - yellow.
The seller can be contacted via email, Skype, whatsapp or by phone. Feel free to ask the seller any questions about anything concerning the purchase, payment, and delivery.
Grader is located at the following address: China, Shanghai, NO. 2700 Fanghe Rd .
Any grader parts are also for sale: hydraulic pumps, hydraulic cylinders, engines, sensors, gearboxes.
Similar ads
$70,000
year: 04/2016
mileage: 500 m/h
China, Shanghai
$68,000
year: 02/2014
mileage: 1600 m/h
China, Shanghai
$60,000
year: 2016
mileage: 1500 m/h
power: 165 HP
euro: Euro 4
China, Shanghai, Jiuting
$58,000
year: 10/2016
mileage: 1500 m/h
speed: 55 km/h
China, Shanghai
$58,000
year: 01/2016
mileage: 2300 m/h
speed: 46.6 km/h
China, Shanghai
$59,000
year: 09/2016
mileage: 2500 m/h
speed: 55 km/h
China, Shanghai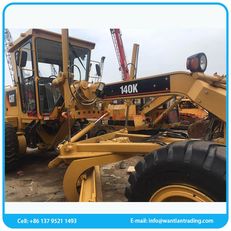 $58,500
year: 10/2016
mileage: 2500 m/h
speed: 55 km/h
China, Shanghai
POA
year: 03/2016
mileage: 580 m/h
China, Shanghai