MAN TGL 12.220 City hook lift truck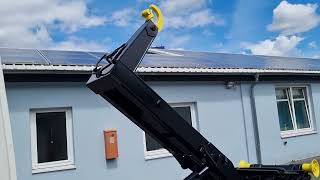 1/33
First registration
2012-12
Location
Germany
Bad Salzuflen
Placed on
more than 1 month
Truck body
Body dimensions
length - 4 m, width - 2.2 m
Cabin
Cruise control (tempomat)
Remote inspection
Request an independent technical inspection
Need delivery?
Calculate the cost of delivery
Condition
Technical inspection valid till
2022-12
Kugelkopfkupplung Anhängelast: 3500kg
zul.Gesamtgewicht: 11990kg
auf unserer Homepage unter:
show contacts
https: //youtu.be/-0E-pL69x2I ... Klima
Fahrerhaus: Nahverk
Vorbesitzer: 2
Feinstaubplakette: 4
a/c: automatic a/c
cab: local distance
hydraulic system: dumper
delivery date: 31.05.2022
hsn: 1516
interior color: grey
interior type: fabric
previous owners: 2
country-version: DE
number of doors: 2
Farbe: weiss
Baujahr: 0000
sofort verfügbar
MAN TGL 12.220 LKW f. Kippmulden mit Abrollvorrichtung
Schaltgetriebe
3 x Sitze (Mittelsitz m. 2 Punkt Gurt)
Motorbremse mit Tempomat
Nebenantrieb
Rückscheinwerfer
Anhängerkupplung Maul mit Druckluft Anhängelast 12633kg
Kabine in weiss RAL 9010
Abrollkipperaufbau für Container bis 4
0m
Hub/Kippkapazität 8000kg
Hakenhöhe 900mm (City DIN 30722)
mechanische Hakensicherung
hydr. Knickarm
hydr. Containerverriegelung
Kabelfernbedienung
Bedienung am Gerät
Not-Aus Funktion
CE Zertifikat
Lackierung Abrollkippaufbau Schwarz RAL 9005
Rollen Gelb RAL 1018
große Staukiste
Hydraulikanschluss für Kippanhänger optional für 1000 Euro zzgl. MwSt möglich
Irrtum und Zwischenverkauf vorbehalten!
Mehr Info
weitere XXL Bilder
Anfahrtsbeschreibung
For inquiries in English please call 00491727525031
Mwst ausweisbar
elektr. WFS
Anhaengerk
Nebelscheinw
Sperrdiff
Außentemperaturanz
Colorvergl
luftgef. Fahrerh
luftgef. Fahrersitz
Arbeitsscheinw
Kipphydraulik
Diesel
Heckantrieb
HSN 1516
Grün
tuner
roadworthy
Important
This offer is for guidance only. Please request more precise information from the seller.
Safety tips
Seller's contacts
Germany, Nordrhein-Westfalen, 32107, Bad Salzuflen, Meerbrede 9
Seller's local time: 17:16 (CEST)
Selling machinery or vehicles?
You can do it with us!