The ad SCANIA R 114 GB6X2 380Hp MEILER Aufbau mit Container hook lift truck has been sold and is not included in the search!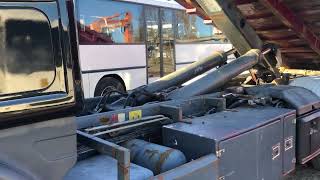 1/25
Model
R 114 GB6X2 380Hp MEILER Aufbau mit Container
Year of manufacture
05/2000
First registration
2000-05
Location
Germany
Hamburg
Placed on
more than 1 month
Description
Overall dimensions
length - 8.78 m, width - 2.5 m
Cabin
Cruise control (tempomat)
Electrically operated mirrors
Condition
Technical inspection valid till
2023-05-28
Youtube Video-Link: https://youtu.be/IIu4yz-xUfA

Kupplungsschaden: Drehkranz
Hydrauliksystem Fehlerhaft!

Aufbauhersteller: Meiler

Vorrichtung für Anhängerkupplung mit Anschlüssen und Hydraulik 
Hydraulik (Nebenantrieb) 
Getriebe : Schalt Getriebe 
Schadstoffklasse : Euro 3 
Dachluke
Radio/Cassete/CD 
Klima 
lärmarm 
großer Tank 
Klimaanlage 
Sonnenblende
Motorbremse/Retarder/Intarder
1x Liegen 
1x Staukasten 
Aluminium-Kraftstofftank 
Elektrische Fensterheber 
Elektrisch verstellbare Außenspiegel 
Fernbediente Zentralverriegelung 

Radformel : 6x2
Differentialsperre 
Radstand Achse 1 und 2: 4500mm 
Radstand Achse 2 und 3: 1360 mm
Reifengröße Achse1 (vorne):385/ 65R22,5
Reifengröße Achse2 (hinten): 315 / 80R22,5 
Reifengröße Achse3 (hinten): 385/ 65R22,5
Blattfederung / Luftfederung / Luftfederung 
Radabdeckung 

Leergewicht: 11.490 kg 
Nutzlast/Zuladung: 15.510 kg
Zulässige Gesamtgewicht: 27.000 kg 

Maßen: Länge: 8870mm, Breite: 2500 mm 

Kupplungsschaden: Drehkranz
Hydrauliksystem Fehlerhaft!

Haftungsausschluss: 

Änderungen, Zwischenverkauf und Irrtümer vorbehalten 

We can ship Your vehicle directly from to the port of Hamburg, Kiel or L¸beck/Germany, to the port of Antwerp/Belgium, to the port of Bremerhaven/ Cuxhaven or to other destinations in the World. You Can Whatsapp or Telegram on: 0049176-21440559 
TüV auf Wunsch nach Absprache NEU /  Exportkennzeichen auf Wunsch.