MGC CENTRUM SAMOCHODOW DOSTAWCZYCH
In stock: 63 ads
13 years at Autoline
27 years on the market
SCANIA R470 hook lift truck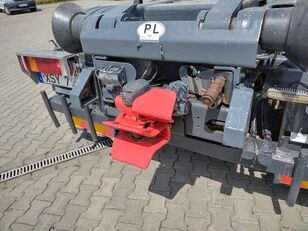 1/25
Location
Poland
ŁAZISKA GÓRNE
Purchase on credit is possible
Engine
Fuel consumption
25 l/100km
Need delivery?
Calculate the cost of delivery
Cabin
Electrically operated mirrors
Máte otázky a neumíte jazyk? Zavolejte našemu kolegovi panu Frantovi z Karviné, řekněte mu co je to za auto od MGC a on nám bude dávat dotazy, tel:
show contacts
Sie haben Fragen und kennen die Sprache nicht? Rufen Sie unseren Verkäufer Herrn Wojtek an, der alle Fragen zum Kauf oder Transport beantwortet, Tel:
show contacts
(vorzugsweise Wats Up)
Προσφέρουμε ένα Sasanke με δυνατό γάντζο, πρόσφατα αγορασμένο στη Σουηδία και ήδη φερμένο στην Πολωνία.
Η τιμή εμφανίζεται με όλα τα τέλη εγγραφής.
Δυνατότητα διευθέτησης UDT + 1.500 PLN.
Το αμάξι είναι όμορφα ανακαινισμένο, αμμοβολή και βαμμένο.Πλαίσιο.
Τα υδραυλικά επισκευάστηκαν (αντικαταστάθηκαν μερικά συρτάρια)
Μάρκα: Scania
Μοντέλο: R470LB6X2HHZ
Οδήγηση: 6Χ2
Έτος μοντέλου: 2007
Έτος κατασκευής του οχήματος: 2006/10
Αριθμός πλαισίου: YS2R6X20002019664
Χιλιόμετρα: 734449
Ισχύς κινητήρα: 345 kW / 469 hp
Καύσιμο: καύσιμο ντίζελ
Κοτσαδόρος
Κιβώτιο ταχυτήτων: χειροκίνητο με μισές ταχύτητες
Περιβαλλοντική κατηγορία: Euro 4
Μέτρα:
Φορτίο επί πληρωμή. (kg) 14590
Συνολικό βάρος (kg): 27.000
Απόβαρο 12.410 κιλά
Αποσυναρμολογούμενο: Hiab Multilift 20 τόνων.
Εξοπλισμένος με:
- ΜΕΤΑ ΧΡΙΣΤΟΝ
- Κεντρικό κλείδωμα
- βοηθητική θέρμανση
Καμπίνα ύπνου με κρεβάτι
Ραδιόφωνο
Ο τρίτος άξονας ανυψώνεται
Εκτροπείς οροφής
Ηλιοροφή,
Cruise control
Πνευματικό + ηλεκτρικό + θερμαινόμενο κάθισμα οδηγού
Ηλεκτρικά: παράθυρα + προβολείς + καθρέφτες
Κλειδαριά γέφυρας
Μεταπωλητής
Σημείωση στους εισαγωγείς!
Όλες οι πληροφορίες στα ελληνικά θα παρέχονται από τον εκπρόσωπο μας Radek. τηλέφωνο
show contacts
- καλέστε το Whatts Up
Η μεταφορά με αυτοκίνητο στο λιμάνι του Αμβούργου / Bremenhaven κοστίζει + € 800.
Η μεταφορά στο λιμάνι του Gdańsk / Gdynia κοστίζει περίπου + € 400
Η ΠΑΡΟΥΣΑ ΑΝΑΚΟΙΝΩΣΗ ΕΙΝΑΙ ΜΟΝΟ ΓΙΑ ΕΝΗΜΕΡΩΣΗ ΚΑΙ ΔΕΝ ΑΠΟΤΕΛΕΙ ΠΡΟΣΦΟΡΑ ΜΕ ΤΗΝ ΕΝΝΟΙΑ ΤΗΣ ΤΕΧΝΗΣ. 66, § 1 ΑΣΤΙΚΟΣ ΚΩΔ. Η ΕΤΑΙΡΕΙΑ ΜΑΣ ΔΕΝ ΦΕΡΕΙ ΕΥΘΥΝΗ ΓΙΑ ΜΙΚΡΟΥΣ ΛΑΘΗ ΚΑΙ ΕΛΕΙΠΙΣΤΕΣ ΠΛΗΡΟΦΟΡΙΕΣ ΠΟΥ ΠΕΡΙΕΧΟΝΤΑΙ ΣΤΗ ΔΙΑΦΗΜΙΣΗ Ή ΟΤΑΝ Η ΔΙΑΦΗΜΙΣΗ ΕΙΝΑΙ ΜΗ ΔΙΑΘΕΣΙΜΗ.
Offriamo un Sasanke con un gancio robusto, appena acquistato in Svezia e già portato in Polonia.
Prezzo indicato con tutte le tasse di registrazione.
Possibilità di concordare UDT + PLN 1.500.
L'auto è ben restaurata, sabbiata e verniciata.Telaio.
Idraulica revisionata (sostituiti alcuni cassetti)
Marca: Scania
Modello: R470LB6X2HZ
Guida: 6X2
Anno modello: 2007
Anno di fabbricazione del veicolo: 2006/10
Numero di telaio: YS2R6X20002019664
Chilometraggio: 734449
Potenza del motore: 345 kW / 469 CV
Carburante: gasolio
Gancio di traino
Cambio: manuale con mezze marce
Classe ambientale: Euro 4
Le misure:
Carico utile. (kg) 14590
Peso totale (kg): 27.000
Peso a vuoto 12.410 kg
Smontabile: Hiab Multilift 20 ton.
Dotate:
- CORRENTE ALTERNATA
- Chiusura centralizzata
- riscaldamento ausiliario
Una cabina letto con un letto
Radio
Il terzo asse è sollevato
Deflettori del tetto
tetto apribile,
Regolazione automatica della velocità
Sedile di guida pneumatico + elettrico + riscaldato
Azionamento elettrico: finestrini + fari + specchietti
Blocco del ponte
Rivenditore
Nota per gli importatori!
Nota - contatto in italiano con il Sig. Pietro
show contacts
preferibilmente tramite Whatts Up
Costo trasporto auto fino al porto di Amburgo/Bremenhaven + € 800.
Il trasporto al porto di Danzica / Gdynia costa circa + € 400
IL PRESENTE ANNUNCIO HA SOLO INFORMATIVA E NON COSTITUISCE OFFERTA AI SENSI DELL'ART. 66, § 1, del CODICE CIVILE. LA NOSTRA AZIENDA NON SARÀ RESPONSABILE PER ERRORI MINORI E INFORMAZIONI INCOMPLETE CONTENUTE NELLA PUBBLICITÀ O QUANDO LA PUBBLICITÀ NON È DISPONIBILE.
Mamy do zaoferowania świeżo kupioną w Szwecji i już ściągniętą do Polski Sasanke z mocnym haczykiem .
Podana cena ze wszelkimi opłatami do rejestracji .
Możliwość załatwienia UDT +1500 złotych .
Auto ładnie odnowione , wypiaskowana i pomalowana Rama .
Hydraulika po przeglądzie ( wymienione kilka szlaufów)

Marka: Scania
Model: R470LB6X2HHZ
Napęd : 6X2
Rok modelowy: 2007
Rok wyprodukowania pojazdu: 2006/10
Numer podwozia : YS2R6X20002019664
Przebieg km: 734449
Moc silnika: 345 kW / 469 KM

Paliwo: olej napędowy
Hak holowniczy
Skrzynia biegów: ręczna z połówkami
Klasa środowiskowa: Euro 4

Miary :
Ładowność . (kg) 14590
Waga całkowita (kg): 27000
Masa własna 12410 kg
Demontowalny: Hiab Multilift 20 ton.

Wyposażony w:
- AC
- Centralny zamek
-ogrzewanie postojowe
Kabina Sypialna z łóżkiem
Radioodtwarzacz
Trzecia oś dźwigana
Owiewki dachowe
Szyberdach,
Tempomat
Fotel kierowcy pneumatyczny +elektrycznie sterowany + podgrzewany
Elektrycznie sterowane : szyby + reflektory+ lusterka
Blokada mostu
Retrader

Uwaga dla importerów !

Transport samochodu do portu w Hamburg/Bremenhaven koszt + 800€.
Transport do portu Gdańsk/Gdynia koszt około + 400€
NINIEJSZE OGŁOSZENIE MA CHARAKTER JEDYNIE INFORMACYJNY I NIE STANOWI OFERTY W MYŚL ART. 66, § 1. KODEKSU CYWILNEGO. NASZA FIRMA NIE PONOSI ODPOWIEDZIALNOŚCI ZA DROBNE BŁĘDY ORAZ ZAWARTE W OGŁOSZENIU NIEKOMPLETNE INFORMACJE LUB NIEAKTUALNOŚĆ OGŁOSZENIA.
Oferim un Sasanke cu un cârlig puternic, proaspăt cumpărat în Suedia și adus deja în Polonia.
Prețul afișat cu toate taxele de înregistrare.
Posibilitatea de a aranja UDT + 1.500 PLN.
Masina este frumos restaurata, sablata si vopsita.Cadru.
Sistem hidraulic revizuit (inlocuite cateva sertare)
Marca: Scania
Model: R470LB6X2HHZ
Unitate: 6X2
Anul modelului: 2007
Anul fabricatiei vehiculului: 2006/10
Număr șasiu: YS2R6X20002019664
Kilometraj: 734449
Putere motor: 345 kW / 469 CP
Combustibil: motorină
Bara de tractare
Cutie de viteze: manuala cu jumatate de viteze
Clasa de mediu: Euro 4
Masuri:
Încărcătură utilă. (kg) 14590
Greutate totală (kg): 27.000
Greutate proprie 12.410 kg
Demontabil: Hiab Multilift 20 tone.
Echipat cu:
- AC
- Închidere centralizată
- incalzire auxiliara
O cabină de dormit cu pat
Radio
A treia axă este ridicată
Deflectoare de acoperiș
trapa,
Cruise control
Pneumatic + acționat electric + scaun șofer încălzit
Acționat electric: geamuri + faruri + oglinzi
Blocare pod
Retrader
Notă importatorilor!
Toate informatiile in limba romana vor fi furnizate de reprezentantul nostru Marius din Ploesti.
telefon
show contacts
, sună Whatsapp
Transportul cu mașina la portul Hamburg / Bremenhaven costă + 800 €.
Transportul către portul Gdańsk / Gdynia costă aproximativ + 400 EUR
ACEST ANUNȚ ESTE NUMAI INFORMATIV ȘI NU CONSTITUIE O OFERTĂ ÎN ÎNTENSEA ART. 66, § 1 COD CIVIL. COMPANIA NOASTRĂ NU VA FI RESPONSABILĂ PENTRU ERORI MINORE ȘI INFORMAȚII INCOMPLETE CONȚINUTE ÎN PUBLICITATE SAU CÂND CÂND ANUNȚUL ESTE INDISPONIBIL.
Пропонуємо Сасанке з міцним гачком, щойно куплену в Швеції і вже привезену в Польщу.
Ціна вказана з усіма реєстраційними зборами.
Можливість оформити UDT + 1500 зл.
Автомобіль гарно відреставрований, піскоструминний та пофарбований.Рама.
Капітальний ремонт гідравліки (замінено кілька ящиків)
Марка: Scania
Модель: R470LB6X2HHZ
Привід: 6X2
Модельний рік: 2007
Рік випуску автомобіля: 2006/10
Номер шасі: YS2R6X20002019664
Пробіг: 734449
Потужність двигуна: 345 кВт / 469 к.с
Паливо: дизельне паливо
Фаркоп
Коробка передач: механічна з напівпередачею
Екологічний клас: Євро 4
Заходи:
Корисне навантаження. (кг) 14590
Загальна вага (кг): 27 000
Споряджена маса 12 410 кг
Розбірний: Hiab Multilift 20 тонн.
Оснащений:
- AC
- Центральний замок
- допоміжне опалення
Спальна кабіна з ліжком
Радіо
Третя вісь піднята
Дефлектори даху
люк,
Круіз контроль
Пневматичний + електропривод + підігрів водійського сидіння
Електропривод: вікна + фари + дзеркала
Містовий замок
Ретрейдер
Імпортерам на замітку!
Автотранспорт до порту Гамбург/Бременгафен коштує + €800.
Транспорт до порту Гданськ/Гдиня коштує приблизно + 400 євро
ЦЕ ОГОЛОШЕННЯ ДЛЯ ІНФОРМАЦІЇ І НЕ ЯВЛЯЄ ПРОПОЗИЦІЮ У ЗНАЧЕННІ СТ. 66, § 1 ЦК. НАША КОМПАНІЯ НЕ НЕСЕ ВІДПОВІДАЛЬНОСТІ ЗА ДРЕБНІ ПОМИЛКИ ТА НЕПОВНУ ІНФОРМАЦІЮ, ЩО МІСТИТЬСЯ В РЕКЛАМІ, АБО ЗА НЕДОСТУПНІСТЬ ОГОЛОШЕННЯ.
Всю інформацію пан Маріуш надасть за телефоном
show contacts
, ​​також у WhatsApp
Important
This offer is for guidance only. Please request more precise information from the seller.
Safety tips
Seller's contacts
Mariusz Gruchel
właściciel
Languages:
English, Russian, Polish
Poland, Silesian, 43-170, ŁAZISKA GÓRNE, ul. HUTNICZA 6
Seller's local time: 05:55 (CEST)
Selling machinery or vehicles?
You can do it with us!
Similar ads
MAN TGL 8.180
€20,900
Hook lift truck
2014
287480 km
Poland, ŁAZISKA GÓRNE
RENAULT Premium DXI 430 EEV
€29,890
Hook lift truck
2012
804040 km
Poland, ŁAZISKA GÓRNE