You may find interesting
Close
RENAULT Master
€33,500
RENAULT Master
€32,600
New OPEL Movano
€35,710
New RENAULT Master
€51,130
RENAULT master veewagen 160pk airco
€17,500
IVECO Isuzu Horse transport
€94,500
PEUGEOT Boxer horse transporter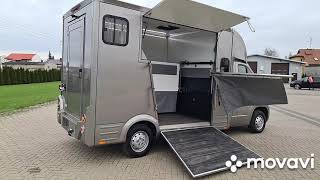 1/30
Engine
Fuel consumption
8.5 l/100km
Cabin
Cruise control (tempomat)
Electrically operated mirrors
Condition
Technical inspection valid till
2022-04-13
W niniejszym ogłoszeniu chcemy zaoferować państwu auto:
PEUGEOT BOXER- NOWA ZABUDOWA- KONIOWÓZ
Nowa Zabudowa !!!
Gwarancja na zabudowę 12 - miesięcy
Gwarancja na auto 15- miesięcy
Dane techniczne oferowanego pojazdu :
Silnik : 2,0 DIESEL (163km)
Napęd : Przedni
Przebieg : 90487 KM
Rok produkcji : 2017
Auto Zarejestrowane!
Wyposażenie :
Auto z przebiegiem tylko 90487tys Km.
Nowa zabudowa 12msc gwarancji !!!
Auto zadbane i nie zniszczone!!!
Stanowiska na 2 konie
Klimatyzacja
1, Kamera Cofania, 2 Kamera na Stanowiska
Ładowność Ponad 840 kg
Dopuszczalna Masa Całkowita 3,3t.
Elektryczne szyby
Elektryczne lusterka
Światła LED
ABS
Kontrola trakcji
Hak
** SZCZEGÓŁOWY OPIS**
- Kolor stalowy metalic !!!
- Zestaw akcesoriów dla obsługi przy zwierzęciu
- Kamera z podglądem na widok stanowisk
- Drzwi tylne jednoskrzydłowe;
- Rampa boczna z mechanizmem balastującym pokryta matą antypoślizgową;
- Pokrywa nad rampą otwierana do góry;
- Wylewka gumowa w części dla koni i sprzętu;
-.Duża przegroda przed piersią koni;
- Polerowana rura kwasoodporna fi 60, za zadami koni;
-.Guma na ścianach, zbrojona do wysokości 1000mm;
-.Ściany wzmocnione sklejką wodoodporną;
- Uchwyty na ścianach;
- Wentylator w przedziale dla koni sterowane z kabiny kierowcy, 1 sztuka;
- Szyberdach manualny regulowany w 4 płaszczyznach w przedziale dla koni, 1 sztuka;
- Oświetlenie boczne trapu LED;
- Oświetlenie wewnętrzne LED;
- Tylne światła w technologii LED;
- Hak holowniczy;
-.Dodatkowa płyta dla ogierów;
- Haczyki na siano;
Tylni stopień ułatwiający wchodzenie do zabudowy plus lampa oświetlająca LED;
Każde nasze auto jest po przeglądzie i obsłudze technicznej- (wymianie filtrów, olejów i wszystkich niezbędnych płynów, żeby każdy klient mógł bezpośrednio od nas ruszyć w drogę, bez kosztów na najbliższe zawody)
Na życzenie klienta możliwość montażu zawieszenia pneumatycznego za dopłatą...
NIE POSIADASZ CAŁEJ KWOTY NA WYMARZONY LUB NIEZBĘDNY SAMOCHÓD
KREDYT LUB LEASING, FINANSOWANIE POD NR TEL:
show contacts
lub 600-450-793
Pojazdy Sprowadzamy osobiście i przed zakupem poddajemy je dokładnym oględzinom, a wychodząc naprzeciw państwa oczekiwania, przyjmujemy wasze auta w ROZLICZENIU.
Wystawiamy fakturę co zwalnia nabywcę z podatku (2%) w Urzędzie Skarbowym !!!
Auto w 100% przygotowane do rejestracji, wszystkie formalności zredukowane do minimum
Możliwość sprawdzenia auta na stacji diagnostycznej
Klient odjeżdża ubezpieczonym autem na kołach
WSZYSTKIE NASZE POWYŻSZE INFORMACJE SĄ W PEŁNI PRAWDZIWE
CO POTWIERDZA CERTYFIKAT RZETELNOŚCI ZAMIESZCZONY
W KRAJOWYM REJESTRZE DŁUGÓW
ZADZWOŃ DO NAS, JESTEŚMY TUTAJ DLA CIEBIE.
Przed przyjazdem upewnij się telefonicznie czy oferta jest nadal aktualna!
NASZA FIRMA ZNAJDUJE SIĘ PRZY TRASIE NR 60 - KIERUNEK KUTNO - ŁĘCZYCA !!!
Z A P R A S Z A M Y C O D Z I E N N I E
* Zastrzegamy sobie prawo do kopiowania treści naszych ogłoszeń i przetwarzania ich osobom
trzecim oraz innym firmom konkurencyjnym
* Niniejsze ogłoszenie jest wyłącznie informacją handlową
* Sprzedający nie odpowiada za ewentualne błędy lub nieaktualność ogłoszenia
Important
This offer is for guidance only. Please request more precise information from the seller.
Safety tips
Seller's contacts
Seller's local time: 21:07 (CEST)
Selling machinery or vehicles?
You can do it with us!