You may find interesting
Close
New NIEWIADOW N126NN
€7,550
New NIEWIADOW N126NT
€7,790
New NIEWIADOW N126NTL
€8,200
New Przyczepa Kenpingowa
€9,714
New NIEWIADOW N126et
€7,180
New NIEWIADOW N126N
€7,290
MERCEDES-BENZ VARIO 613D,Stan Bardzo dobry,2 sztuki,Euro4 interurban bus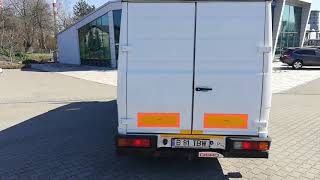 1/10
Location
Poland
ŁAZISKA GÓRNE
Description
Overall dimensions
700 m × 210 m × 270 m
Engine
Brand
Mercedes Benz 613 D , Bluetec 4
Fuel consumption
12 l/100km
BLUETEC MOTOR 4
Car after changing oils and filters.
New tires.

Introducing the Mercedes Vario
Universal, suburban school bus.
It is also possible to convert to Auto-camping - We help to organize all documents!
We have two virtually identical pieces for sale.
Model 2009 - Mercedes production 2008
And the owner
Held
Imported
Ready for registration
Paid
Documented mileage

VIN number: WDB6683531N132707

Total Gross Weight: 5990 kg
Own weight: 3735 kg
Payload: 2255 kg
Wheelbase: 435 cm
Rear suspension on cushions

External dimensions:
700 cm long, 210 cm wide, 270 cm high.

Interior fittings
- Roof air conditioning,
- Webasto,
- nets for hand luggage,
- shelves for hand luggage,
- emergency hatch,
- individual air flow,
- Individual backlight,
- Additional sound system,
- Upholstered inside,
- Tinted and glued windows,
- Large reservoir

Another team:
- Adjustable driver's seat
- Tachograph card, sun visor
- Additional input step
- Power steering
- Double side windows


Familiarize yourself with the following amenities, which are often unique solutions on a national scale, which significantly distinguish us from other salons and are very helpful when buying your dream car.
- Since we are a company that has been operating legally for over 20 years, we guarantee the security of the purchase based on the appropriate records and documents confirming the legality of the origin, which entails full liability for legal defects of the vehicle.
- Before sale, we check the cars free of charge in the Service Center and at a diagnostic station.
- We pay the client and prepare all the necessary documents for car registration, just go to the Communication Department with them and register the selected car free of charge.
- For most of the cars we offer, we provide a technical warranty without mileage limit for up to 2 years after a thorough service inspection.
- We provide professional, free advice and personalized treatment with the client. We always provide reliable advice.
- We have attractive loan or leasing conditions in 10 banks and leasing companies. Even without the first deposit, with a low commission and the possibility of early repayment, which will satisfy the most demanding client who prefers financing.
- As we are not a commission or an intermediary, but a direct importer and owner of the vehicle, we guarantee no hidden commissions and at the same time one of the best prices in Poland.
- We have cards for our regular customers and we offer a system of great discounts, which also works well in our service or rental company
- All cars for sale are available immediately, most of them in the building, so bad weather, for example, is a secondary matter.
- We invite you to a comfortable couch, where, over a freshly roasted coffee, we will talk about your expectations and how you want to finance your new car.
For these arguments and improvements, we hope that you will devote your valuable time to us and decide to choose our offer; we will be happy to receive you.

Detailed information: 602297437
tel. 32-2260714

The content of this announcement does not constitute an offer within the meaning of the Civil Code.
MOTOR BLUETEC 4
Coche después de cambiar aceites y filtros.
Nuevas llantas .

Te presentamos el Mercedes Vario
Autobús escolar polivalente, suburbano.
También es posible convertir a Auto-camping - ¡Ayudamos a organizar todos los documentos!
Tenemos a la venta dos piezas prácticamente idénticas.
Modelo 2009 - producción de Mercedes 2008
Y el dueño
Mantenido
Importado
Preparado para el registro
Pagado
Kilometraje documentado

VIN: WDB6683531N132707

Peso bruto total: 5990 kg
Peso propio: 3735 kg
Capacidad de carga: 2255 kg
Distancia entre ejes: 435 cm
Suspensión trasera sobre cojines

Dimensiones externas :
700 cm de largo, 210 cm de ancho, 270 cm de altura.

Equipamiento del habitáculo
- Aire acondicionado de techo,
- Webasto,
- Redes para equipaje de mano,
- estantes para equipaje de mano,
- trampilla de emergencia,
- flujo de aire individual,
- Luz de fondo individual,
- Sistema de sonido adicional,
- Tapizado en el interior,
- Cristales tintados y pegados,
- Un tanque grande

Otro equipo:
- Asiento del conductor ajustable
- Tarjeta de tacógrafo, parasol
- Paso de entrada adicional
- Dirección asistida
- Ventanas laterales dobles


Familiarícese con las siguientes comodidades, que a menudo son soluciones únicas a escala nacional, que nos diferencian significativamente de otras salas de exhibición y son muy útiles para usted a la hora de comprar el automóvil de sus sueños.
- Como somos una empresa que opera legalmente durante más de 20 años, garantizamos la seguridad de la compra en base a registros y documentos adecuados que confirmen la legalidad de origen, lo que conlleva nuestra total responsabilidad por los defectos legales del vehículo.
- Antes de la venta, verificamos los coches de forma gratuita en el Service Center y en una estación de diagnóstico.
- Pagamos al cliente y preparamos todos los documentos necesarios para matricular el coche, solo tienes que ir con ellos al Departamento de Comunicación y matricular el coche seleccionado de forma gratuita.
- Para la mayoría de los coches ofrecidos, ofrecemos una garantía técnica sin límite de kilometraje hasta 2 años después de una inspección de servicio detallada.
- Brindamos asesoría profesional, gratuita y tenemos un trato individualizado con el cliente. Siempre le brindamos un asesoramiento confiable.
- Contamos con atractivas condiciones de crédito o leasing en 10 bancos y empresas de leasing. Incluso sin el primer pago, con una comisión baja y la posibilidad de amortización anticipada, que satisfará al cliente más exigente que prefiere la financiación.
- Como no somos una comisión o un corredor, sino un importador directo y propietario de vehículos, le garantizamos que no hay comisiones ocultas y, al mismo tiempo, uno de los mejores precios en Polonia.
- Disponemos de tarjetas para nuestros clientes habituales y ofrecemos un sistema de grandes descuentos, que también funciona en nuestro servicio o alquiler
- Todos los coches en oferta están disponibles de inmediato, la mayoría de ellos en el edificio, por lo que, por ejemplo, el mal tiempo es un asunto secundario.
- Te invitamos a un cómodo sofá, donde, con un café recién tostado, hablaremos de tus expectativas y cómo quieres financiar tu nuevo auto.
Para estos argumentos y mejoras, esperamos que nos dedique su valioso tiempo y decida elegir nuestra oferta; estaremos encantados de recibirle.

Información detallada: 602297437


tel. 32-2260714

El contenido de este anuncio no constituye una oferta en el sentido del Código Civil.
SILNIK BLUETEC 4
Auto po wymianie oleji i filtrów
Nowe opony .

Prezentujemy Mercedesa Vario
Autobus wielozadaniowy,podmiejski , szkolny.
Także możliwość przeróbki na Auto-kamping - Pomagamy w załatwieniu wszystkich dokumentów !
Posiadamy dwie sztuki na sprzedaż praktycznie identyczne .
Model 2009 - produkcja z Mercedesa 2008
I właściciel
Serwisowany
Sprowadzony
Przygotowany do rejestracji
Opłacony
Przebieg udokumentowany

VIN: WDB6683531N132707

DMC: 5990 kg
Masa własna: 3735 kg
Ładowność: 2255 kg
Rozstaw osi: 435 cm
Tylne zawieszenie na poduszkach

Wymiary zewnętrzne :
Dl 700cm, szer 210cm ,270cm H.

Wyposażenie przestrzeni pasażerskiej
- Klimatyzacja dachowa,
- Webasto,
- Siatki na bagaż podręczny,
- Półki na bagaż podręczny,
- Właz awaryjny,
- Indywidualny nawiew,
- Indywidualne podświetlenie,
- Dodatkowe nagłośnienie,
- Wewnątrz wytapicerowany,
- Przyciemniane i wklejane szyby,
- Duży bak

Pozostałe wyposażenie:
- Regulowany fotel kierowcy
- Tachograf na kartę, roleta przeciwsłoneczna
- Dodatkowy stopień wejściowy
- Wspomaganie kierownicy
- Podwójne szyby boczne
Możliwość transportu do portu w Europie celem frachtu - bardzo dobra cena transportu.

Prosimy Państwa o zapoznanie się z poniższymi udogodnieniami , które są często rozwiązaniami unikatowymi w skali kraju w znaczny sposób odróżniającymi nas od innych salonów, a jakże przydatnymi dla Was przy zakupie wymarzonego auta.
- Jako, że od ponad 20 lat jesteśmy legalnie działającą firmą, gwarantujemy bezpieczeństwo zakupu oparte odpowiednimi zapisami i dokumentami potwierdzającymi legalność pochodzenia co wiąże się z naszą pełną odpowiedzialnością za wady prawne pojazdu
- Przed sprzedażą bezpłatnie sprawdzamy auta pod względem technicznym na Serwisie i stacji diagnostycznej.
- Opłacamy za klienta i przygotowujemy wszelkie niezbędne do rejestracji auta dokumenty, wystarczy udać się z nimi do Wydziału Komunikacji i bezpłatnie zarejestrować wybrany samochód
- Na większość oferowanych samochodów udzielamy gwarancji technicznej bez limitu kilometrów nawet na 2 lata po uprzednim szczegółowym przeglądzie serwisowym
- Udzielamy fachowego, bezpłatnego doradztwa oraz cechujemy się indywidualnym podejściem do Klienta. Zawsze udzielimy Państwu rzetelnej porady.
- Mamy atrakcyjne warunki kredytowe czy leasingowe w 10 bankach i towarzystwach leasingowych. Nawet bez pierwszej wpłaty z niską prowizją i możliwością wcześniejszej spłaty co zadowoli najbardziej wymagającego klienta, preferującego finansowanie
- Jako, że nie jesteśmy komisem czy pośrednikiem tylko bezpośrednim importerem i właścicielem pojazdów , gwarantujemy Państwu brak jakichkolwiek ukrytych prowizji i zarazem jedne z najlepszych cen w Polsce
- Dla naszych stałych klientów mamy karty i oferujemy system dużych rabatów, który działa także w naszym serwisie czy wypożyczalni
- Wszystkie samochody znajdujące się w ofercie dostępne są od ręki , gro z nich znajduje się w budynku więc np. brzydka pogoda jest sprawą drugorzędną.
- Zapraszamy na wygodną sofę , gdzie przy świeżo palonej kawie, porozmawiamy o Twoich oczekiwaniach i o tym w jaki sposób chcesz sfinansować swój nowy samochód.- Po zakupie oferujemy możliwość dostarczenia auta pod wskazany adres
Dla tych powyższych argumentów i usprawnień mamy nadzieję że poświęcą właśnie nam , Państwo swój cenny czas i zdecydują się na wybór naszej oferty - będzie nam naprawdę bardzo miło Was gościć.

Szczegółowe informacje: 602 297 437


tel. 32-2260714

Treść niniejszego ogłoszenia nie stanowi oferty handlowej w rozumieniu Kodeksu Cywilnego.
Important
This offer is for guidance only. Please request more precise information from the seller.
Safety tips
Seller's contacts
Mariusz Gruchel
właściciel
Languages:
English, Polish
Poland, Silesian, 43-170, ŁAZISKA GÓRNE, ul. HUTNICZA 6
Seller's local time: 21:13 (CEST)
Selling machinery or vehicles?
You can do it with us!