The ad New OKT TRAILER LIVESTOCK SEMI TRAILER livestock semi-trailer has been sold and is not included in the search!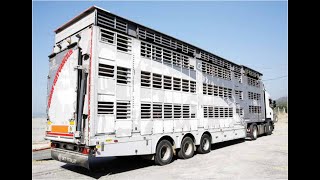 1/4
Model
LIVESTOCK SEMI TRAILER
Type
livestock semi-trailer
Location
Turkey
Aydın
Placed on
more than 1 month
Body:
High-performance square cross-section design suitable boarding and release operations.
High strength, oxidation and shock resistant, made of special aluminium alloy.
ISO 3834 Welded manufacturing quality qualification approved.
Special shaped profile material cross member placed with frequent and constant space on subframe to carry the load of the body, transverse and longitudinal widest one-piece non-slip base plate, subframe welding methods to traverse placed on a par with and on a regular basis, combined with excellent welding performance, strength steel slope providing holistic, long-lasting, safe, high strength, stable base platform.
Special drain down placed on the platform that prevents accumulation of urine and feces, minimizing leakage.
Strong front wall that is fixed to the base platform and provided with constant support front side entirety, increased strength with integral interlocking panels, distributed floor platforms' hydraulic lifting force to the body with vertical support profiles.
Side walls that are fixed to the base platform, fitted together with onepiece panels, prevents force that may come from the payload, reinforced with vertical support profiles.
Movable or fixed, long-life, safe, durable and anti-skid deck platforms that can be adjusted to the level setting according to different animal size, placed into the slots on the side walls in the vertical direction, moved with hydraulic lifting system; provide payload balance while lifting operation and ergonomical usage.
Portative section doors that are placed on the deck platforms provide safety without any restrictions on the natural movements of animals, prevent contacts between animals and injuries in case of vibrations and concussions caused by vehicle or road conditions; allow transporting different kind of animals at the same time.
Insulated, fixed or lifetable optionally with hydraulic lifting system independent of each other front and rear roof that provide holistic aesthetic with the vehicle body, natural climatization and increase payload.
Locable tailgates that are maximised resistance with one-piece fitted together panels, fixed to the rear frame with hinges, can be opened fully or partly and provides water resistance.
Anti-skid rear loading bridge or lift with appropriate height and angle that provide guidance and safety with portative lateral protection, easy and quick boarding and release operations of animals; can be opened mechanically or hydraulically.